A celebration of 100th anniversary of Poland's independence was held on 12 November at Croatian Academy Glyptotheque Museum in the heart of Zagreb.
 During the celebration the Embassy of the Republic of Poland in Zagreb received the original bust of Józef Piłsudski created by well-known Croatian sculptor and architect Ivan Meštrović in 1939. The bust was donated by the son of the sculptor dr. Mate Meštrović and his wife mgr. Rumjana Meštrović. A donation contract between the Ambassador of the Republic of Poland H.E. Andrzej Jasionowski and the Meštrović family was signed during the event.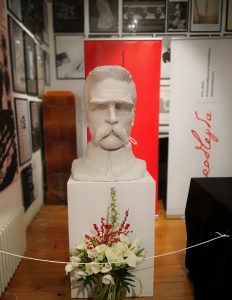 The event was accompanied by an exhibition entitled "Józef Piłsudski – A Polish and European statesman" organized by the Ministry of Foreign Affairs of the Republic of Poland, Józef Piłsudski Family Foundation and Józef Piłsudski Museum in Sulejówek. The reception was attended by numerous ambassadors, representatives of Croatian authorities as well as by the members of the diplomatic corps, cultural and business representatives, members of Polish diaspora and the press.