In addition to our widely recognized identity of green, active and healthy country in 2019 we are launching a new creative solution "Slovenia – My Way" which provides highly individualized consumers with a plethora of choices, inviting them to experience Slovenia in their own unique way.
"We have adopted a very clear vision of a boutique green country, with premium quality. This is something I personally believe to be of the utmost importance – to have a clear vision, and to get all stakeholders behind it. And I can say that we have succeeded in this", says Maja Pak, Director of the Slovenian Tourist Board and a seasoned expert in the tourism industry.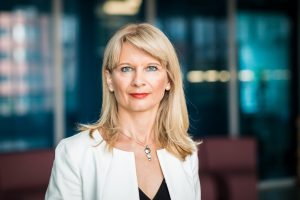 You have dedicated your whole career to tourism. What makes the industry so challenging today? How fast one needs to adapt?
Yes, indeed, I have been with the Slovenian Tourist Board for over 20 years now, with another 5 years dedicated to private sector tourism product management before that. In this period, the development pace of tourism has rapidly increased with consequently a strong impact in the natural environment, as well as in the economic sense. Constant changes require ever shorter adaptation period so the industry remains very challenging and thus exciting.
As for the national tourism strategy, the focus is definitely shifting from marketing to management, which is what we are doing through the new organization of Slovenian tourism. I believe that the need for this is widely acknowledged among Slovenian tourism stakeholders, which I consider a success. As destination marketers and managers, we need to ensure that the visitors enjoy a high quality experience, and at the same time support the regions and destinations to respond to and benefit from an increasing number of visitors. Tourism has to cooperate with agriculture, sports, culture, infrastructure development, and so on, to ensure that the tourism development benefits the environment and the local community.
What were you results in 2018, and which goals have you set for 2019?
The number of visitors and the number of overnight stays in Slovenia have been on the rise constantly for several years now. We have recorded four consecutive years of tourism records, with two-digit growth – in 2017, a nearly 18% growth in foreign arrivals and 15% in foreign overnights. This is well above the European average of 8%. What is important is that the increase in tourism export receipts was also higher than in the last years – we recorded a 9% increase.
Our current tourism strategy (Strategy of Sustainable Growth of Sustainable Tourism 2017-2021) defines the vision of Slovenia as a green boutique destination for 5-star experiences. This is the focus of our activities, along with our goal to increase revenue from inbound tourism to EUR 3.7 billion in the next 4 years.
Furthermore, we need to attract the right mix of visitors, who appreciate the experiences we offer. Slovenia has a relatively good seasonal dispersion, with just above half of all overnight stays occurring during the four summer months (compared to 85% in Croatia, and 40% in Austria). But additional growth will have to happen in spring, autumn and winter. Our focus is on 365 days of Slovenian tourism. Our ideal location as the meeting point of the Alps, the Mediterranean Sea, the Karst and the Pannonian Plain makes it possible to develop tourism in all four seasons.
Slovenia also has a relatively good geographical dispersion. 30% of overnight stays are made in the Alpine region, and in the Thermal Pannonian Slovenia. 25% of stays occur in the Mediterranean & Karst region and 15% in Central Slovenia, including our capital, Ljubljana.
Last year, Slovenia became the first country in the world to be declared a green destination. Is it too early to estimate the effects of this on the tourism industry, or you can already see some of the results?
Slovenia is one of the first countries that has started to develop sustainable tourism as one of its key priorities on the national level. What speaks in our favor is that sustainable development is the way forward, not only for the tourism industry, but for the country of Slovenia as a whole.
The Green Scheme of Slovenian Tourism, an umbrella project implemented since 2014, is a tool developed at the national level and a certification programme at the same time – it successfully supports all sustainable endeavours in our tourism sector. The Green Scheme of Slovenian Tourism brings together all efforts directed towards the sustainable development of tourism in Slovenia, and offers tools to destination and service providers that enable them to evaluate and improve their sustainability endeavoirs, and promotes these green endeavors through the SLOVENIA GREEN brand.
The Green Scheme of Slovenian Tourism encourages the sustainable, environmentally friendly tourism and it has been perceived well on the global level. Slovenia now needs to build on the image of authentic experiences. This is why the Slovenian Tourist Board is encouraging destinations and tourist facilities to create five-star experiences, which will be graded based on their local character, authenticity and inclusion of local specifics.
In 2019, based on our success on the national level, we plan to begin the internationalization process of the Green Scheme of Slovenian Tourism to promote sustainable tourism development in Europe and beyond – this is a joint project with the European Travel Commission and the Global Leaders Network.
How many destinations in Slovenia obtained the green certificates? What does that mean for tourists in search for eco-friendly destinations?
Today, the Green Scheme of Slovenian Tourism consist of 37 destinations, 22 tourism industry providers, 3 travel agencies and 2 protected areas/parks. There are also 13 destinations in the process of obtaining the Slovenia Green destination certificate.
Today, an increasing number of tourists tend to favour eco-friendly destinations in search for local authentic experiences, meaningful encounters and so-called simple luxuries. Furthermore, in modern day's travel market, there is a greater demand for unique, sharable, and increasingly personal and individualized experiences. The consumer has taken control. They create content, they are the influencers and they have re-defined core ideas like the meaning of "luxury". Unique trips designed by the traveler are the new norm.
Slovenia is taking advantage of all of its natural and cultural assets to cater to self-indulgent visitors, allowing them to focus and explore the destination based on their specific desires, preferences and needs. In this regard, we are giving our visitors the tools to curate their travel experiences according to their interests, available time, and individual budgets.
The new "Slovenia – My Way" direction provides highly individualized consumers with a plethora of choices, freeing them up to their senses and inviting them to experience Slovenia in their own unique way.
Every five years the certificate issuer, the Dutch organisation Green Destinations will be checking what Slovenia has achieved in maintaining its character and its green, clean, authentic offer for travellers. How challenging is that task?
Slovenia is the first country in the world which complies with the Green Destinations Standard. This great honour brings also great responsibility to not only keep but even further raise high standards of sustainability.
With all stakeholders on board behind our commitment toward sustainable tourism and encouraging positive results, the future looks bright.
What programmes and projects will be implemented under the auspices of the European Region of Gastronomy 2021?
The European Region of Gastronomy Award aims to contribute to a better quality of life in European regions, by highlighting distinctive food cultures, educating for better health and sustainability, and stimulating gastronomic innovation.
The Strategy of Sustainable Growth of Sustainable Tourism 2017-2021 defines gastronomy as one of the leading tourist products. In the light of the European Region of Gastronomy 2021 award, the gastronomy will succeed culture as the highlight of promotional activities by the Slovenian Tourist Board in 2020 and 2021. Slovenian gastronomy, as defined in the Action Plan for Development and Marketing of Slovenian Gastronomy 2019 – 2023, is praised for local natural ingredients and products, excellent wines, creative chefs and boutique dining experiences.
The projects implemented under the auspices of the European Region of Gastronomy 2021 cherish the gastronomic specialities of Slovenia and their protection, promote the World Bee Day (20 May), underline the close connection between gastronomy and tourism, support active involvement of caterers and citizens in the protection of our gastronomic traditions and present our modern cuisine to the international public. All projects are presented in Slovenia's bid book "Taste Slovenia".
How recognizable is Slovenia in tourist culinary guides? How many Michelin star restaurants do you have?
We are very happy to welcome the national version of the French Gault & Millau culinary guide that has published the first edition of the guide in the end of November. It features 140 restaurants, 50 popular places, 50 wine cellars and 15 craft breweries, thus it embraces the points of interest for a wide range of culinary enthusiasts. So far, the Michelin guide has not rated any Slovenian restaurants, but we are very positive they will consider assessing Slovenian gastronomy in the following years.
In general, culinary guides definitively position a gastronomic destination on the global culinary map and are a well-recognized driving force behind gastronomic innovation, development of catering industry and a promotional trump card in tourist marketing.
Which new markets are you targeting?
In addition to our major strategic markets (Austria, Germany, Italy, Russia, France and the United Kingdom), we are focusing more on the emerging European markets (Benelux, Switzerland, Denmark, Finland, Hungary and Poland), and we are developing also overseas markets, such as the United States, Canada and China.