The Council of Europe is faced with huge challenges at a time of reappraisal of all global multilateral forums, Croatia's Foreign and European Affairs Minister Marija Pejčinović Burić said on after being elected the organisation's secretary general.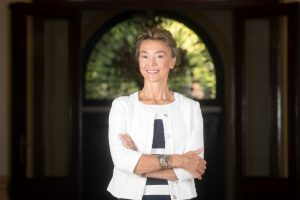 "The Council of Europe, like many other multilateral organisations, finds itself in a time when all multilateral forums, their need and way of operation, are being re-examined, so it is faced with huge challenges," said Pejčinović Burić, who will take office in September.
The Council of Europe consists of 47 member states with 830 million residents and fights for human rights, democracy and the rule of law across Europe. Its conventions, such as the European Convention on Human Rights, set global standards in that field. The organisation celebrated its 70th anniversary in May.
"Even though the secretary general is not the only person that participates in that, it is an important position which directs the organisation," she told a joint press conference in Government House with Prime Minister Andrej Plenković at her side.
Pejčinović Burić will be the 14th person to take the helm of the Council of Europe. So far, this position has been held by three French people, three Austrians, and one Italian, Briton, German, Spaniard, Swede and Norwegian.
On Wednesday, the Parliamentary Assembly in Strasbourg elected Pejčinović Burić Secretary General of the Council of Europe for a five-year term. In the first round of the election the Croatian minister obtained 159 votes, an absolute majority, and the other shortlisted candidate Belgian Foreign Minister Didier Reynders won 105 votes. Pejčinović Burić is the second women to become the secretary-general of this organisation in its 70-year-long history.
Pejčinović Burić explained that her victory meant two things – firstly, this is the first time that a person from Central and Eastern Europe has stepped into this position and secondly, this is only the second time a woman has been elected. The first woman to hold that position was Catherine Lalumiere of France who held that position from 1989 to 1994.
"Only with time will society and the public realise how important an achievement this is," Plenković told the press conference.
Pejčinović Burić underscored that it was significant that she had been elected by almost a two-thirds majority, which meant that the votes came from other parliamentary groups and not just the European People's Party to which she belongs.
Both officials concluded that her election came at a good time considering that Croatia had chaired the organisation last year and made a good impression, and all this happened just before Croatia's presidency of the European Union in the first half of 2020.
"We made the decision (to nominate Pejčinović Burić) after we realised that Croatia had a very good position in the international community," Plenković said and concluded that "there was practically not one element in the minister's achievements until now that would have prevented her candidacy."
Both officials underscored that her leaving the Foreign Ministry would not jeopardise Croatia's preparations for the EU presidency because that process was already well under way and could easily be taken over by someone already involved in the process.
Asked whether the government would be reshuffled after Minister Pejčinović Burić left, Plenković said: "We'll see when the time comes."
The Council of Europe was established in 1949 and today it has 47 countries – all of Europe with the exception of Belarus and Kosovo, as well as Russia, Turkey and the Caucuses. Croatia joined the organisation in 1996.
The Council of Europe created the European Court of Human Rights in Strasbourg, the Venice Commission, an advisory body comprising experts in constitutional law, and the Commissioner for Human Rights.