The bilateral relations between Israel and Croatia are advancing at a much faster pace today compared to the last decades. Politicians, people from culture and sport have all played an important role in these positive dynamics. Now it is time to work hard on establishing close economic cooperation.
There is no doubt that the bilateral relations between Israel and Croatia have been advancing, progressing and developing in the right direction, says H.E. Mr. Ilan Mor, the Israeli ambassador to Croatia.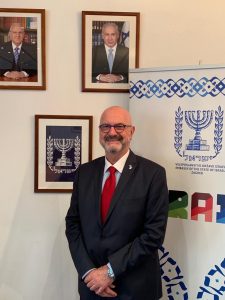 Prior to his appointment as Ambassador of the State of Israel to the Republic of Croatia, Ambassador Ilan Mor served as a Senior Political Advisor to the Minister of Justice, Ayelet Shaked in Jerusalem between 2016 and 2018. He knows the region very well as he had served as Ambassador of the State of Israel to Hungary between 2011 and 2016. For our interlocutor, the good bilateral relations between Israel and Croatia are something that came naturally. "Croatia is part of the EU and a NATO member, while Israel, as the only democracy in the Middle East (and as such, it is isolated in its region) would like to establish and develop friendly relations with every country in the world which understands the unique geostrategic situation of Israel. Croatia clearly understands it; shows solidarity and has an understanding on a bilateral and multilateral level," says the ambassador and adds: "As we speak, Croatia is again sending a squadron of firefighters to Israel to assist in extinguishing bushfires all around Jerusalem, which have been burning for the last 48 hours. Again, as I said before, a 'friend in need is a friend indeed'. We appreciate it very much."
Who played the most important role in elevating the relations on another level – politicians or  people from culture or sport?
In my opinion, it's a combination of all of them. Of course, we have to advance the relations on the political level, but without the support and the solid foundation of people-to-people connection, every political connection, as good as it may be, will not be sustainable long term. That's why I believe that more connections on the people- to-people basis must be developed between the Israelis and the Croatians. This also what I defined as a goal to be fulfilled at the end of my term here, in more than three years from now. Culture and sports are all connected to this principle which is a very important foundation for good bilateral relations.
What were the major events which highlighted the economic cooperation? How did the inception of the Croatian-Israeli Business Club in 2006 affect mutual trade and investments?
No doubt that the Croatian-Israeli Business Club, headed by its President Professor Dragan Primorac, played a very important role in strengthening the economic ties
between our two countries. The fact that the Club exists is by itself a demonstration that the potential of cooperation in the economic field is there, and that it hasn't been exhausted. However, we have a lot of work to do to advance it. This year,the Club will do something that hasn't been done before; it will put together a big delegation of business people who will travel to Israel to meet with their counterparts and to expedite yet again the business relations between our two countries.
After Teva set the example by acquiring Pliva, what was the reaction from other Israeli business people? Did they strive for more?
There is no doubt that Teva has set a good and positive precedent by acquiring Pliva, but I haven't seen many Israelis following in its footsteps and taking advantage of the positive atmosphere which was created by this acquisition. There
is no magic formula for success, and that is why we have to continue working very hard and diligently in order to establish a better and closer economic cooperation. Taking over Croatian companies is not, in my opinion, the only way to establish
this kind of cooperation. Teva is a unique example because we are talking about a specific sector, a pharmaceutical niche. We have to look at the bigger picture, namely, the economic relations; investments and trade should be improved,
and this is what I have been working towards since I came here.
Which segment of the Croatian economy proved to be the most attractive?
My first answer would be tourism. But tourism, namely the sunsand-sea kind, is not enough for sustainable economic relations. I do believe that agriculture and innovation, together with tourism, are the three main topics to be promoted, within the framework of the Croatia – Israel relations. Within innovation; smart cities, smart mobility, agrotechnology, health-tech -are the main topics to be explored by cooperation of Israeli and Croatian innovators.
You come from tourism superpower. What is your view of the Croatian tourist offer?
I have two answers; a short and a long one. The short answer would be: I like it. The long answer would be: I like it very much. I am also looking forward to exploring the wonders of this beautiful country and its islands.
Apart from the seaside, Zagreb is increasingly becoming an attractive tourist destination in the EU. What do you think of it? Which parts would you recommend to the fellow Israeli tourists to see?
Zagreb is a city which I would describe as 'klein aber fein', small but very, very nice. In the summer, when the sun is high, Zagreb looks like a pearl to me. Everything is accessible, also for handicapped persons, and I have to commend the City of Zagreb for that. There are lots of parks and interesting museums, the very appealing
old part of the city, and of course, many coffee shops with great coffee with guests
discussing politics and business and generally enjoying life. And that's the spirit of Zagreb and Croatia – enjoying life. In the summer, the city has a lot to offer to those who want to party. To me, Zagreb is the city of good mood and laughter,
good time and parties. My compliments!.