On the occasion of the end of the humanitarian action of selling paintings and photographs titled "Artists from Serbia for Glina, Petrinja and Sisak – painters and photographers helping people affected by the earthquake in Croatia", where RSD 800,000 was collected, a ceremony was held tonight at the Croatian Embassy in Belgrade.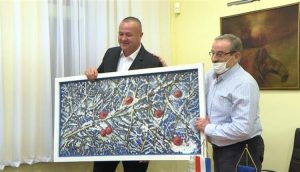 This important humanitarian campaign, in which a total of 39 works of art were offered, was organized by Belgrade's reputable monthly in English, "Diplomacy&Commerce", in cooperation with the Croatian Business Club in Belgrade, Croatian Ambassador to Serbia Hidajet Biščević, journalist Duška Jovanić and numerous other artists and public figures from Serbia.
26 artifacts from 21 artists were sold, and some of these artists are Cile Marinković, Biljana Cincarević, Janoš Mesaroš, Jelena Blečić, Dragan Stojkov, Milutin Obradović, Vuk Vučković, Mario Leone Bralić, Nebojša Babić, Brajan Rašić, Vanja Rebić, Milan Marković, Renata Bujić, Kolja Božović…
One of the authors of the sold artifacts was the Croatian Ambassador Hidajet Biščević, whose painting "Birds" was bought by Veran Matić, and the handover took place at today's ceremony in the premises of the Croatian Embassy in Belgrade.
Ambassador Biščević expressed his satisfaction that the humanitarian campaign caused great interest in the media in Serbia and Croatia.
"This entire endeavor has particular emotional significance for me because it is part of Serbia's help to Croatia on several levels. From the official help of the state of Serbia to this touching humanitarian auction of works of art. I would like to thank everyone who invested in this campaign. To the artists and buyers of their artwork. All the money will be paid into the official account of the Headquarters for Earthquake Remediation in Croatia," said Ambassador Biščević
Robert Čoban, President of Color Press Group and initiator of this humanitarian campaign, pointed out that he gladly responded to the invitation of Ambassador Biščević to organize a humanitarian campaign.
"We believed that, in addition to official state aid, we could show that we cared. Artists and people from the business world got involved and we showed that Serbs and Croats are not only molded by Krleža's stereotypes, but that they are people who know how to help each other and who are bound by a common history," Čoban said.
The ceremony, led by actor and musician Frano Lasić, was also attended by the President of the Serbian National Council, Milorad Pupovac.