At the New Year's Reception on January 30 at the Zagreb Hotel DoubleTree by Hilton The German-Croatian Chamber of Commerce and Commerce has been awarded the Best Innovation Award for the Fifth Anniversary Award for one of its member companies.
The 2017 Innovation Award went to Presscut Media Monitoring and Press Clipping, which was impressed by its expert jury with its text-to-speech application.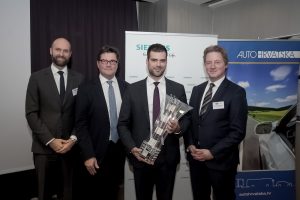 The application has been developed for the Croatian language and is currently being applied in the field of medicine, and could soon be used in the judiciary as well. However, what has passed is the social utility of this project. Namely, this application could make a significant contribution to the integration of people with disabilities into the labor market and their participation in working life. With this innovation, Presscut also modernized its business and expanded it into a segment of the digital economy. The AHK Innovation Award winner was honored by its traditional sponsor, German Ambassador to Croatia Thomas E. Schultze, who in his speech emphasized that the members of the Chamber also showed their willingness to innovate and act in 2017. Speaking about Presscut's innovation, Ambassador Schultze emphasized, among other things, that we ought to be judged as a society by our relationship with the weaker ones who depend on our help and support.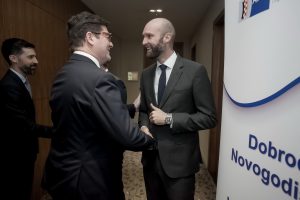 New Year's Eve, the first event of the Chamber in 2018, was opened by the president of the German-Croatian Industrial and Commerce Chamber Nicolas Baron Adamovich. In his speech, Adamovic presented great last year's results of the largest bilateral economic organization in Croatia and recalled that the 2018 Chamber celebrated 15 years of its existence. Although expressed satisfaction with positive economic indicators over the past period, the Chamber President warned that operating conditions in Croatia were far from optimal and that efforts to improve the investment climate still needed to be made. New Director of Chamber Chamber Sven Thorsten Potthoff was introduced, who invited guests and members to close cooperation and guaranteed that his door would always be open. He also stressed that as Director of the Chamber would make the best of this, that the reputable institution continues to act in accordance with its mission and that it will do everything to improve the economic relations between Croatia and Germany.
The guest lecturer at the reception was Austria's Information Technology and Industry Specialist and Siemens's Digitalization Advisor in the Process Industries and Drives Herbert Vitzthum segment, which held an excellent presentation on the potential of digitization in Croatia.
In addition to the official section, reception has offered numerous networking opportunities and more detailed discussions on these topics.