Croatia is among the top 15 most popular European MICE destinations.
This year, the Croatian Tourist Board signed an agreement on cooperation on the implementation of a special survey "Portrait of European Meeting & Convention Travel", which made Croatia one of the seven countries participating in the collection and processing of the latest trends and indicators in the segment of business or MICE tourism in Europe.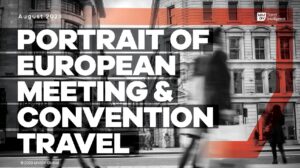 The IMEX congress exchange and the MMGY Global agency participate in the preparation of the report, and the results of the first round of research conducted during May and June have been published, while the start of the second round of research is scheduled for September this year.
The results of the first round of research show that 2023 is an above-average good year in terms of realized international business meetings and congresses with an increase of 38 percent compared to last year. The data also shows that after the pandemic, in-person meetings are making a big comeback, while virtual and hybrid meetings are still prevalent, but with a noticeable decrease in their popularity.
When we talk about Croatia, our country is among the top 15 European destinations where the organizers of business meetings and congresses plan to organize a business meeting in the next two years. Croatia is in the select company of the most popular MICE destinations such as Germany, Spain, Italy, Portugal, France, Austria, Switzerland, etc., while behind the 15 most popular destinations are countries such as Poland, Sweden, Hungary, Norway, Finland and others.
"Croatia's participation in the implementation of this research gives us a detailed insight into the state and trends of business travel at the European level, that is, we have access to valuable indicators related to meeting formats and the most popular places and locations of their holding. With this, we can also measure the impact of combining leisure and business trips, which in combination significantly contribute to the further development of this segment of the offer, its economy, quality and sustainability", said Kristjan Staničić, director of the Croatian Tourist Board.
A very interesting indicator from the research is the general impression of the destination, which was rated as the most important factor when choosing a location for holding a business meeting, and there are other important factors such as traffic connections, distance of locations within the destination, safety of staying in the destination, costs of organizing meetings, etc. .