Our main trump cards are rural households and wine roads, health and religious tourism, as well as adventurous and bike tourism. We constantly pay attention to creating new products that would be of interest to active tourists.
Croatia and Zagreb County are highly regarded due to a number of interesting cultural and natural attractions and very popular tourist destination in Europe. "Our vision is to become one of the well-known European destinations", Ivana Alilović, Director of the Zagreb County Tourist Board states.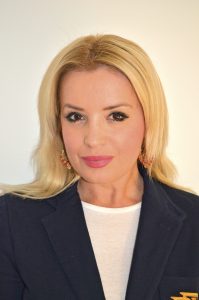 What is it that the Zagreb County can offer to tourists, which they cannot find anywhere else? What makes you different and special?
Zagreb County is a continental county on the territory of the Republic of Croatia, it is a recognized tourist destination just outside a European metropolis, the City of Zagreb, but we are also a destination with a large number of events which are a motive for tourists' arrival throughout the year.
It has always been the so-called "green oasis of relaxation" for all the citizens of Zagreb and it has a tradition of being a tourist destination for two centuries already.
Our main trump cards, aside from natural and cultural heritage, are definitely the rural households and wine roads, health and religious tourism, as well as adventurous and bike tourism, and a number of bike trails and other tourist products interesting to any active tourist.
A very important element is the development of health tourism as one of the fastest growing tourist products, and one of the flagship locations in health tourism on the territory of the Zagreb County is the Special Naftalan Hospital known for its medical oil called Naftalan, which is a rarity, and the site outside Ivanić-Grad is one of only two in the world and the only one in Europe. This special and unique value of Ivanić-Grad and its surrounding takes us back to the ancient times, in the period of existence of former Pannonian Sea, traces of which we find in such rare natural resources.
Considering that tourism is an extremely dynamic sector these days, and tourists are getting increasingly more demanding, how often do you have to think about what tourist products to offer to keep the tourists?
Global trends among tourists change, and yes, they are becoming more demanding. When we talk about the tourist offer, we should emphasize that we will be able to base growth on discovery of new forms of offer and tourist products that are developing in Croatian tourism, like City Break, cultural tourism, eno-gastronomy, health tourism and outdoor tourism, as well as adventurous tourism. The reason for this is that an increasing number of tourists want precisely this kind of offer as a result of development of tourist demand for such travel motives.
To what extent do local communities show interest and skill to adapt to new global trends? What is the entrepreneurial potential of these communities and how do you incite it?
What is emphasized as an important element is the greater promotion of tourist products in rural area and the idea of staying in the country, in nature, i.e. it is necessary to select tourist products on the level of the Zagreb County according to their profiles in the tourism industry, such as family run farms that deal in production of healthy organic food.
It is also necessary to increase the interest of tourist agencies for a more active cooperation by offering a good quality offer.
We are familiar with the information about the deficit in accommodation capacities in continental Croatia, therefore we need to open a larger number of small family-run hotels, which Zagreb County recognized as deficiency, and is inciting the entrepreneurs in that field.
Since you are receiving tourists from Asia more and more often, did you adapt your offer to their tastes and interests? What is it that they most often want to see and experience?
Out of a total of 43,115 tourist overnight stays, 26,958 were foreign guests, and we recorded a noticeable rise in the number of guests from China and South Korea, from other Asian countries, who are followed by guests from Italy, Bulgaria and Germany. 
Tourists' motivation to come to Croatia is in accordance with trends in international tourism demand for active holidays in clean environments, healthy lifestyles and healthy food in the context of various selective forms of tourism.
Eco-tourism takes a larger portion of tourist traffic with a 30% rise on an annual level, nature and developed environmental awareness attract the tourists (here we can apply the saying "green is gold").
The Zagreb County will financially support different tourist projects this year as well. A one million HRK worth contest for the award of grants to events relevant for the tourist offer is currently in progress, as well as the public call worth 1.5 million HRK for co-financing of development of public tourist infrastructure, like the congress centres, playgrounds, ice rinks, amusement parks, promenades, forest and biking trails, etc.
Tender for entrepreneurs in tourism is expected to be awarded soon, which will grant 1 million HRK of grants to increase the quality standards and offer of the already existing hotels, campsites and other catering facilities offering accommodation services. Information on all the above mentioned tenders is available on the Zagreb County website. 
box
We have to grow intelligently
How do you see the development of tourism in the upcoming period and where do you see Zagreb County in this context?
We definitely want to create and empower the most competitive possible model for tourism management, but through development and improvement of cultural and tourist infrastructure of the Zagreb County with the goal to incite the growth of SMEs, by attracting investments, and improvement of tourist potential in the Zagreb County.
Let's not ignore the importance of systematic increase of the capacity of knowledge and skills of human resources in tourism, and educating and raising awareness of stakeholders in tourism on the efficient use of new technologies, through the platform of smart tourism.
I would put an emphasis on multisectoral interconnecting, and what's primary for me is the connecting of tourism industry with the industry of food processing.