For Diplomacy & Commerce magazine, we have asked officials, ambassadors, directors and presidents of chambers of commerce  for their opinion on political and economic challenges that awaits Croatia in 2020 and the key challenges on a global scale.
Italian Ambassador to Croatia, H.E. Adriano Chiodi Cianfarani for Diplomacy&Commerce says: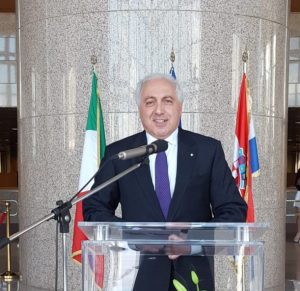 What political and economic challenges await Croatia in 2020?
2020 is going to be a very challenging year for Croatia as the country will be confronted with a busy political agenda: the turnover at the helm of the State in February, with the incumbent President running for re-election; the first term ever as the most junior EU Member State presiding of the Council of the European Union from January 1 to June 30; and the national political elections due in the second half of the year.
It will certainly be a year with multiple challenges but also opportunities for Croatia, at the national level as well as at the EU level, in terms of advancing the EU agenda, with specific regard to the multiannual financial framework 2021-2027, the EU relations with the Western Balkan countries and, most likely, Brexit and its reverberations.
When it comes to the future enlargement of the EU, this is both a political and economic issue of particular interest to Croatia, considering its geographic position and historic relations with the WB6, but also in the context of its aspirations to join the Schengen area.
Consequently, the reinforcement of the EU's internal and external security, the strengthening of transport and energy connectivity as well as economic growth are some of the issues that will be at the heart of Croatia's presidency priorities. Furthermore, let me touch upon the emphasis that the Croatian leadership put on the need for demographic revival, which is also a powerful driving force of economic development.
These areas are also shared points of interest between Croatia and Italy, as highlighted by the interaction within the framework of certain regional intergovernmental mechanisms of cooperation such as the Central European Initiative, the Adriatic and Ionian Initiative, the EU Strategy for the Adriatic and Ionian Region, the Italy-Croatia CBC Programme and the ADRION Programme, which all bear testimony to the very intensive cooperation between these two neighbouring countries.
What will be the key challenges on a global scale?
In my opinion, the key challenge is migratory flows as they are making their way to the forefront of the international agenda, with Croatia and Italy being among the EU countries most affected by this phenomenon. It is a complex, multifaceted, manifold issue that needs to be addressed on multiple fronts with a coordinated EU, in line with the principles of solidarity and shared responsibility.
Besides, energy and climate change policies pose increasing challenges on the global level. Having also in mind these paramount challenges, cooperation within the EU framework aiming at promoting energy efficiency and environmental protection can significantly contribute to making progress towards meeting some of the common objectives.