The Embassy of the Republic of Italy and the Italian Institute for Foreign Trade Office in Zagreb organized the presentation of the "Italian Cuisine Week in the World". Chef Piero Di Turi introduced himself this year. He is a lecturer at the world-renowned international culinary school ALMA in Colorno, near Parma.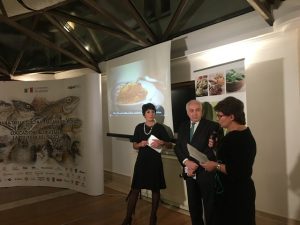 The initiative was initiated by the Italian Ministry of Foreign Affairs in order to present quality Italian cuisine abroad and promote Italian agricultural and food products.
The aim of the initiative is to show, in the wake of the positive experiences after the World Expo in Milano 2015 , how Italians prepare and educate themselves in food, how to inform consumers, how to promote the excellence of Italian cuisine and the art of good cooking. All this further stimulates Italian exports and gives momentum to the gastronomic tourism sector.
This year, the theme of Italian Cuisine Week was "Let's learn about nutrition: a culture of flavors with a special emphasis on cultural features associated with the traditions and foods of the Italian climate."
Italian agri-food products bring a value of 205 billion to the Italian economy, with a share of 12% in GDP. This sector has 1.3 million employees and has seen an increase of 33% over the last five years, excluding employees in the distribution sector and those in the hospitality industry. It is a very significant activity which has increased its production capacity and opened up new employment opportunities. This is supported by export data and promoted, which reached EUR 41.8 billion from 2008 to the present, with a record growth of 47.8%.
As many as 68 Italian products are at the top of the world's best-selling products; 301 food products bear the designation of protected origin and 524 wines bear the designation of controlled origin and controlled geographical origin. This is further evidence of the strong connection between top Italian producers and the climate in which such agri-food products are produced. It is worth mentioning that in July 2019, UNESCO listed Prosecco sparkling wine from the hilly area of ​​the cities of Conegliano and Valdobbiadene on the World Heritage List.