Historic heritage, irresistible charm and the spirit of Art Deco are what makes this hotel special.
General Manager of the Esplanade Hotel, Ivica Max Krizmanić, reflected on the current issues in Croatian tourism, he pointed out that he sees the future of Croatia as an exclusive destination, but he also commented on 30+ years of service in one of the most prestigious hotels. He was also credited for his work with a series of international awards, including the 2018 Five Star Diamond Award and the 2021 Fest-Antonio Conte Charter. The multiple award winner Krizmanic talked for Diplomacy & Commerce about the longevity of the hotel that has successfully remained in the very top of the hotel business.
For Diplomacy&Commerce write: Matea Sušac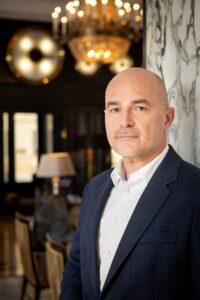 You have been at the head of the Esplanade Hotel for 11 years already, and it seems that you are breaking some record as the longest serving hotel manager. You have a series of excellent results behind you, as well as the team you are leading. How would you describe these 11 years, what was the greatest change in terms of the business and the industry you work in?
 I'm sure that in the eye of the observer 11 years sounds really a lot, however, from my perspective, time has gone by incredibly quickly, and there are a number of challenges behind us, which we managed to successfully overcome thanks to our joint efforts. Starting from technological challenges, to changes in the habits and wishes of the guests, to unpredictable situations, like Covid-19, we rounded off a turbulent period from which we emerged even stronger and more prepared. Contingency situations are certainly an integral part of the hospitality business, the same is at the Esplanade Hotel, and the last three years will serve as guidelines for our operations in the future. The long-term success of our business lies in the fact that we almost always and undeniably want to take only the best from everything.
You are the winner of the 2022 World Luxury Hotel Awards for best general manager in the area of Southern Europe, a prestigious award traditionally awarded to the best in the hotel industry. What does this award mean to you personally, and what does it mean for the Esplanade Hotel?
 Of course it is a great honor and confirmation to stand out from the international competition and win a global award for your work, but I could never take the credits for the award by since the entire team of quality people is responsible for the success of operations of the Esplanade Hotel. First of all, this is a hotel award, therefore it belongs to the entire hotel, and not only to the general manager. In any case, it is an indescribably great pleasure and I'm proud to be recognized on a global, as well as on a local level. Our motivation and striving to be the pride of Croatian tourism will not stop at the award we won, it's about daily work on goals that we successfully fulfill year after year.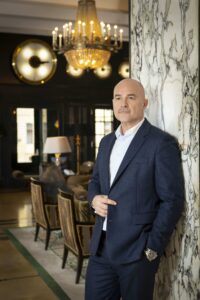 The Esplanade Hotel is special in the entire Croatia, and it doesn't seem to have any competition. What do the numbers say about visits and the business operations, and what are your expectations for the upcoming period?
 Even though numbers of the Esplanade Hotel are at an enviable level, we are not guided only by these numbers, but also by other important factors we consider to be important indicators of the direction in which we strive to do business. Of course that you can rate the level of guest satisfaction according to specific numbers, our approach to guests is not a mere hotel approach, the goal is to nurture the authentic spirit and history of the hotel in order to give our guests an unforgettable experience and more. We are by no means guided by typical hotel strategies, and we also don't follow the competition's trends blindly, and this is precisely why are at the very top for years. I can say with certainty that we went through a certain transition of guests and their desires over the past years, and throughout this entire journey we had to adapt in quite unexpected situations and change our former strategies. We don't want to become robotized, but instead we want to maintain our personalized and impeccable level of service towards our guests, and judging by the impressions of our guests, and by the numbers that prove it, we are succeeding. There is always room for additional growth in all segments, and as it seems, the year 2023 might be the best yet for our hotel.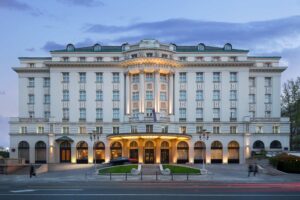 You hold numerous other important positions: you are a member of the Zagreb Tourist Board Council and the Croatian National Tourist Board, and an honorary member of FIJET (Croatian Federation for Journalists and Travel Writers), you are also a member of SKAL, as well as a member of the International Association of Gastronomic Chaîne des Rôtisseur. How do you see Croatia as a tourist destination in the future (as an exclusive destination, where tourists come en masse?)
Croatia's beauty can hardly leave anyone indifferent, because every corner of our country offers biodiversity and enormous wealth to its visitors, which is why tourists return in great numbers every year. Croatia is primarily a place of good food, premium wine and enjoyment, and like any other tourist destination, I can say with certainty that we are very proud of our culture and traditions. We are sure that the connection of our country with the rest of the world is also very beneficial for us, and this is exactly what makes it ideal for every type of vacation and every type of guest who is looking for a summer holiday and a peaceful vacation. Of course that there is still room to develop our offer and create new contents and activities with the aim of increasing the influx of new visitors. Besides that, the country has really enormous opportunities and benefits that just need to be recognized and effectively used for the common interest of the society. Croatia is already famous for being a recognizable exclusive destination, and we have the great responsibility to be the pride of Croatian tourism by our example.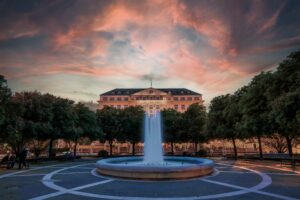 What would you single out as the biggest problems in the Croatian hospitality industry, hotel industry and tourism in general, how to overcome and solve them?
 The lack of work force has been particularly pronounced in recent years, however it is definitely not a new thing in Croatian tourism, but a problem that has been getting bigger and more complex on a global level for a long time. At the same time, we are not talking about a shift only in the tourism sector – a similar trend was recorded in agriculture and other industries as well. We also have a big deficiency in insufficiently cultivated agricultural areas, insufficient marketing and promotion of Croatian seasonal products, but I still claim that the competitiveness of Croatian tourism, regardless of all the circumstances, has improved in the past years.-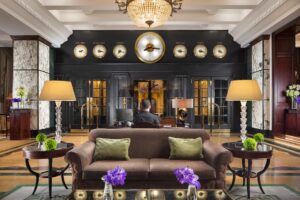 The type of guests you have range from ordinary people to presidents of states, members of royal families, celebrities… Who would you say has left a special impression on you and what messages do your guests leave you with?
It is very difficult to single out just one person who particularly impressed me, since I have been working in a hotel for more than three decades, where different guests are part of everyday life. I definitely remember people who impressed me from the first moment we met, as well as people who did not impress me in the least. It still makes me immensely happy when I recognize true enthusiasm for the Esplanade on the faces of guests from different cultures, regimes and countries of the world. I believe that this is a kind of confirmation that they really recognize the uniqueness of our hotel and services, and in practice it very often happens that I receive letters of thanks shortly after they leave the hotel.
What message would you send to future guests, and to all those who are happy to return to the Esplanade Hotel?
 To our loyal guests, and to our future visitors who are still considering visiting our hotel, I highly recommend that they fully surrender to an atmosphere that they will rarely experience anywhere else. Esplanade is by no means just the 'old' lady of Zagreb, it is a very authentic iconic hotel that trully lives in 2023 and keeps up with the times. What was in 1925 has remained in the distant past, except of course the historical heritage, irresistible charm and the Art Deco spirit that make this hotel special.