On 28 January 2019, the Embassy of Romania in the Republic of Croatia organized the kick-off of the Romanian Presidency of the Council of the European Union in Zagreb.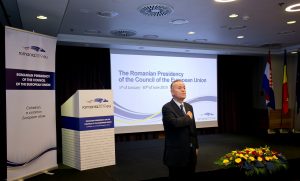 In his speech, the Ambassador Extraordinary and Plenipotentiary of Romania to the Republic of Croatia, Constantin-Mihail Grigorie, highlighted the priorities of the Romanian Presidency of the Council of the EU with the motto "Cohesion, a common European value", underlining the excellent cooperation of Romania with Croatia in the Trio that presides Council of the EU in the period 2019-2020 and the very dynamic and intensive Romanian-Croatian agenda in all fields of the bilateral cooperation.
Representatives of the political, parliamentary, diplomatic, economic, cultural, academic, media and members of the Romanian community in Croatia attended the event.
Among the guest were Vice-president of the Croatian Parliament, Furio Radin, Minister of Labour and Pensions  System, Marko Pavic, Advisers of the President of the Republic of Croatia, Sebastian Rogac and Marco Primorac, Deputy Mayor of Zagreb, Jelena Pavicic Vukicevic, Mayor of Opatja, Ivo Dujmic, State Secretaries from the Ministry of Foreign and European Affairs, Andreja Metelko Zgombic, Ministry of Economy, Entrepreneurship and Crafts, Natasa Mikus Zigman, Ministry of Environment Protection and Energy, Ivo Milatic, Ministry of Regional Development and EU Funds, Velimir Zunac, Ministry of Science and Education, Tome Anticic, vice-president of the Chamber of Economy of Croatia, Ivan Barbaric, vice-president of the Academy of Sciences and Arts, Davor Milicic, Rector of the University of Zagreb, Damir Boras.