During the session of the National Council for the Euro, the most successful designs of the national side for euro and cent coins were presented to the Croatian public. The target date for the introduction of the euro in Croatia is January 1, 2023.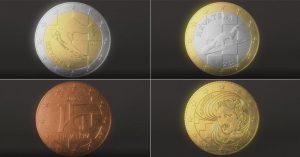 On the two-euro coins, the motif is a geographical map of Croatia, and the author of the most successful design is Ivan Šivak, Master of Animated Film. On the left side of the motif is the word Croatia, and on the rim of the two-euro coin is Ivan Gundulić's verse "oh beautiful, oh dear, oh sweet freedom".
The one-euro coin will feature a kuna motif, with the word Croatia and the year of the introduction of the euro in 2023, and the author of the best design of the coin is Stjepan Pranjković, Master of Applied Arts.
The 50, 20 and 10 cent coins will feature the motif of Nikola Tesla, and the most successful design is the work of student Ivan Domagoj Račić.
The motif on the five, two and one cent coins is Glagolitic, ie the HR motif written in Glagolitic, and the author of this design is Maja Škripelj, Master of Architecture and Design.
Prime Minister Andrej Plenković said that the historic moment that awaits us on January 1 next year should be well prepared in all aspects, which includes a quality law (on the introduction of the euro) and a number of other laws that will be changed this year.
"This includes preparing the economy and protecting consumers," Plenković said, adding that the display of our euro coins had several key elements of Croatia's identity – symbols of Croatian history and political identity, sovereignty and state borders, monetary tradition, language, culture and literature. , cultural and scientific greats, creativity and innovation, and tradition and modernity.