Source: The Guardian
Chancellor acknowledges losses but says she has firm mandate from voters and will stay for full term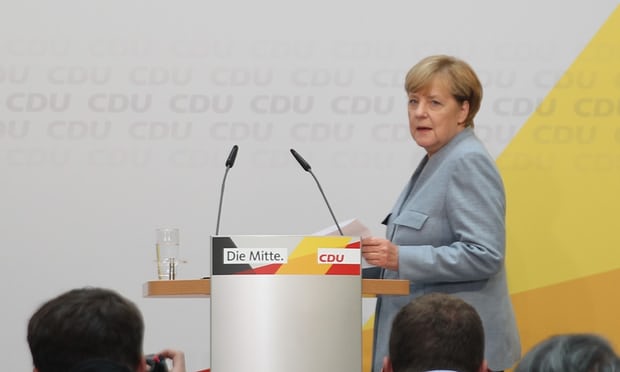 Angela Merkel started trying to form a coalition government on Monday after harnessing a fourth term as chancellor but at the cost of momentous gains for the far right.
A subdued Merkel, speaking at the headquarters of her CDU party in Berlin, acknowledged the losses, calling them disappointing and admitting: "We have considerable work ahead of us."
She said she believed she had a firm mandate from voters to form the next government and dismissed the possibility that she would fail and trigger new elections.
Merkel pledged to carry out a full term in office and brushed aside the question of whether she was still central to Europe's stability. "I never saw myself as a pillar of stability in Europe. It's up to others if they choose to behold me in that way," she said.
Her conservative bloc secured 33% of the vote, down 8.5 points on the last election, in its worst performance since 1949. The Social Democrats, Merkel's coalition partner for most of her time in office, dropped about five points to 20.5%.
Merkel said she would still seek to hold coalition talks with the centre-left Social Democrats, despite its leader Martin Schulz ruling out a repeat of the alliance, but is likely to have to concentrate her energies instead on trying to form a Jamaica coalition – so-called because the parties' colours match those of the Jamaican flag – with the pro-business liberal FDP and the Greens.
The three-party grouping is the only one that would enjoy an absolute majority but it is likely to be fraught due to deep differences on fundamental issues, from the environment and Europe to tax and migration.
Analysts have also warned that although such a coalition reflects voters' interests in western Germany, it risks excluding many in the east and could prove to be highly divisive at a time when the country is already deeply polarised.
The grand coalition between the conservatives and SPD will continue to govern the country until a deal is reached, but it is not expected to attend to anything other than day-to-day issues.
The Christian Social Union (CSU), the CDU's sister party in Bavaria, are meanwhile putting pressure on Merkel to shift to the right in order to claw back the estimated one million voters who defected to the rightwing nationalist Alternative für Deutschland. They are also insisting on an upper limit on the number of refugees allowed into Germany, a demand which Merkel has so far resisted.
AfD swept into the Bundestag with 12.6% of the vote, almost eight points more than in 2013 when they failed to get in, giving them an estimated 94 out of 709 seats.
Christian Lindner of the FDP, which won about 1.4 million voters from the CDU/CSU bloc, said he would "not go into a coalition at any price". He has repeatedly spoken out against the European reforms proposed by Emanuel Macron which Merkel has strongly signalled she would back.
Cem Özdemir, joint leader of the Greens, said his party's priority was climate change, stressing that a main condition for entering a coalition would be that Germany upholds its obligations to the Paris climate accord. He also stressed the importance of backing eurozone reform.
Merkel said a coalition could be in place before Christmas, leaving the Europe's largest economy facing months of uncertainty until then and a possible standstill over EU reform and Brexit negotiations.
A regional election on 15 October in the state of Lower Saxony, currently governed by the Social Democrats and Greens, will further slow down progress.
All the parties are meanwhile discussing how they should deal with the entry into parliament of the AfD, well-known for its taboo-breaking, confrontational rhetoric.
Trying to explain its rise in the former communist east, where it did especially well among male voters, Gregor Gysi of the far left Die Linke said its surge had much to do with former East Germans viewing themselves as the "losers of history", having been under the yoke of the Soviet Union after the second world war, and then made to feel "like second-class Germans" following reunification in 1990.
Migration to Germany had only compounded their feelings of neglect, he added.
As analysts increasingly interpreted the outcome of the election as a national referendum on Merkel's refugee policy and her decision to allow about 1 million migrants into Germany two years ago, she said she had no intention of "sugar-coating" the result, and acknowledged that she was responsible for "a polarisation that's clearly to do with me as a person", due to her refugee policy.
But she once again defended her decision to open Germany's borders. "If I consider that decision again, and think of what the alternatives were, for example using water cannon [on the refugees], I come to the conclusion that it was the best decision," she said.
But she was also at pains to stress her belief that the situation would not be repeated, due to mechanisms that had since been put in place, including humanitarian aid and the EU's controversial refugee deal with Turkey.