All Miele wine units offer exceptional storage conditions to protect and maintain select quality over time.
They also excel by offering greater convenience and an extended range of models in timeless design – keeping the poetry of wine perfectly intact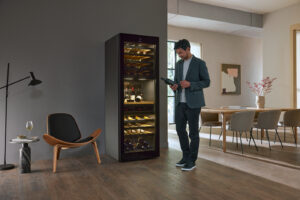 "Wine is poetry bottled" said the novelist Robert Louis Stevenson. During the life and times of the great Scot, there were undoubtedly many wine cellars around offering good storage conditions. Nowadays, things have changed and wine units from Miele raise wine storage in modern times to new heights.
.Perfect wine storage demands ideal conditions: humidity kept at an ideal level, protection against harmful UV light and ambient odours as well as temperature fidelity and vibration free storage. These conditions are met by Miele with the generation of freestanding and built-in wine units, comprising wine conditioning units with two or three zones. All units meet the highest demands on functionality and aesthetics. Popular and exclusive features such as the SommelierSet take the user convenience to the next level.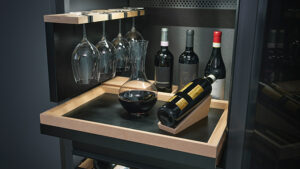 Humidity as key criterion
The correct humidity plays a key role above all when storing wine over an extended period of
time. It keeps natural cork moist and hence stable. This prevents wine from oxidising or even
leaking from bottles stored horizontally, making a dry or crumbling cork even more fatal. On
the other hand, the moisture should not be too high as it otherwise accelerates the formation
of mould on labels or in corks. Ideally, the humidity should be between 50 and 80 per cent.
This is why, Miele is further developing wine units with the new generation of models, which are equipped with ActiveHumidity without exception. This feature will not only ensure optimal humidity but will also offer the opportunity to set the relative humidity individually in increments – either via the Miele app or at the unit itself. To prevent the formation of condensate on the inner rear panel, wine units will additionally feature a 'dry liner' made from elegant BlackSteel or stainless steel (depending on the model).
Guaranteeing UV protection
Protection against UV radiation is as important as humidity. The coloured glass from which
the bottles are made does not provide adequate protection to wine. For that reason, all Miele
wine conditioning units are equipped with UV-blocking glass doors. Similarly, the atmospheric LED lighting is UV-free. This allows wine bottles to be presented over a long period of time yet still be properly protected. This preserves aromas, colour and the character of a good wine.