Defender line up grows with host of new offerings including the luxurious Defender 130 Outbound.
The new additions to the Defender brand offer more choice for Defender clients, whilst providing customary off-road capability and superior comfort. New Defender 130 Outbound is introduced to the Defender line up along with the 500 HP Defender 130 V8 and a new heritage-inspired County Exterior Pack for Defender 110.
COUNTY EXTERIOR PACK FOR DEFENDER 110
Those looking for enhanced personalisation on Defender 110 can specify the new County Exterior Pack. Inspired by the original Defender County, it features unique exterior elements, with a modern interpretation designed to celebrate the 4×4's legendary heritage. The County Exterior Pack is available for 110, in S, SE and HSE derivatives. County graphics along the doors and body sides are the most eye-catching addition, while illuminated treadplates welcome the driver and passengers with a unique County graphic. Eye-catching 20-inch alloys are available in two finishes, including Gloss White to complement the exterior pack's signature aesthetics.
The available colour combinations include:
• Fuji White body with new Tasman Blue Contrast Roof and Tailgate, plus Tasman Blue gradient graphic decal and treadplate
• Santorini Black body with new Tasman Blue Contrast Roof and Tailgate, plus Tasman Blue gradient graphic decal and treadplate
• Tasman Blue body with White Contrast Roof and Tailgate, plus Fuji White gradient graphic decal and treadplate A range of interior colour and material combinations are available, including Resist seats, Grained Leather and Windsor leather, all finished in Ebony – while an Acorn with Lunar interior is also available on Fuji White and Santorini Black vehicles. Interior detailing includes tactile Robustec veneer, while the Cross Car Beam is available in Light Grey or White, carrying an element of the County Exterior Pack through to the interior.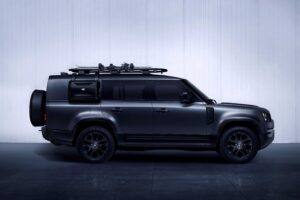 DEFENDER 130 OUTBOUND AND DEFENDER 130 V8
New Defender 130 Outbound embraces the impossible with an unprecedented combination of luxurious interior space and allterrain capability. It brings even greater potential for overland exploration and enables those with active and adventurous lifestyles to pack everything they need to get out and explore. The ultimate expression of Defender's breadth of talents, 130 Outbound is available exclusively with five seats and up to 2,516 litres (1,329 litres with row two seats in use) of space in the rear. It can tow up to 3,000 kg – meaning everything from jet skis and boats to caravans and trailers can be towed with ease.
Unique exterior design enhancements means Defender 130 Outbound stands out wherever it goes. Inside, clients can choose luxurious full Windsor leather or durable Resist fabric, offering tactile material options to best suit their lifestyle. Unstoppable 4×4 capability is provided by Defender's proven Intelligent All-Wheel Drive System and Terrain Response 2® while Electronic Air Suspension and Adaptive Dynamics are fitted as standard. Advanced offroad driving technologies ensure effortless and reassuring progress across any terrain, with the Electronic Air Suspension allowing up to 430mm of articulation and up to 900mm of wading.
Defender 130 Outbound is available with P400 petrol and D300 diesel Ingenium power. Both feature Mild Hybrid Electric Vehicle (MHEV) technology for optimum performance and efficiency. The Defender 130 line-up is also expanding with the addition of a 5.0-litre supercharged V8 engine, offering a compelling combination of performance, cruising refinement and capability. Producing 500 HP and 610 Nm of torque, it powers Defender 130 from 0-100km/h in as little as 5.7 seconds.
The Defender 110 with County Exterior Pack, Defender 130 Outbound and Defender 130 V8 are available to order now at authorized retailer Auto Benussi