The Croatian National Tourist Board has opened in Shanghai the office that will cover large and for Croatian tourism a strategically important market for China. Croatian Prime Minister Andrej Plenkovic was officially opened in front of numerous guests, in the presence of Director of Croatian National Tourist Board Kristjan Stanic, President of the Croatian Chamber of Economy, Luke Burilovic, and Ambassador of the Republic of Croatia to NR Kine Nebojsa Koharovic.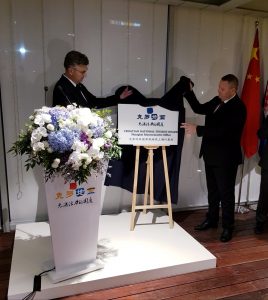 "For Croatia this will be the best tourist year ever with almost 20 million arrivals and over 106 million overnight stays and a billion euro investment in tourism. Next 2019 will be a year of culture and tourism between Croatia and China and this is a great opportunity for us to further position our country on the Chinese market, "said Prime Minister Andrej Plenkovic at the opening of the Office of the HTZ Representative Office in Shanghai.
Director Staničić emphasized in his introductory speech that office of the HTZ office will open at the HGK Representative Office in Shanghai for cost savings and future stronger institutional co-operation. "We are exceptionally proud to open the office in Shanghai just in the year that has been declared the year of tourism of the European Union and China. It is the right moment to embark on this great and important market with an even stronger positioning of our country as an attractive all-year tourist destination. Namely, this year alone, we note the growth of Chinese tourists' turnover by 40 percent, and the room for even better results is indeed there. Croatia in China is yet to take a firm market position, potentials are confirmed by the award of the renowned Travel + Leisure magazine, which has declared our country the most desirable new European destination for Chinese tourists this year, "Staničić said, adding that the new office will implement all key activities aimed at attracting even more Chinese visitors, introducing direct aviolines between China and Croatia, and developing tailor-made tourism for Chinese tourists.
"I am delighted by the fact that, apart from tourists, a great interest for Croatia is also shown by investors who have already started with big investments in the tourist sector. This positive trend should also be stimulated and capitalized, and I do not even doubt that we will succeed in joint efforts, "Burilović emphasized.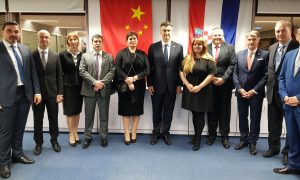 Franka Gulin, director of the newly-established office in Shanghai, also attended the opening of the branch office. "China is the world's largest market in every respect, and this fact for us, as a relatively small European country, is also the biggest challenge. However, I am confident of the excellent results that we will achieve in the future as the Croatian tourist offer contains all that Chinese tourists prefer to consume, a rich cultural and historical heritage, preserved nature and quality eno-gastronomy, "Gulin said.
As during the first ten months of this year, 216,000 arrivals and 315,000 overnight stays were recorded from the Chinese market, up from 43 percent in arrivals and 42 percent in overnight stays compared to the same period last year. Chinese tourists made the most nights in Zagreb, Dubrovnik, Split and Zadar.
Chinese tourists are interesting in the affirmation of the pre- and post-war period, as most arrivals are in October (18%) and June (16%), then in May (14%) and September (14%). The largest number of Chinese tourists to Croatia are organized, mostly within the regional tour, and more than 66% of Chinese tourists' nights have been spent at hotels, while accommodation in households is around 24%. On average, the destinations stay very short and often change their place of residence. When talking about the motives of their arrival, they are the most important travel motive (73%), followed by gastronomy (64%).
Also, when traveling to Europe, they tend to visit several destinations and precisely because of this, the Croatian National Tourist Board and the Slovenian tourist organization on the Chinese market carry out joint promotional activities within the project "Experience Croatia, Feel Slovenia". We remind you that this project for the next year has also been provided by the European Touristic Committee (ETC), with no refund, on the basis of calls from national tourism organizations to submit thematic transnational campaigns to promote Europe in China.