Croatia can be a base for Indian investments, not only for the 4.2 billion worth Croatian market, but for the broader EU market. Therefore, along with the development of the bilateral relations, we are putting a strong emphasis on the economic dimension of our partnership.
"As the Croatian economy grows, India is very willing to work with Croatia as an equal partner", says H.E. Mr. Sandeep Kumar, Indian Ambassador to Croatia. "There is close to a 30% increase in trade in 2017 between our two countries. Albeit such growth is partly due to the small base. The Indian FDIs in Croatia are growing, and there is a potential for a much larger cooperation between two countries", says Ambassador Kumar.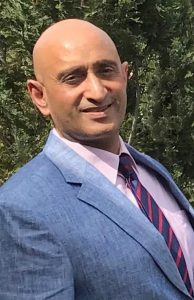 What is your assessment of the bilateral relations between India and Croatia?
Bilateral relations between India and Croatia have grown tangentially over the last three years, in all sectors. There may be constraints in terms of the geography, size of our economies and business culture, but more importantly, there are complementarities in exchange of the technical knowhow, business opportunities, sharing of cultural values and religious homogeneity.
Which areas of cooperation do you focus on?
The main focus has been to impart economic thrust to our relationship. There has been around a 30% increase in trade between our two countries in 2017. There has also been a 60% increase in Indian tourist arrivals. The Indian investments in Croatia are growing. At the same time, we have been encouraging Croatian companies to partner with us in our major flagship development programmes like Make in India, Smart Cities and Digital India, which will open up a 1.3 billion people market for them. The globally renowned Croatian companies like HS Produkt, Sestan-Busch, Končar, Podravka, Rimac Automobili and others have been exploring these possibilities. Infobip has opened four offices in India.
3.India is one of the fastest growing economies of the world. In which areas do you see room for development of the economic cooperation with Croatia?
The identified areas of cooperation are pharmaceuticals, renewable energy, start-ups and innovation, tourism, ship-building and infrastructure. An Economic Cooperation Agreement was signed between the two countries during the visit of the Indian Commerce Minister in February 2017 which should provide an impetus to economic ties. A Joint Business Council, comprising of top business companies and academics, has been set up to highlight the links between business and research.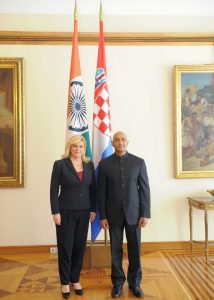 4.How interesting is this region for India in terms of investments?
Croatia can be a base for Indian investments, not only for the 4.2 billion worth Croatian market, but for the broader EU market. ACG-Lukaps, with EUR 40 million projected investments and 240 employees in Ludbreg, has become the 3rd largest hard gelatin capsule supplier to Europe. Last year, it acquired the local company IN2-Trace, specializing in medical serialization software. Infosys, the Indian IT giant, opened an office in Karlovac, with 100 engineers, becoming the near-shore engineering delivery centre for the EU. Another Indian firm, Orient Green Power, has invested around EUR 15 million in wind farms in the coastal region around Šibenik. Tech Mahindra, the globally renowned Indian automobile company, will be opening an auto software development centre in Zagreb with 100 engineers with the number of engineers expected to grow to 250 in the next two years. We are also leveraging the Indian industry for using Croatian ports of Rijeka and Ploče for transportation of goods and services into Western and Northern Europe.
5.In addition to economic cooperation and good political relations, which other segment have you been focusing on during your tenure as the ambassador?
Apart from the economic and political cooperation, our focus has been on culture, academic, and science & technology exchanges. There are several India-oriented societies comprising of Croatian nationals like Yoga in Daily Life, Art of Living, Centre of Vedic Studies, ISKCON, Bhakti Marga, Ananada Trust, LOTOS Indian Cultural Centre, etc. which have become our credible partners in propagation of Indian culture in all regions of Croatia. The Cultural Exchange Programme, signed during the official visit of Croatian DPM and FM Ms. Marija Pejčinović Burić's visit to India on 22nd Oct 2018, will further open up possibilities for cultural expansion. There is also a growing interest in Yoga and Ayurveda. This year, the International Yoga Day was organized in 37 cities across Croatia. It was an extraordinary journey towards holistic health, global peace and security. A National Ayurveda Association has been set up too. As part of our skills development programme, several Croatian officials from central and provincial governments have undergone various training courses in India. The Indology Department at the University of Zagreb has been teaching Hindi language for the last 50 years and also doing research in Sanskrit, Indian philosophy and culture for the last 150 years.
6.In which direction will the relations between the two countries develop in the future?
I expect the relationship to continue to grow in the future. As the Croatian economy grows, India is very willing to work with Croatia as an equal partner. As our two countries embark collectively on the path of peace and prosperity, there is much that we can substantively achieve together through creativity, ingenuity and out-of-box thinking. There is also a growing trend of Indian workers being inducted into Croatian companies in construction, tourism and other services sectors. This trend is likely to grow. Indija i Hrvatska naprijed zajedno!
7.What do you like the most about Croatia, since you got thoroughly acquainted with the country during your tenure here?
Croatia is a beautiful country with breathtaking landscapes. But for me, the main resource base has been the people of Croatia who opened up their hearts and homes to me. I came, I saw, I learnt, I admired. And I painted. I have received so much love in Croatia which will see me through for a long time to come. Hrvatska u srcu!
8.You are an avid painter, and your artwork can be found all over your residence. You have recently given the Croatian president her portrait that you had painted. What inspires you to paint, how do you pick the motif of your paintings and when to paint?
My inspiration to paint comes from the natural settings. I get moved by simple things of life like the setting sun, soaring of the kingfisher in the sky, changing autumn colours, etc., which remain captured in the imagination and get reflected in the paintings. I do not have any set themes but am not shy to splash a lot of colour on the canvass. Painting is like awakening of the self, rejuvenation, self-discovery. I love exploring contrasts, like that of oil and mud, to bring out the beauty on the canvass. I also experimented with Croatian contemporary settings, like the elections, Agrokor crisis, Zagreb cathedral, and the remarkable Croatian journey in FIFA 2018. I also ventured to do a portrait of the Croatian President, which I gave to her as a gift.