The SLO CRO Business Club hosted a business breakfast, with the "With Triglav to the top" theme, at the Hilton Garden Inn, Zagreb.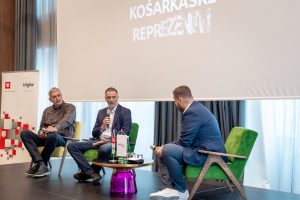 The Triglav Insurance Company, which also has its representative office in Zagreb, signed a four-year sponsorship agreement with the Croatian Basketball Association (HKZ) in June this year. The Triglav Insurance Company is a long-time sponsor of various sports events and clubs, and thus promotes healthy lifestyles and activities.
Triglav has been a member of the SLO CRO Business Club for many years. Together, we organized the event with a round table discussion on the topic of the business sponsoring sports.  The president of the HKZ, Stojko Vranković and the Croatian National Basketball Team coach, Veljko Mršić took part in the discussion which was moderated by the renowned Croatian sports reporter, Marko Šapit.
Both the president and the coach expressed their gratitude to Triglav for its support of the Croatian basketball, which is currently not in the top form. The Triglav Insurance Company believes that, with their help, the Croatian basketball players can once again reach the apex of the European basketball.
There was also a premiere of a promotional video at the event featuring the most promising young Croatian basketball players who featured in an advertisement for the Triglav Insurance Company.
After the round table, Vladimir Mišo Čeplak, Procurator of the Triglav Insurance Company, briefly presented the history of the company in Croatia, its business results and the latest insurance packages that appeal to business people as well.
The president of the SLO CRO Business Club, Saša Muminović, PhD, also addressed those present.
The business breakfast was attended by over 80 representatives of various companies from Slovenia and Croatia, who found the event to be extremely interesting and useful.