On Friday, 5 November 2021,  SLO CRO Business Club organized business breakfast for a members. Darko Skrnički, President of the Management Board of Intereuropa for Croatia and Bosnia and Herzegovina, and Urban Mlakar, Logistics Director at AD-Vita (Svilanit), spoke at the working part of the event. President of SLO CRO Business Club dr. Saša Muminović started the conversation with the question, why are transport prices rising !?
Darko Skrnički, President of the Management Board of Intereuropa for Croatia and Bosnia and Herzegovina, said that there was no easy answer, but in any case it was closely connected with the pandemic.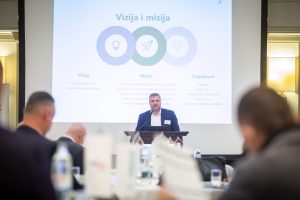 Photo:Goran Januš
It was the shutdown of some logistics routes, such as air transport, that caused transport prices to rise. The volume of online purchases has further increased, as a result of which retailers have flooded logistics with orders. Demand for additional rolling stock and labor in this sector has increased. Neither the first nor the second was available at one time and even today the automotive industry is in a convulsion due to a lack of components. It is a domino effect that has led to rising prices in transport. Due to the blockage of the container ship in the Suez Canal – the transatlantic transport has stopped completely! Skrnički said that we are still "paying" for that congestion, while air traffic is still reduced and extremely expensive.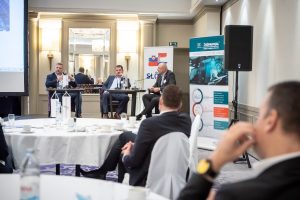 Urban Mlakar, Director of Logistics at AD-Vita (Svilanit), spoke from the perspective of a trader and user of logistics services, who has been cooperating with Intereuropa for many years. They are a company that does not have its own storage facilities and depends entirely on fast and efficient transport. During the pandemic, they closed their stores, while their online sales increased by 200%, which raised extremely high expectations from logistics partners.
The interlocutors concluded that partnership, mutual cooperation and sincere relations are extremely important in the relationship between a logistician and a trader. AD Vita is convinced that by optimizing their online shopping processes, they have helped their logistics partner to provide services easier and faster. They believe that trust and open cards are needed in this business! If a problem occurs, it is necessary to communicate and help each other.
The pandemic has taught us a lot, including how connected and interdependent the world is. Unit of time – immediately, today or tomorrow were taken for granted.
At the business event, we also learned an assessment of how quickly we can achieve the set goals of a green, sustainable and carbon-free society. Darko Skrnički said that from today's perspective we can expect that cities with conditions for the use of environmentally friendly energy will achieve this goal. He added that this goal could be pursued by production and storage with sustainable energy and carbon-free energy consumption, while shipping and air transport, which are major polluters of the environment, do not yet have an ecological energy source and much remains to be done.
Intereuropa is a company with more than half a century of tradition and extensive logistics operations. During the pandemic, certain logistics processes were optimized in a very short time and remain firmly in the saddle. With partners They are looking for new solutions that are most beneficial for everyone.