There are a number of excellent examples of successfully doing business in Croatia for the benefit of both Croatia and Germany.
In his interview for the jubilee issue of Diplomacy&Commerce magazine and the special supplement, InFocus Germany, the newly appointed Ambassador of the Federal Republic of Germany to Croatia, H.E. Dr. Robert Klinke talks about the relations between the two countries, their advancement and joint plans under the auspices of the initiatives that the both countries are members of.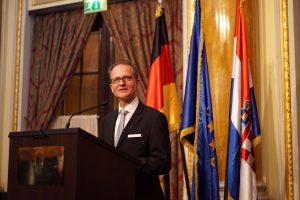 How would you describe the overall relationship between Germany and Croatia?
In the course of the past 26 years, our two countries have established very strong bilateral cooperation at political, economic and cultural level. Germany is a friend of Croatia. Here in Croatia we have the German-Croatian Chamber of Industry and Commerce, German political foundations, the Goethe-Institut and several German organisations working in the field of education and science. About 50 Croatian schools are taking part in a cooperation project sponsored by the German Government with a focus on learning the German language and promoting the image of modern Germany. German-Croatian relations are characterised by dialogue and interaction between people.
How would you describe the German-Croatian cooperation in the area of economy?
Our economic cooperation is a success story. Our trade exchange reached a historic peak of 5.2 billion euros in 2017. The Chamber of Industry and Commerce has around 400 member companies which provide around 80,000 jobs in Croatia. There are a number of excellent examples of successful business activities in Croatia which benefit both Croatia and Germany. However, I think that there is still room for improvement in areas such as the investment climate and implementation of the existing legal framework.
What would you like to achieve during your time in Zagreb?
There are a number of topics on which I would like to concentrate: EU, modernisation, regional cooperation are certainly among them.
The EU is our common future. That being the case, we, Germans and Croats, share responsibility for shaping this future. It is of the utmost importance that we all constructively contribute to this, while being ambitious and realistic at the same time. This is a task not only for politicians, but even more for society as a whole. The EU means all of us here. Our discussions should be driven by European values and contribute to identifying long-term solutions to the challenges we face in Europe. This also applies to 2020, when Croatia will take over the EU presidency in the first half of the year, followed by Germany.
Secondly, intensifying our economic cooperation has the goal of modernising both our economies. Vocational education and training is a good example – it can offer future prospects especially for young and skilled people here in Croatia, not to mention its positive impact on demographic development.
And as to regional cooperation: Croatia as an EU member with its expertise and experience has an important role to play. It can be instrumental in helping to bring the region closer to the EU. You might call this another added value of Croatia as our partner.
During the meeting of Federal Chancellor Merkel with Prime Minister Plenković in August 2018 a 10-point- action plan was mentioned. Could you tell us more about it?
In this meeting it was agreed to set up a joint action plan. It includes a number of fields of common interest such as foreign and European policy, the economy, agriculture, education, security, energy and environment, defence policy, tourism and health. We are now in the process of filling this framework with project proposals. I expect the plan to be signed by our foreign ministers in the months to come.
Schengen is one of the key issues for Croatia. What is the German standpoint to this? When do you expect Croatia to become a member of Schengen?
Federal Chancellor Merkel said at her meeting with Prime Minister Plenković that Germany has a positive attitude towards Croatia's Schengen membership. There is a clear procedure, criteria have to be met. We have to wait for the decision of the European Commission.