Sarajevo Business Forum meeting place of leading institutional and private business people from all over the world with businessmen and project owners from Bosnia and Herzegovina, Serbia, Croatia, Montenegro, North Macedonia, Slovenia and Albania. The Presidency of Bosnia and Herzegovina is sponsoring the 12th Sarajevo Business Forum (SBF), which will be held on May 17 and 18 in the capital of Bosnia and Herzegovina. This is the conclusion from the third, regular session of the BiH Presidency.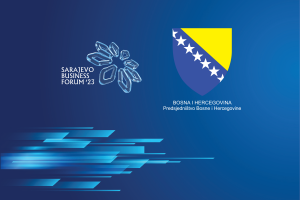 The twelfth Sarajevo Business Forum, a prestigious and recognizable platform for business networking and research into investment and business opportunities in Southeast European countries, is organized with the aim of encouraging the economic development of all countries in the region. In 2023, it will offer all participants two days of cross-border experience of interesting panels, discussions and business networking. With the planned attendance of more than 1,500 domestic, regional and world representatives of governments, ministries, investors and representatives of business communities coming from around 50 countries around the world, presentations of over 200 investment projects and business opportunities are expected at the 12th SBF, organizations of more than 400 G2G/G2B/B2B meetings with the presence of over 200 media representatives from BiH, regional countries and the world.
Recognizing the importance of the joint performance of countries from the region, Bosna Bank International (BBI), with the support of its shareholders, Islamic Development Bank (IsDB) Group, Abu Dhabi Islamic Bank (ADIB) and Dubai Islamic Bank (DIB), a strategic partner of the Ministry of Economy of Sarajevo Canton and numerous domestic and international partners, started organizational preparations for the upcoming Sarajevo Business Forum – a leading meeting platform that almost always results in new and better investments and at the same time represents a business base, which can primarily be used by key business decision makers in the country, as well as all visitors , exhibitors and participants.
The SBF will be a great opportunity for discussions about the economic environment and challenges that we will face in 2023 as well. The confirmed response of panelists, participants and sponsors promises a high-quality and diverse conference program with research and development presentations from leading companies, especially in the fields of energy efficiency, electromobility, energy storage, IT industry, and tourism.
During its 12th year of operation, the Sarajevo Business Forum has positioned itself as one of the largest business events in the region and throughout Southeast Europe and has had a positive impact on building the image of the state of Bosnia and Herzegovina as a destination for investment and economic development.