Guests are very impressed with the newly renovated Valamar Collection Marea Suites 5* in Poreč, designed for a luxurious family holiday, and with a premium camping resort Istria Premium Camping Resort 5*.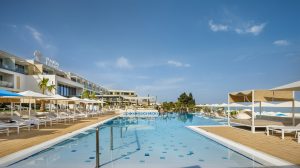 With the opening of Valamar Collection Marea Suites 5* in Poreč and Istria Premium Camping Resort 5* in Funtana, Valamar officially presented this year's investment worth 793 million kuna. This completes a three-year investment cycle in which Valamar implemented investments worth 2.5 billion kuna thus validating the position of the largest Croatian tourist company and the leading national investor.
"Up until now, and including the investments we made so far this year, Valamar has invested a total of 5.8 billion kuna in Croatian tourism. As part of our three-year growth and development strategy, we invested a total of 2.5 billion kuna in the tourism portfolio, and if we include investments in business expansion and acquisitions, this amount exceeds 3 billion kuna. In addition to repositioning the portfolio to suit our high-value offer, Valamar has been continuously investing in improving the financial standing of its employees and their professional development which is why the company is recognized as the best employer in the Croatian tourism sector. This year, we have created close to 400 new jobs, and this summer, Valamar will employ around 7,000 people," said Ivana Budin Arhanić, Vice President for business development and corporate affairs at Valamar.
The press attended the opening of Valamar Collection Marea Suites 5* in Poreč and Istria Premium Camping Resort 5* in Funtana – two new big 5-star facilities that have already received first guests and recorded excellent booking results this tourist season.
The unique Valamar Collection Marea Suites 5* has rounded off the Collection Offer in Poreč. A total of 140 million kuna was invested in this facility. Marea Collection Resort's construction began in autumn and was successfully completed in just eight months, with 25 domestic companies hired to carry out construction works.
"Valamar Marea Collection Resort is designed for families with children and with this investment, we have extended the family holiday offer in Poreč. This resort provides level 5 services, it has luxury suites with sea views, attractive swimming pools spanning 200 square metres, the revamped beach, restaurants, sports facilities and Maro offer for children of all ages", the resort's director, Ozren Renko pointed out.
The investment in Istria Premium Camping Resort, the first Valamar five-star campsite and one of the best campsites in the Mediterranean, is a continuation of investments in the camping segment in the direction of high added value. A total of 280 million kuna was invested in Istria Premium Camping Resort in the last two years.
"Istria Premium Camping Resort has a large family-oriented water park with 1,000 square meters of water surface, a large entertainment hall with cinema, stage, children's clubs and playrooms and Super Maro programs for children. Here, you can find one of the most beautiful Valamar beaches overlooking the old town of Vrsar and its piazza, as well as restaurants, bars, V Sports Park and playgrounds plus there are camping tents and luxury mobile homes with private pools. This is a high-value family resort in the camping products segment," said Lea Sošić, Product Development Director at Valamar.
This season, Valamar's guests can also enjoy the completely refurbished TUI Sensimar Carolina Resort by Valamar and Padova Premium Camping Resort on the island of Rab, new facilities at the Valamar Meteor Hotel in Makarska and a series of novelties in the campsites Lanterna Premium Camping Resort and Ježevac Premium Camping Resort on the island of Krk.