Today AmCham is the leading international business association representing more than 220 companies which employ more than 70.000 people in Croatia. Last year we organized 77 events (62 own), 65 committee meetings and 33 policy meetings with government representatives.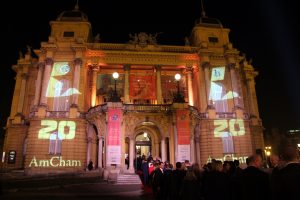 Following the tradition in other European countries, 20 companies and individuals gathered in December 1998 and founded AmCham in Croatia. Since then, AmCham has been a meeting place of leading international companies. American companies doing business in Croatia, international companies coming from more than 20 countries and Croatian companies engaged in international trade and investments, contribute to more competitive Croatia.
The gala reception celebrating 20 Years of AmCham Croatia took place on October 17, 2018 at Croatian National Theater in Zagreb.
At the celebration we reflected on the past 20 years through a film in which we had the opportunity to listen to the founders as well as some of the Presidents of AmCham Board of Governors. We were glad that, in the film we were also joined by representatives of some of the public institutions with which AmCham intensely cooperates.
The celebration gathered seven hundred guests, representatives of Croatian business community, Government, international organizations as well as diplomatic corps who enjoyed the performance of Zagreb Philharmonic.