When someone is doing the easiest job in the world and still manages to make a commotion among the viewers in the region asking them if they were better before or now, why would they retire? Goran Milić wants to pack his bags and go to Cuba to ask the local citizens what will happen when the regime and the system change over there.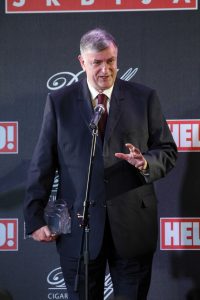 Since he moved 25 times by now in his life, Goran Milić, a veteran of Croatian journalism, is thinking that he might try living in the 26th place – in Split, as a good mix of cities where he lived lately. But before that, there are other places he would be willing to visit carried on the wings of journalistic curiosity. As an expert in questioning the past and the future in the Balkans, Milić is most probably most qualified to take a peek into the soul of those who wait for changes with hope and fear, in places that are yet to experience their transformation from socialism to capitalism.
In the past, journalists fought for accelerated retirement and it was considered that not many would live long enough to retire. And here you are in your seventies actively working, and you enjoy the status of a walking journalist legend. Are you an exception or are times then and now very different?
 Not only in so-called socialist, but also in many other countries of the world, people were divided into those who want to retire as soon as possible and those who want to work longer than the prescribed legal deadlines. Accelerated retirement made sense for miners, and even for some policemen, but not for journalists. However, since journalists had access to the media, this talk about "difficult lives of journalists", "stressful job", shorter lifespan, etc. was often presented to the public. Others didn't understand why they are being forced to retire from state-owned media when they turn 65 and, eventually shifted to the second-rate status of a freelancer. Luckily for the profession, the idea of accelerated retirement didn't pass and many journalists did their best work after they turned 60. Because, let's be honest, journalism is a far easier job than digging trenches. If you are too old to go out to the field and to run after daily events, there is always the position of an experienced editor and mentor to younger staff.
The series "Nekad i sad (je li bilo bolje)" (Then and Now (Was It Better)) is trying to give an answer to the eternal question: did we live better before or do we have more today. After the making of the shows, what is your conclusion?
 Hahaha, this is how I described it by comparing experience from three countries where I filmed this series. In Croatia, life is better, but it is much more difficult than before. There is less safety, it is necessary to work more, often even two-three jobs. It's much tenser and there is greater fear for the future of children and grandchildren than before. But, people have more real estate, they live in better houses and apartments, standard for summer vacation is higher, cars are better, a trip to Trieste is no longer necessary, that's a fact. So, it's better but more difficult.
In Bosnia Herzegovina, poet and wise man Abdulah Sidran defined the situation like this: Today is so bad that ANY TIME BEFORE WAS BETTER. And what's worst, as time goes by, it will seem increasingly better in the extent in which we will be worse…"
In Serbia, I liked the story about a man from Vranje who went to see a fortune teller:
Woman, you guessed everything in my life, tell me how will my life be in this capitalism?

Oh, Jovanče… It will be very difficult, very difficult in the first 30 years…

Oh indeed… And after these 30 years?

Then you'll get used to it.
I recounted the event in the series because I think that the first 30 or so years of communism were difficult as well. Quite difficult. And then people got used to it, so today many people talk about the past times with nostalgia. Especially the Serbs, because with today's uncertainty that comes with liberal and chaotic capitalism, Serbian people feel strong nostalgia for Yugoslavia.
The past should not be forgotten, but we should move forward. What do you think is stopping a more serious progress of relations between the countries in the region and how to overcome that? It seems that relations between the people are progressing.
 The memory of recent wars and the Balkan syndrome where nobody wants to be a national minority hampers the progress. Life in a common state and similarity of languages we communicate with has contributed in the past to close ties and very often a sincere liking of the other nations in SFRY. But, since there is a small step between love and hate in the human nature, since people close to each other can love and hate each other much more than it would happen with unknown and distant cultures, we are now living this posttraumatic stage. There are numerous examples of mutual respect, friendly meetings, as though wars never happened, but sometimes, all it takes is a spark for rage and hostility to return. I lived in Strasbourg from 1953 to 1957, and I don't remember any student in my school speaking German in public. And there were at least 20% Germans. Hassler, Burger, Heider, Knauff, I remember them to this day. Two civilized European nations found peace 20 -30 years after the terrible World War II, but things tend to do differently with us. In some other segments of life much faster than with Germans and the French, in other segments significantly slower…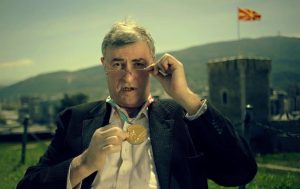 You moved all around the world and around the country. Has the time come for you to settle in one place, and is that place Zagreb? How does Zagreb seem to you today?
 If moving means relocation from one city to another for more than three – four months, then I moved 25 times in my life. That is why I cannot respond to this question with certainty. Zagreb is my home town, it has improved significantly since the 1987 Univerziade, it is very comfortable to live in, it has everything a person needs, and it's not a megalopolis, it's not too big for citizens to be bothered by traffic jams, lack of parking, great distances, social issues, the homeless, crime on the streets… Zagreb did not receive too many new citizens in this resettlement of the population all over ex-Yugoslavia, in average there is a surplus residential squares, but if you give in to hedonism just a little, you will realize that Zagreb is also an expensive city. I have a feeling, even though I don't know if my guess is correct, that I would like to spend the last years of my life in Split. I never lived there, but it seems to me that Split is a result of all the cities I stayed for longer periods of time – Zagreb, Belgrade, London, New York, Montevideo, Sarajevo… It a smaller city, but it is beautiful, diverse, exciting…
How would you describe the capitals in the region today (by appearance, infrastructure, investments) and in your opinion, is there a great difference between the more westerner cities and the rest?

 I visited all the capitals several times in the past five or six years, and I knew them well even before the war. They all made progress and they all look better than 30 years ago. There are a lot more hotels and they offer better quality service than before. There are more traffic jams because there are more cars. Most cities have newly built airports. They are mainly connected by highways and surrounded by bypasses. Ljubljana looks the best, and it rightfully became the European Green Capital. I already said that Zagreb is a comfortable and well organized city. Belgrade is most attractive for fun, it offers good quality and relatively cheap gastronomy and rich nightlife. Along with Sarajevo, these four cities are constantly growing in terms of tourism, so the locals are renting rooms and suites increasingly more. Overnight stays are measured in millions. I was surprised by the fast growth of Priština, which went from an unattractive little town to become an interesting place to live. Podgorica and Skopje aren't bad either. But you know what they have in common? Those major companies that employed dozens of thousands of people have disappeared everywhere. In all those cities, hospitals are the biggest employers! If that was America, it would be great because hospitals there are a source of profit. But here, in the Region, they are a place of expense!
Do you have any unfulfilled life's wishes and business plans you would like to fulfil?
Yes I do. I am now planning a trip to Cuba. I want to do a series of travel and documentary stories where I would speculate about what will happen once they change the regime and the system there. Will these people, who lived poorly for 60 years, but are used to security and modesty and have developed remarkable skills to beat the poverty, survive in new circumstances? When they work for three times higher salaries, but it might not be enough for fulfilment of piled up wishes. When the Cubans who escaped return and impose the "a la Miami" rules? Of course, I would always do that with associations to what happened to us, so the local viewers could understand all that better.
7.What makes you happy today, and what makes you sad?
I don't have great demands, I am satisfied with ordinary things. For example, for the first time in 48 years of work, I could afford a drive from Zagreb to Cavtat via Trieste. Autistic, by car, by myself… Two weeks in the Adriatic. I visit friends at the end of the season, I go to an unknown café, talk to people about big things and small. Without a cameraman, without a sound engineer. All by myself. And what annoys me? Our vanities. I think that half the problems in the Balkans came from uncontrolled vanity, and only half of them are financial. We cannot seem to understand that civilization is restraint from uncontrolled outburst of emotions.