The session of the Government began with a minute of silence for all the victims of the earthquake. "The devastating earthquake has claimed seven lives so far, and we express our condolences to the families of those killed and those injured," said Prime Minister Andrej Plenković. He reported that 26 people were injured and that the ruins are still being searched. He announced that the Government will make a decision on the day of mourning – on Saturday, January 2th.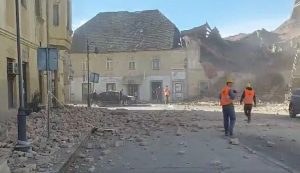 "This is an opportunity for Croatia to show a big heart, it has already been felt. We especially appreciate the people who give help and we recommend that the help goes through civil protection and the Croatian Red Cross so that the help reaches the smallest village, hamlet and place, "he said. He begs citizens to be careful because fake bills also appear. He said it was appropriate that they made the decision to abolish the passes, but once again asked everyone to be careful and adhere to epidemiological measures.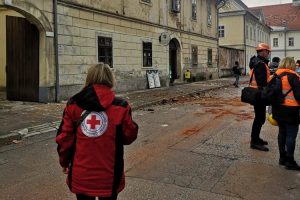 Croatian Mountain Rescue Service (HGSS) head Josip Granic said on Wednesday that over the past night HGSS members visited 84 villages and hamlets in areas struck by yesterday's 6.2 earthquake, finding no one under rubble or in need of emergency assistance.
"We found people outside. Nowhere has anyone been found under rubble or needing emergency assistance. We had two people with broken arms whom we turned over to emergency medical services," Granic told Croatian Radio.
Speaking from Petrinja, he said this morning HGSS was sending some 100 members to continue to inspect villages.
Granic said that during yesterday's tour the HGSS established where food, diapers or blankets were needed and that it was sending people there to deliver them. We will see what else is necessary in coordination with the Civil Protection, he added.
"Everything is taking its course. Despite such a difficult situation, things are nonetheless functioning."
Granic said the old buildings in the centre of Petrinja were demolished and damaged, and that many nearby buildings were damaged, but not demolished.
HGSS deputy head Neven Putar said on Tuesday evening that the HGSS had rescued six people from under the rubble in the Petrinja area.
Granic said 169 HGSS members from 19 stations across Croatia were on the ground, helped by search dogs, and that the entire Civil Protection service was engaged in the rescue operations yesterday and through the night.
There have been seven deaths reported. The seventh fatality was a man pulled out from under the rubble of a church in Zazina near Sisak.