Ai Weiwei – famous as a human rights activist – is one of the most influential artists of our time. His most extensive retrospective exhibition to date provides an insight into all creative phases of his career, which spanned more than four decades, and reveals his incomparable aesthetic design principles.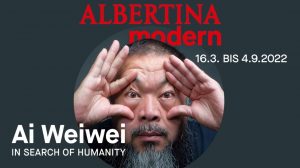 Surprising mysteriousness
Ai's early objects combine logically and functionally unrelated objects into a surprising enigma: a shovel is covered with warm fur, two shoes are paired like dung beetles that are wedged together. He liberates things from their practical value and combines found objects into a new world of objects.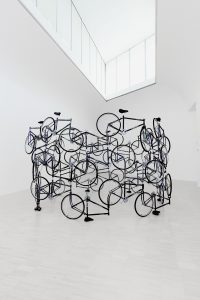 Deconstruction
Fragments, deformations and remains of all kinds populate Ai's work. It reflects the experience of the terrible years of the "Cultural Revolution", their campaign of annihilation in the service of the Maoist re-education of the people. The aesthetic principle of destruction sensitises the artist to the discovery of destroyed sculptures, the fragments of which Ai presents like precious relics. Later – under the impression of the armed conflicts in Syria – he searches for fragments that denounce the destructiveness of war.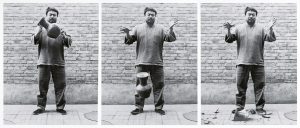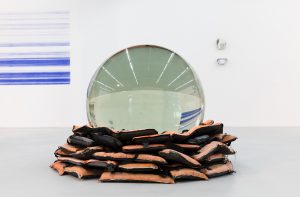 Readymades
All these readymades – Julian Assange's treadmill or the stuffed panda stuffed with secret NSA material – make us perceive the world in unusual ways. Without the arrangement of the life jackets left by refugees on the beach, which are wrapped around a crystal ball weighing tons, like a lotus flower, the migrants' catastrophe would soon become vague again: forgotten through habituation.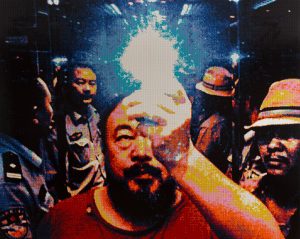 Metamorphosis
Another design principle is metamorphosis. The transformation using marble, for example, creates a monument to things: there are memories of his childhood, the trauma of his imprisonment, the doors of demolished houses that fell victim to China's modernisation. Ai presents his handcuffs in a valuable container in a noble display case or places stone monuments on a pedestal. Drowned refugees, maize fields devoured by locusts or the navigation route of the Sea-Watch 3 are built into unsettling images by Ai, from colourful Lego bricks. Lego, the world's most famous toy, loses its childlike innocence. The visual joke takes on a deeper meaning. The confusion emanating from these metamorphoses, the transformation of things into useless monuments, opens the door to far-reaching political associations and interpretations. Conceptual art has never been more vivid, sensual and engaged.
Source: Diplomacy&Commerce Austria / ALBERTINA Modern