Sandoz's global sales in 2021 reached the level of US$ 9.6 billion.
Sandoz operates pursuant to the highest quality requirements in accordance with Good Manufacturing Practice and Good Distribution Practice, Ana Gongola, Member of the Management Board of Sandoz Croatia, says for Diplomacy&Commerce, Focus on Switzerland. She also says that at the end of the summer of this year, the Novartis Board of Directors decided that it would be best for the strategic goals of Novartis and Sandoz for Sandoz to become an independent company.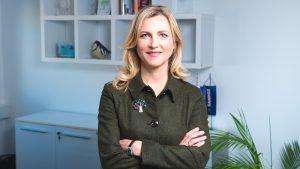 Sandoz is a global leader in the segment of generic pharmaceutical products and biosimilar drugs, and part of Novartis Group. What are your main goals and what is your mission?
Today, even with all the challenges and difficulties, people have a longer life expectancy than ever before in history. As a result, extended life expectancy brings with it more diseases, especially chronic ones, and all of the above burdens the individual, society and health systems. Sandoz's role in all of the above is to provide access to high-quality and affordable medicines to as many patients as possible.
In short, this is our purpose – increasing the availability of medicines.  Our global portfolio consists of approximately 1,000 molecules, covering a wide range of therapeutic areas. Sandoz's global sales in 2021 reached the level of 9.6 billion USD. Our broad portfolio delivers significant and ongoing savings for patients and national health budgets, helping to ensure the sustainability of healthcare systems under significant budgetary pressures, while freeing up funds to invest in innovative drugs.  Our products have found their way to more than 500 million patients, and the main strength of our large portfolio is our position as a global leader in the segment of biosimilar drugs, standard generic drugs, over-the-counter drugs, as well as antibiotics, which are also the foundation of health systems worldwide. We also implement a large number of targeted corporate responsibility programs aimed at increasing the availability of medicines and information in the field of medicine and the appropriate education of healthcare providers and patients.
Sandoz as a brand is a sign of quality. How difficult is it to maintain a level of quality these days and how do you achieve this?
In the pharmaceutical industry, which is a highly regulated industry, we are witnessing the constant growth of increasingly higher quality requirements from regulatory bodies, as well as from our partners.  Sandoz operates pursuant to the highest quality requirements in accordance with Good Manufacturing Practice and Good Distribution Practice.  In such a challenging environment, lifelong education in specific areas and following all the global requirements are key to maintaining a high level of quality.  Each individual employee is responsible for quality in his area of work, and our expert Quality Assurance Department provides support and supervises operations.  This is precisely why our employees are the key and our way of maintaining a high level of quality in everything we do.
What would you single out as most important of the plans for the coming period and in which direction these plans will be realized?
 Two major challenges await us in the coming period. The first is a common challenge for the entire generic industry, which is to ensure a continuous supply of drugs in this particular time of rising costs and inflation. We have good mechanisms in Europe that are designed to reduce the price of drugs so that more patients can be treated for a fraction of the cost and to open the door to innovation. It worked great for the last 40 years or so, but now that we are faced with an unprecedented energy crisis and inflation, the production of a whole range of medicines is questionable. The prices of drugs are low, and the prices of production and transport have increased many times. This leads to a challenging situation where market prices no longer cover production costs, and we will urgently need to agree on new models that will enable the indexation of prices of generic drugs to ensure the continuity of production and supply.
The second challenge is, in fact, the unique opportunity that has presented itself before Sandoz, which is the fact that by this time next year, Sandoz will be an independent company. Namely, at the end of the summer of this year, the Board of Directors of Novartis decided that it was best for the strategic goals of Novartis and Sandoz for Sandoz to become an independent company. This is an extremely exciting opportunity for all Sandoz employees. It is very rare in our careers that we have the opportunity to participate in something like this. I look forward to being able to fully commit to our mission, bringing as many high-quality generic drugs as possible to as many patients as possible, and being able to serve patients in the best way possible.
How would you rate cooperation with decision makers? Where do you see problems in terms of bureaucracy?
Sandoz is an active member in the Croatian Employers' Association, especially in the branch association of pharmaceutical manufacturers. We are also members of the American Chamber of Commerce, so there we have the opportunity to discuss key topics for the industry. As a rule, our cooperation with decision makers in Croatia takes place through these associations. This cooperation is sometimes really constructive and some proposals and improvements that we advocated as an industry were understood and appreciated, to the benefit of all stakeholders of the healthcare system. For some topics, unfortunately, there is not always as much attention and interest as we think would be necessary.
When we, as an industry, warn about the rising costs of producing a large number of generic drugs and the exponential growth of input costs – raw materials, energy, then packaging and transportation – it is necessary that we have informed, open and interested interlocutors on the other side who understand that the existing regulation of drug pricing which foresees only a constant reduction in the prices of prescription drugs does not support and does not reflect the reality we are currently in. Medicines such as antibiotics have extremely low prices, and their production consumes a lot of energy, the price of which is only increasing. It is not sustainable in the long term for the cost of production to rise exponentially while at the same time regulations dictate that the price must constantly fall. Such a pricing model needs to be changed urgently so that we do not have to face shortages of medicines such as antibiotics – which we are all used to and take for granted.
In conclusion – it is important for us as an industry to have interlocutors on the other side of the table who are willing and able to understand the bigger picture of drug production, the challenges we face, the benefits we bring to society and to the patients. As long as there is open cooperation and dialogue, there is always the possibility of finding a solution.
In addition to the quality of your products, your employees also represent your success. How do you motivate your employees to feel even better?
In addition to quality products, people are definitely the main driver of our company's success. We are aware that only with motivated and engaged employees can we maintain a leadership position on the market. We motivate people in several ways. To begin with, it includes a clear communication of goals so that everyone has the same understanding in which direction we are going together. When their goals are known, people must know what their purpose is in achieving these goals and how they contribute to their achievement. Also, you have to give them responsibility and believe in them that they will achieve these goals. I think that, in general, the possibility to specifically influence the quality of someone's life and health outcome, while at the same time being affordable and accessible, is what motivates us and our employees.
Sandoz Croatia pays great attention to social responsibility. How and through what campaigns?
Make the world a better place is Sandoz's main philosophy. Bearing this in mind, we work hard to ensure safe practices and operations when it comes to our people and the community in which we live and work.
Sandoz is always actively working to find new ways to help patients around the world have access to high-quality medicines, but it is also participating in very specific educational projects, in Croatia, for example, for the last few years we have been working very intensively on the project that promotes health literacy of patients and the general population. Also, Sandoz Croatia has on several occasions donated significant amounts for the fight against the coronavirus pandemic, for the victims of the Petrinja earthquake and for refugees from Ukraine.