For Diplomacy & Commerce magazine, we have asked officials, ambassadors, directors and presidents of chambers of commerce  for their opinion on political and economic challenges that awaits Croatia in 2020 and the key challenges on a global scale.
Andrea Doko Jelušić, Executive Director of AmChamm for Diplomacy&Commerce says: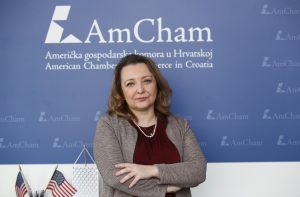 What political and economic challenges await Croatia in 2020?
2020 is a decisive year for the Croatian political arena. After elections in late 2019, the Croatian president will step into his/her office to begin a new mandate. On the other hand, parliamentary elections will take place at the end of 2020 to form a new convocation of Croatian Parliament and Government. Between these two key events for Croatian politics in the next 4-5 years, Croatia will, for the first time in its history, preside over the Council of the EU. Only six years after its accession, the country has been given the responsibility of facilitating the negotiation process for the EU budget, beginning the work of the new European Commission and unprecedented challenge to preside during the immediate repercussions of Brexit. It is expected that a busy political agenda will dominate over daily economic life, even though businesses will be interested to see where political Europe is heading, recognize its goals, and understand how they will influence the business environment.
What will be the key challenges on a global scale?
Global political and trade tensions have increased unpredictability. While the US economy is doing great, some European economies are slowing down, which might influence Croatian companies as parts of their value chains. The new European Commission will have to set an ambitious agenda in order for Europe to catch up to the US and China's technology development and close the competitiveness gap, as well as to deal with migration and sustainability challenges.