New and more complex challenges, as well as the decision of Croatian Government to reach strategic documents and improve the legal framework of national security for the first time after many years, and to finance procurement of modern equipment make this moment in development of defence forces a historically important one
Today, Croatia is a safe country, which citizens and numerous tourists coming to visit our country realize as well, it is an esteemed member of NATO, and members of Croatian peacekeeping forces are members of many missions worldwide, where they excel with their fitness and professionally, stated Damir Krstičević, Deputy PM and Minister of Defence of the Republic of Croatia.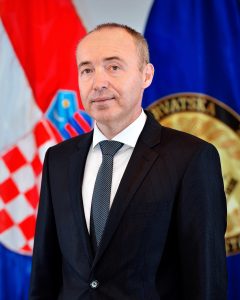 "Negative trends were stopped in this Government's mandate, we improved the defence capacities and material conditions of lives of members of the peacekeeping forces," our interlocutor states.
Expected continuation of growth of the defence budget will enable the implementation of other initiated and new plans of the Ministry of Defence.
1.How do you rate the security situation in Croatia and the region if we consider the challenges like the migrant crisis and similar?
The world, and the region of South Eastern Europe as well, are faced with new security challenges, like natural disasters, hybrid and cybernetic threats, migrant crisis. Croatia recognized that the security paradigm has changed and after 15 years, this Government reached a National Security Strategy and the Homeland Security Act. We are establishing a homeland security system which includes all the components, from the army, police, National Protection and Rescue Directorate (DUZS), Croatian Mountain Rescue Service, fire-fighters, and others.
Croatia is rated as a safe country and I am glad because of that, and this was noticed also by the many tourists coming to visit us. We are a member of the European Union and NATO, and an example for other countries in the region.
As for the countries of SE Europe, political situation continues to be unsatisfactory, however, we can see positive developments of countries on the path to Euro-Atlantic integration, i.e. the process of their accession to NATO, to which Republic of Croatia actively contributed. I am referring here to Montenegro's entry into NATO and to invitation sent to Macedonia for start of negotiations on membership.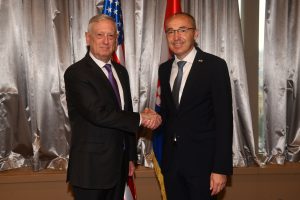 2.Within NATO and outside of it, which challenges are in your focus?
Republic of Croatia marked nine years of NATO membership this year, and we received praise from our allies on several occasions, of which I am extremely proud.
We have two important goals ahead: faithful fulfilment of obligations and active participation in redefining policies, structures and activities of the Alliance in accordance with national interests.
We will pay special attention to increased allocations for the defence, where we had a significant increase.
We are extremely proud of our participation in NATO operations and activities, primarily of our perennial participation in missions in Afghanistan and Kosovo, and in activities of enhanced Forward Presence in the Baltic members of the Alliance.
I saw for myself several times that our allies and partners extremely appreciate the superb professionalism, training and fitness of the members of Croatian Army in missions across the world within NATO, EU and UN. By participating in missions and operations worldwide, Croatian Army is strengthening its interoperability and its own abilities, and it is gaining valuable experience we can apply at home.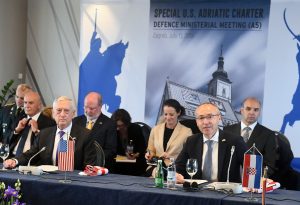 3.US Army and the US Government helped a great deal in gaining independence of Republic of Croatia and liberation of occupied territories during the Homeland War. How would you describe military relations with USA through history and how are they today? –
The United States of America are our key partner in the field of defence and safety. American contribution in equipping the Croatian Army through various donations and through training and education of our members is immeasurable. They helped us a great deal when joining the NATO alliance, both politically and in the military sense. After the war, we had to transform the Croatian Army so it could become a full-time member. For 22 years already, we are friends and partners with the Minnesota National Guard, and I am very satisfied with the achieved level of cooperation. In the field of safety and defence, we have always learned and we want to learn from the best.
Proof of partnership and friendship with the United States of America is the arrival of US Secretary of Defence James Mattis to Croatia. He visited Zagreb in July this year, where he took part in the Special US-Adriatic Charter Defence Ministers Meeting. On this occasion, Mattis repeated the words he said at the Pentagon, that Croatia is a small country fighting significantly above its category, which is a great recognition for Croatia and the Croatian Army.
In which areas is this cooperation most intensive?
Defence cooperation between Republic of Croatia and the United States of America is progressing in almost all functional areas, from education of members of the Croatian Army (CA) in USA, equipping and strategic transport of CA members in Afghanistan, organizing joint trainings and military exercises, donation of weapons and military equipment and enabling the use of funds for equipping and training, to support in the form of humanitarian activities.
Priorities are defined in three areas – upgrading of Croatian Army's defence abilities, contribution to international safety through NATO membership and by participating in missions and operations worldwide, promotion of stability in SE Europe through cooperation within the US-Adriatic Charter and assistance for NATO aspirants.
5.What is the combat condition and equipment of the Croatian army?
My team and I are systematically working on development of Croatian Army's abilities and improvement of living and working standards of members of the Croatian Army.
Fighting efficiency of the Croatian Army is at a high level, and required abilities of the Croatian Army are a result of the national defence planning process, which is in compliance with the NATO Defence Planning Process, and which provides a framework for harmonization of national and planning activities of allies.
Croatian Army is focused on creating new operative abilities and maintenance of existing ones, directly connected to modernization and equipping programs, education and training system and the implementation of national and international military exercises.
After 15 years, this Government reached a historical Decision on procurement of a multirole combat aircraft F-16 and to retain capability of surveillance and protection of air space and to preserve the future of our combat air force. Also, Kiowa Warrior armed reconnaissance helicopters were introduced in operative use, we conducted training for pilots and technicians for Kiowa Warrior helicopters and the first solo weapon firing exercises. We also conducted weapon firing exercises on powerful Panzer tanks.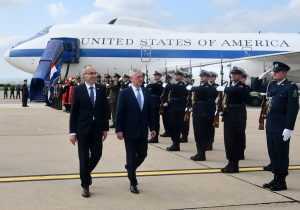 6.Since the beginning of the mandate, you and your team have been systematically working on reconstruction and modernization of Croatian Army. What can we expect in the upcoming period?
First of all, I want to point out that we stopped and reversed the negative trends and the decline in defence budget precisely in this Government's mandate. We have improved material rights and living and working conditions of our members, and we will continue to work on that.
We also expect a continuation of growth of the defence budget, which will allow further development of capabilities of the Armed Forces. In the upcoming period, we first plan to finish the initiated modernization projects, some of which – like the procurement of a multirole combat aircraft – are crucial for development of total capacities of the Armed Forces.
At the same time, development of capacities will focus on development of capacities of the land forces, introduction of new technologies into communication and information systems, development of commanding and supervision abilities, as well as introduction of a system that will directly improve the effectiveness of combat operations.
Overall development of capabilities on the long run will be developed in line with the projections of available resources through the Long-term Development Plan, which is being prepared.