The best Advent in Europe three times in a row will bring various events, warm and cosy atmosphere and a real holiday offer, where everyone will find something for themselves.
They say that there is no better Advent in Europe than the one in Zagreb, and maybe it's not too soon to say that the capital of Croatia is an excellent place to visit any time of the year. Numerous tourists who return to Zagreb in all seasons are the best proof of that, says Martina Bienefeld, Director of Zagreb Tourist Board.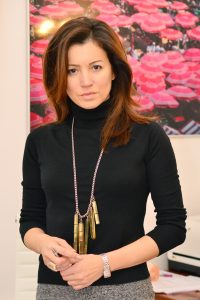 1. With prestigious awards for the best Christmas Market behind you, what surprise do you have in store for us this year?
We are in final preparations for Advent, so we won't reveal the surprises just yet, but what I can tell you is that the best Advent in Europe three times in a row will be full of various events, warm and cosy atmosphere and a real holiday offer, where everyone will find something for themselves.
How did Zagreb manage to impose itself with its offer in competition of markets with a long tradition and fame, some of which, like the Austrian Market, for example, are in our close neighbourhood?
After perennial efforts invested in promotion and contents, the Advent project in Zagreb has developed into a wholesome and strongest tourist product of the city. This was recognized by our fellow citizens as well, who are among the best promoters of not only Advent, but Zagreb in general. I often say that an event can succeed only if the local community accepts it, and the Zagreb Advent is the best example of this, because it managed to show and return to the streets that "good spirit" of Zagreb and the Christmas atmosphere, which are felt everywhere around. Here lies the key to our Advent's success and we are proud of the results we achieved.
How many guests do you expect this year? What is a typical profile of your guest and what can they find for themselves in the upcoming Advent celebration?
Last year, we recorded around 115,000 arrivals and 210,000 overnight stays during the Advent, and considering the growth we are seeing month after month, we expect a higher number of guest this year as well. The offer is diverse, so guests can enjoy skating at one of the most beautiful city locations – King Tomislav Square, and there are also special programs in Zrinjevac, European Square and other locations in the city centre. Especially magical is the Upper Town (Gornji grad), which revives the holiday atmosphere in its true meaning thanks to its specific charm and the spirit of old times.
Last year, you organized the Festival of Lights for the first time by combining modern technologies and the waking of the spring. Will this too become a part of your traditional offer?
The Festival of Lights Zagreb is a festival where light artists use the city and its views as a painting canvas thus announcing the spring and the tourist season. Innovative art and the magic of light offer yet another reason to visit the capital of Croatia, and we at the Zagreb Tourist Board will certainly develop this project with the goal of achieving long-term event organization and enriching of the cultural and tourist offer in that part of the year.
What do modern artists want today and what can you offer them with the Festival of Lights?
Along with historical sights and individual attractions, the main feature of our tourist offer is the emotion and atmosphere presented in an interesting and authentic way. This is precisely what we are trying to offer with the Festival of Lights, by paying attention to its sustainability, and by acknowledging the criteria set by City offices and the profession. If everything is done in accordance with specifications of the profession and with due respect towards the cultural and historical heritage of the city, each project, including the Festival of Lights Zagreb, will be a source of pride for most of our fellow citizens, and it will be an additional motive for tourists to visit Zagreb.
In terms of organization and infrastructure, to what extent is the capital ready for such events that require great creativity, huge accommodation capacities and flawless logistics?
An increase of overnight stays and arrivals doesn't depend only on events, but also on the infrastructure that is supposed to follow the development of the city. The importance of infrastructure for a city is best seen in last year's opening of the new terminal at the Franjo Tuđman Airport, which gave an additional tourist momentum to Zagreb. We at ZTB try to develop each project in a sustainable and quality manner, and this applies also to the Advent which we will develop with the highest possible quality in the future, taking care of each individual segment. Of course, we are not alone in our projects so we cannot act independently from the City, because without the city's support we could not implement our projects, including Advent in Zagreb or the Festival of Lights. Our synergy is natural and necessary, and I am glad that city offices are receptive to our ideas, together with the entire tourist industry.
6.To what extent does Zagreb contribute today to Croatia's revenues from tourism and to extension of tourist season for the whole year? Did young artists, creative people and private sector recognize their chance
Zagreb is at the very top of most visited destinations in Croatia, and what's specific for our city is that it has an all-year-round attractive offer. Zagreb Tourist Board, in cooperation with city offices, actively participates in development of creative projects and initiatives, because precisely these are an important element in development of quality social activities. Our projects provide space for young artists and creatives, and we are always open for new ideas and quality suggestions.