Our relationship is durable and prosperous and our cooperation on multiple levels including political, military and economic cooperation is close and effective.
"I was looking for a place where I could have the chance to work hard and make a difference", that is how H.E. Mr. W. Robert Kohorst, the United States Ambassador to Croatia, explains why he set his eyes on Croatia to start his diplomatic career. Close to the end of his first year of service in Croatia, H.E. Mr. Kohorst gives our readers his insights into potential for further improvement of the already excellent relations between the US and Croatia.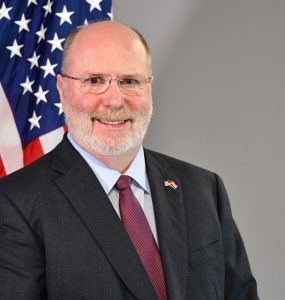 What makes the relationship between the US and Croatia so durable and prosperous today?
It is clear that the U.S.-Croatia relationship is strong and continues to grow in many ways. Croatia is a close NATO ally and EU partner and we share many common values. Our relationship is durable and prosperous due to our close and effective cooperation on multiple levels including political, military and economic cooperation.
In terms of our political cooperation, the United States and Croatia have a terrific relationship. I have met most of the senior leadership in the government, and we have been able to share ideas on a frank and open basis. Often we agree; sometimes we do not. However, that is how good friends and partners work together.
The United States and Croatia have excellent military cooperation. Our soldiers are deployed together on NATO missions in places like Afghanistan, Poland and Kosovo. Croatia also recently made a significant troop contribution to the UN peacekeeping mission in Lebanon. We share the common goal of bringing peace and stability to the region. Our close military relationship was highlighted by the visit of Secretary of Defense James Mattis to Zagreb in July in connection with the A5 Defense Ministerial Meeting. Secretary Mattis's visit was a follow on to a successful visit by Minister Krsticevic to Washington, DC in May.
Our economic relationship is significant with more than 100 U.S. based companies operating in Croatia. I encourage U.S. businesses to look for opportunities in Croatia, but I also know Croatia has a difficult investment climate. So I also spend a lot of time encouraging my Croatian interlocutors to support reforms that could improve the business climate, streamline bureaucracy, and build confidence in the judiciary. I think those are the keys to making Croatia an even more attractive investment destination.
How does Croatia's membership in NATO and European Union affect the relations between the two countries?
Croatia's membership in NATO and the EU demonstrates Croatia's commitment to Transatlantic values. Despite recently publicized disagreements between NATO and EU members and the United States, we all share a desire for peace and prosperity in the world. I believe we will work out our differences in a way that strengthens our relationships and furthers our values.
In terms of the economy, how would you rate the commercial and investment climate in Croatia?
As I have said many times before, the investment climate in Croatia is challenging. As Croatia improves its business climate, including reforms to the bureaucracy and judiciary, I expect that American companies will increase their presence here.
American businesses are driven by capitalistic ideals. When opportunities arise in Croatia, American companies will invest significant capital, but only if they know they can rely on efficient and effective state institutions, including the judiciary. That's why we continue to urge Croatia to improve its business climate – both the United States and Croatia benefit.
How likely is American involvement in the energy sector? Is the Three Seas Initiative viable now when relations between the US and the EU are going through changes?
Unlike many countries where investment decisions are driven by the state, U.S. investment decisions are all based on individual company determinations. This is especially true in the energy sector. The United States has deep pockets of capital ready to invest throughout the world in the right circumstances.
The Three Seas Initiative is an important and creative initiative. It will remain viable regardless of any short-term policy disagreements between the United States and European Union.
What is the strategic position of Washington about the construction of a floating terminal on Krk?
We view the Krk LNG project as important to providing energy diversification to Southeast Europe. It is one piece of the puzzle, but one that can be implemented in the near term. Diversification encourages best pricing and security of supply for a vital commodity. As a region vulnerable to supply disruption, Southeast Europe needs to diversity its options for purchasing gas. Croatia has the ability to make a major contribution to regional gas supply diversification and security.
As a real estate expert, how do you view Croatia's tourism sector?
Croatia has terrific and varied natural resources for tourism. The industry, however, needs additional capacity, particularly in the luxury tourism sector, to support continued usage and extension of the season. There are great opportunities for growth, but the local governments need to facilitate appropriate projects and not create unnecessary roadblocks to development. One thing I hope we can do to help is to exchange experience and best practices.
What do you see as similarities in the two cultures?
We share Western values, which were so beautifully articulated in our Declaration of Independence: "all Men are created equal, [and] . . . are endowed . . . with certain unalienable Rights, that among these are Life, Liberty and the Pursuit of Happiness …" Both of our cultures support these fundamental freedoms and our joint support of these democratic values allows us to have close and effective cooperation on a wide range of matters — not just through the kinds of political, economic, and military cooperation I described earlier, but also through educational and cultural exchanges which reinforce the kinds of personal ties that make our relationship so strong.
You have been in Croatia for a relatively short time. What do you like the most so far?
It is difficult to isolate one thing. First, I like the warmth of the people. My wife and I have been very welcomed by so many Croatians from all walks of life. It makes being a long way from our family in California better. Second, the country is beautiful, from the charm of Zagreb and many smaller towns, to the fabulous national parks, and of course, the coast. Third, the enduring friendship between the United States and Croatia makes my job enjoyable and, hopefully, productive.
What do you tell your friends in the US about the country you work in?
I tell my friends that I am thrilled to be in Croatia and have the opportunity to represent the United States here. I cannot image a more interesting and fulfilling job for me at this point in my life. Every day I look forward to representing the United States and finding ways for both of our countries to achieve our goals.