Brodosplit management board chairman Tomislav Debeljak said on Saturday that at the moment it was important to ensure a financial injection for the Uljanik shipbuilding group and that a possible folding of the Uljanik and 3. Maj docks would mean the end of shipbuilding as a strategic industry in Croatia.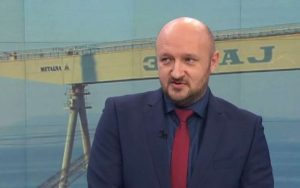 Source: Screenshot
He said the injection was necessary "to drastically cut the total expenses" and that it was also important "to reach a quick agreement between everyone involved so as to ensure all the conditions for recapitalisation."
Earlier this week the Brodosplit dock was selected as a strategic partner for the Uljanik Group.
Debeljak said he did not expect any problems with the unions active in Uljanik. "If we reach an agreement, we will have to urgently draw up and agree a restructuring plan and forward it to the European Commission for approval."
He said the Commission had approved a restructuring plan for Brodosplit at once and that he did not expect any delays with the one for Uljanik. He added that Brodosplit was "not interested in the real estate business", only in shipbuilding. "We would do the same thing we did in Brodosplit, which is efficient business on the world shipbuilding market and generating profit without state aid."
Debeljak said that if Uljanik and 3. Maj were to fold, the consequences for shipbuilding in Croatia would be grave, including for Brodosplit, at a time when the market had improved.
He said he wanted Croatia's shipbuilding to be strong, competitive and profitable, recalling that in 163 years Uljanik and 3. Maj had built all types of ships, delivering them worldwide. He said salvaging the two docks was important for keeping jobs as well as for progress in technology, education and science.
Asked about the impact of Brodosplit's engagement in the Uljanik Group, Debeljak said Croatia would have three large shipyards instead of one, "which would operate successfully and profitably, improving the balance of industrial production and exports without state aid."
He said Croatian shipyards could compete in the construction of passenger ships, and recalled that Brodosplit was building polar expedition cruise vessels for the Dutch company Oceanwide Expeditions and the US company Quark Expeditions.
Source: HINA