The excellent results from January, when we recorded a substantial growth of 20 % in arrivals and 17% in overnight stays, just corroborate the fact that we are on the right track.
The constant growth of tourist traffic is best substantiated by the announcements from the generating tourism areas for this year where I expect the continuation of positive trends and the increase in tourist traffic of about 5% with a special growth of traffic in the pre- and post-tourist season – says Kristijan Staničić, Director of the Croatian National Tourist Board (CNTB), for our magazine. . Particular attention is paid to the development of health and business (MICE) tourism.
1.After 2017 being a record year, 2018 also started with certain set and more than good results accomplished. How can we interpret these results and what are the general trends?
The results indicate that the promotional activities and campaigns carried out by the Croatian National Tourist Board worldwide are giving results and that we are successful in our efforts to position Croatia as an attractive all-year tourist destination. The guests recognize the quality of our offers, which is best substantiated by the announcements from the generating tourism areas for this year where I expect the continuation of positive trends and the increase in tourist traffic of about 5% with a special growth of traffic in the pre- and post-tourist season The excellent results from January, when we recorded a substantial growth of 20 % in arrivals and 17% in overnight stays, just corroborate the fact that we are on the right track.
2. One of the things that the CNTB will be working on in 2018 is developing and promoting health and business tourism. What is the current potential of each of these branches?
Health tourism is one of those tourist products which is in demand all year around and which greatly complements the rest of the Croatian tourist offer. Today, Croatia generates about EUR 300 million from tourism, and has the potential to generate an even bigger annual turnover. We are talking about a global product that is growing at a rate of between 15% and 20% a year, and our ultimate goal is for Croatia to be recognized a renowned health tourism destination. Business (MICE) tourism also has a stable position globally. Both research and forecasts point to further growth in business travel and business gatherings, as well as the growth in total budgets allocated to business meetings of corporations and associations. Our goal is to keep perpetuating positive development and trends, and in order to do so, we need to further develop and promote selective forms of tourism that can be the driving force behind further development of the overall tourist offer outside peak summer season. Health and business tourism have the biggest potential to achieve this.
3. You said that Croatia today generates EUR 300 million from health tourism, with a potential for earning over EUR 1 billion a year. What are the concrete steps and actions you plan to undertake to further strengthen this tourism branch?
First and foremost, it is vital to create valid legal frameworks that will encourage further investments and projects in health tourism. The Ministry of Tourism has made great strides by drafting a new Tourism Services Act which stipulates services that are considered health tourism services. These are the services like organizing and mediating transportation, tourist transfer and accommodation services, and individual services or organized trips. Also, a prospective circle of health tourism service providers has expanded, and besides specialized hospitals and health resorts, other healthcare institutions, such as healthcare companies, can now provide these services, as can healthcare professionals who have an independent private practice.
Our promotional activities are also important, bearing in mind that around 15% percent of all travels in the world are motivated by health reasons. We have recently presented a new page dedicated to health tourism on our official website. This is a joint project of the Croatian Tourist Board and the Croatian Chamber of Commerce, which aim is to present the national health tourism offer in one place. On this page, businesses are divided into 10 tourist regions and according to their activities while the information is available in six languages, so that all businesses involved in health tourism are promoted in a unique way.
Also, this year, we have allocated HRK 2 million for advertising health tourism as an important tourist product in terms of the potential and its development projection. We are continually promoting our health tourism offer in the generating tourism areas. This month, for example, we had a successful presentation at the specialized Termalies Fair in Paris in a very representative area under the famous Pyramid of the Louvre Museum, at the conference titled "Croatia, a new attractive European destination for health tourism and good physical and spiritual health".
4. Which parts of the country have the best infrastructure for development and how much additional investment is needed?
Croatia has numerous comparative advantages for faster development of health tourism. We have a highly sought after, qualified, skilled staff, a good reputation as health services provider, very competitive prices, and easy accessibility from the major generating tourist areas. Furthermore, we have an overall tourist appeal and widespread natural healing resources, such as thermal and mineral water, medicinal mud, clean air, the seaside, medicinal plants, etc.
We are also pleased to see that, along the coastline, the continental part of our country abounds with quality resources for a more powerful development of this tourist product. Our research and estimates indicate that the mentioned changes in the legal framework will pave the way for 350 million euros worth of investments in health tourism projects. If we add this amount to the announced EUR 940 million worht of tourism investments in the public and private sector, the total value of expected investments in tourism in Croatia in 2018 exceeds EUR 1.3 billion. These figures are the best indicator that Croatia, apart from being an attractive tourist destination, is attractive for investments as well.
5. Business and congress tourism are one of the fastest growing segments of tourism. Croatia plans to attract around one million participants of business meetings annually by 2020. What are the plans for this year and what progress have you made in the implementation of the Tourism Development Strategy in this segment?
The Croatian National Tourist Board systematically carries out a number of promotional activities in the mentioned segment through specialized fairs and workshops, as well as through having quality cooperation with partners and international professional associations. We have noticed the need for an even stronger and more systematic approach to promotion and development of the congress tourism offer, and with that aim in mind, we have created a new Congress Department that will begin its activities soon. Its tasks will include organizing appearances at specialized congress fairs and conferences, monitoring the quality of congressional capacities, coordination of promotional activities, coordination of activities with business partners, supporting Croatian congress destinations, monitoring developments in tourism markets, and building and maintaining relations with international organizations. I am confident that these activities will give an additional impetus to presenting Croatia as a desirable congress destination. Apart from the fact that congress tourism is an excellent way of promoting the destination, because congress tourists usually return to the same desination with their families and friends later on, the advantage of this form of tourism lies in the increased average guest spending.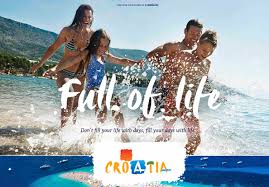 6. What expectations do you have from positioning Croatia in this market segment, and can you tell our readers what events the CNTB has been preparing?
On the European and world MICE map, Croatia is presented as an attractive congress and incentive destination. This is greatly complements our other tourist offers, which include the celebrated natural attractions, cultural attractions and an excellent eno-gastronomic offer. The Croatian National Tourist Board has successfully participated in specialized fairs and workshops such as IMEX Frankfurt, IMEX Las Vegas, IBTM Barcelona, The Meetings Show London, Conventa Ljubljana and others, and we will step up our activities in the future too. Croatia's membership in the Strategic Alliance Management Congress Europe is also very important, which just corroborates the fact that our country is an important MICE destination.
7. How much support do you have from those subjects that should participate in the organization of congresses and seminars (various chambers, associations) and how does that coordination function?
Speaking in more detail about the congress industry in Croatia, we can say that it is still mostly about hotels and specialized congress and event agencies, although in recent years, the number of companies specializing in organizing individual business events has gone up. Also, several congressional offices, such as those in Zagreb, Opatija or Dubrovnik, have been successfully operating in the tourist board system. The cooperation is very good, and by establishing the Congress Department in the CNTB headquarters, it will be even more efficient and successful.