Crab with smoked tomato, salted shrimp tartare with citrus fruit aioli, mango, coconut cream, foie gras in apricot sauce, porcini mushroom gnudi, homemade wild garlic noodles, monkfish cheeks with corn foam, panna cotta with acacia, roasted apricots with chamomile ice cream – these are only some of the new dishes that will surely delight all foodies in search of new flavours.  Ana's quality, creativity, and contribution to the culinary scene have recently been recognised by a prominent community creating a list of the world's best restaurants – La Liste Mediterranean – and named herin the "New Talent of the Year" category.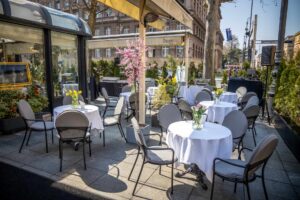 Over the course of almost four decades, the Esplanade's Le Bistro has acquired cult status among numerous guests, especially the people of Zagreb, many of whom consider it their second living room, be it for the charming staff, excellent coffee and cakes, its unmissable štrukli, or for the authentic atmosphere of Parisian chic. What is especially attractive in the summer months is its shaded terrace with a touch of street theatre, which, in combination with Ana's new à la carte concept and collection of premium wines and sparkling wines by the glass, provides a unique atmosphere for relaxation in the heart of Zagreb.
Ana's new menu brings a variety of colours and seasonal ingredients, but also some fantastic combinations that will delight you with their arty presentation and interesting flavours inspired by summer. "I combined crab with a home-made smoked tomato and added a specific flavour to the dish. I have complemented scallops with mango and coconut cream, which give them an exotic touch. This time I'm serving the French speciality, roasted foie gras, with a sauce made of dried apricots and white pepper, whose flavours combine excellently. I especially took into account the eating habits of our guests, and among vegetarian dishes I would highlight gnudi made of porcini mushrooms with truffle cottage cheese and goat cheese, then a baby salad with nettle pesto and Pag cheese with the addition of pine nuts, as well as a crispy juicy croquette with zucchini and Istrian truffles that comes with zucchini and watercress carpaccio, which are currently in high season. In this menu our famous creamy risotto comes with salted carrots and smoked Italian burrata. I would especially like to single out the home-made wild garlic noodles, which come from our own production, and in combination with the smoked sardine and dried raisin pasta, they draw special attention. For all those desiring the flavours of the sea, I suggest soft monkfish cheeks in roasted tomato sauce and corn foam, or a somewhat different take on John Dory fillet that comes with black garlic crown, potato cream, and Swiss chard gel. We also smoke our juicy beef steak ourselves and serve it together with potato confit, shallot, and carrot demi-glace with the addition of nasturtium oil, while the soft veal cheeks, which are combined with roasted artichokes and burnt eggplant cream, literally melt in your mouth," said Chef Ana Grgić Tomić flashing a smile and once again showing how much she truly enjoys her creations.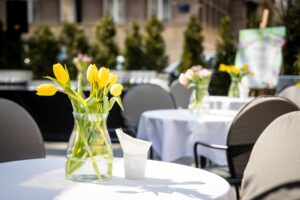 Here it should be noted that the creative cuisine of the experienced and charming first lady of the Esplanade's cuisine was also noticed by the community that forms a list of the world's best restaurants – La Liste Mediterranean – which is how Ana Grgić Tomić was recently awarded in the "New Talent of the Year" category, within the "New Talents in the Mediterranean Region" competition, which once again recognised her quality and innovation in creating signature dishes, as well as her contribution to the gastronomic scene.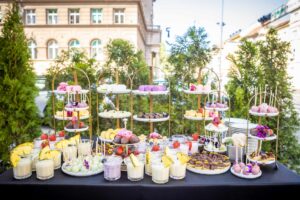 In addition to appetisers and main courses, there is also an indispensable collection of exquisite desserts that are deserving of rounding off a lunch or dinner. "I can hardly single out any dessert, because they are all excellent, real summer desserts, but perhaps the greatest hit is the coconut crumble in combination with fresh blueberries and homemade blueberry ice cream that we make ourselves in our pastry shop. A light acacia panna cotta complemented with a juicy peach and white chocolate cream is combined with a lemon and thyme crumble that give this dessert a special Mediterranean note. Another favourite is the caramelised dough with cow's curd cream, roasted Neretva apricots and again our home-made chamomile ice cream, as well as the roasted orange and almond sponge cake flavoured with pepper and cinnamon with roasted orange cream. Frankly, all the desserts are excellent, I believe that hardly anyone will be able to resist trying them," added Ana.
In addition to the new à la carte menu, Le Bistro also offers a taste-tested collection of indispensable classics whose popularity continues to grow – such as steak tartare, French onion soup, Caesar salad, and the famous Viennese steak with creamy potatoes. This iconic Zagreb bistro is also known for its legendary oven-roasted Esplanade štrukli, which have been tasted by some of the most famous names from the global showbiz scene over the past years, and which also come in a gluten free version as well as frozen to finish at home. Also, you can start your day at Le Bistro with a tempting à la carte breakfast and a selection that includes crispy toast with fine avocado cream, poached egg, and fried pancetta, followed by a vegetable omelette or the best eggs Benedict in town, served on a hot brioche with butter, also freshly squeezed juice, and a delicious French toast with honey and orange marmalade, as well as delicious pancakes with berries and maple syrup. Breakfast is served every day from 9 a.m. to 11 a.m. The permanent offer of Le Bistro includes the Menu du Jour with three courses of fresh dishes chosen daily by the Chef, accompanied by a glass of excellent Krauthaker house wine and coffee or tea for only EUR 34. Menu du Jour is served daily between 12 noon and 6 p.m. Complement your meal at Le Bistro with a glass of premium wine and chilled sparkling wine or champagne, about which the helpful staff will be happy to give you a recommendation. Le Bistro is open every day from 9 a.m. until 11 p.m. Book your table via tel: 00 385 1 4566611 or via email lebistro@esplanade.hr. For more information and menu visit www.lebistro.hr.
Le Bistro offers its guests superfast free Wi-Fi as well as the possibility of browsing the à la carte menu, with faithful photos of dishes, through the Esplanade's app.
Ana's exquisite gourmet approach, a young and charming team of chefs and waiters, and the pleasant and relaxed ambience of Le Bistro are reason enough to spend time enjoying tantalising dishes and fine desserts in the heart of the city.