On December 6, on the occasion of the Constitution Day, the Ambassador of Spain, H.E. Alonso Dezcallar hosted a reception at the Emerald Ballroom of Esplanade Hotel in Zagreb.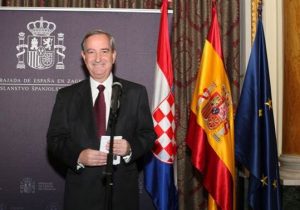 In 2018, Spain celebrates 40 years of its Constitution, the milestone of the Spanish transition to democracy which paved the way to Spain's journey as an open, modern and inclusive country. The Constitution was approved by the Spanish people in a referendum on 6 December 1978.
In his first national day speech on his new mission in Croatia, Ambassador Dezcallar, highlighted: "Over the last four decades, Spain has established itself as a democratic State; as a country fully committed to the European project, having joined the European Union in 1986; as a welfare State with universal healthcare and education systems, and as a world leader in equality, human rights and solidarity."
He also noted that in the recent years Spain and Croatia have become close friends and allies. Spain was one of the most solid supporters for the entry of Croatia into NATO and the European Union. He underlined that Croatia and Spain share the same values, principles and objectives and face similar challenges. Both countries believe in multilateralism and in a globalized economy and reject protectionist or populist policies and both of them staunch supporters of a reinforced European Union.
The reception was attended by representatives of the Parliament and the Government of Croatia, members of the Public Administration, members of the diplomatic corps in Croatia, members of civil society organizations, religious communities, media and friends of Spain.
The highlight of the reception was the performance of Flamenco by the cantaora Nina Ćorić and flamenco guitar player, Mirza Redžepagić who performed traditional flamenco songs, who stands behind a successful Zagreb Flamenco Festival.
The guests at the reception enjoyed sampling dishes of traditional Spanish cuisine, Spanish "jamón y tortilla" combined with wines and sparkling wines from various regions of Spain.