Greek investor Petros Stathis has been visiting numerous institutions in order to complete the most luxurious tourist project in the Republic of Croatia, Amanresorts Cavtat, in Croatia's southernmost county of Konavle which borders Montenegro.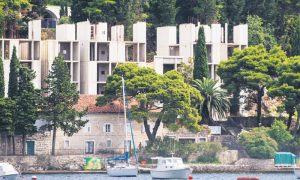 Amanresort Cavtat/Grgo Jelavić/PIXSELL
Greek investor Petros Stathis has re-activated matters over more recent days in regard to the eventual realisation of the Amanresorts project in Cavtat, otherwise being hailed as the most luxurious tourist project in the whole of Croatia, which could even end up making the list of strategic projects in the Republic of Croatia, which would be a useful move in terms of resolving the outstanding issues of spatial planning, among others, as soon as possible.
The reactivation of the Amanresorts Cavtat project comes after more than three years after Amanresorts Cavtat was supposed to open its doors, but unfortunately encountered several stumbling blocks, mainly typically administrative ones, although Stathis never once gave up on it.
"I'm convinced that the Amanresorts Cavtat project will be successfully completed, and together with other Aman projects in the vicinity, Amanresorts Venice and Sveti Stefan (Montenegro), will become the star of the tourist sector of South East Europe," said Petros Stathis in the spring of 2015, when he explained why he was suddenly closing the Cavtat construction site.
He then stated that there were problems with the Bonvena Hotels company which was due to take care of the Cavtat project, which Stathis took over in the meantime, and that the entire chain of Amanresorts luxury resorts had gone through the process of ownership change.
For the realisation of the project, the investor is supposed to adapt the spatial planning documentation, and it's necessary to reach an agreement on various other factors, considering that the investor is seeking the closure of the beach below the area with his 30 million euro project.