The first ICA (Initial Coin Offering) will be held in Croatia, and will enable anyone who likes to offer their services on the market.
Transactions within CookUpa will be executed by CHEF Token.
The ICO starts on May 5th and is preceded by a Proof of Care in the course of which a bonus of up to 400,000 CHEF Tokens can be earned, which at current market price is approximately 100,000 kunas (around 13,000 EUR) – all you need is registration at cookup. and also delivers the project on social networks.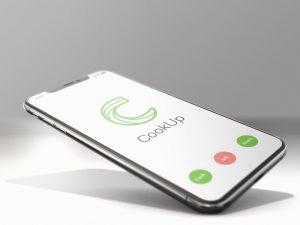 We follow food blogs, but we do not have time to prepare food. We are looking for a quick and practical meal, so we are ordering food more and more without paying attention to quality. At the same time, there are many lovers of food preparation, bloggers, housewives, passionate chefs, or amateurs – enthusiasts who lack the time are no excuse not to quit cooking.
Regardless of which group they belong, CookUp – a platform for connecting people who cook with everyone who wants a quality meal. The project was presented in Zagreb on Tuesday as a cooking revolution aimed at the global market, moving from Croatia.
CookUp will be available to users as a web and mobile application developed on blockchain technology, and was created according to the idea that was born within the team of digital agency Mint Media from Dubrovnik.
– CookUp allows users to enjoy a quality and healthy meal without losing time on food preparation, and cooks enthusiasts to present their knowledge and skills, without the need for big investments, to the market, thus providing an additional source of income or developing a new career, Ivan Ivusic , CEO of CookUp project.
CookUp plans to position itself within the food and home-order food market, estimated to be $ 83 billion globally "difficult".
– In this way, people are given the freedom to do what they like, offer their services to the market, and thereby generate an additional source of income. Given that they have not had this opportunity to date, CookUp has the potential to make a global revolution in the field of food preparation and consumption, says I. Ivusic.
Key features that CookUp brings to users
Cook
Become a CookUp Chef – prepare food, organize dining events or share your knowledge and earn money.
Eat
Enjoy a home-made meal – order food, eat at Chef, or rent Chef to cook with you.
Share
Leave a trace in society – using the application to contribute to the fight against hunger in the world.
CHEF Tokens
Transactions within the CookUp will be effected by exchanging a CHEF token that will be able to be used for all services within the CookUp platform.
Customers will be able to purchase CHEF tokens through the application itself, with credit cards, Ether (ETH) or some other crypto. The value of CHEF Token will determine the market because it will be listed on relevant crypto exchanges and will be tradable.
CHEF Token is a utility token, generated by a token generation event in a maximum amount of 630 million tokens.
In the blockchain world, CookUp ICO is a crowdfunding campaign that invites investors and individuals to invest.
CookUp ICO starts on May 5th and is the first ICO to be run by one domestic company, which is for Ivan Ivusic and his team and opportunity and challenge.
ICO and blockchain
With the help of numerous project advisers, the BLC Association of Blockchain and Cryptoworks (UBIK) was joined by experts from the world of blockchain, IT marketing and public relations, rights, education, cooking, along with CookUp.
– One of the goals of the UBIK Association is to help Croatian companies that want to work on projects in blockchain technology, to do this in Croatia. We believe that blockchain will be standard for five years and there is no reason for a growing branch of industry in Croatia to develop, and could create new jobs and pay contributions and taxes in Croatia. That's why we support the CookUp project because we hope that the Mint Media team will pave the way for the upcoming blockchain projects to be organized in Croatia instead of abroad, said Vlaho Hrdalo, president of UBIK and legal advisor CookUpa.
– The ICO and the concept of a shared economy today are changing the world, and therefore we want Croatia to contribute to this global revolution. The experience of Slovenia shows us that we are on the right path. Their crypto stock market is among the most important in the world, and in Slovenia 13,000 people work in the blockchain industry, and what is even more interesting, for the first time in 27 years, Slovenia records a significant return of labor from abroad. Why such potential would not be used by Croatia – in terms of regulating the market, opening new jobs and attracting new investments, V. Hrdalo said.
CookUp has been developed with the help of blockchain technology because the project provides a number of advantages – in the form of trust, transparency and accessibility. Transactions are transparent, secure and automated, and are carried out through a "smart deal", user reviews are credible and invariable, and blockchain also allows fully automated transactions to a humanitarian organization without the need for third party involvement and without the need to pay bank fees, and gives the opportunity to Two billion people without a bank account can use the platform.
In order to make the project live, a minimum amount of 7000 ETH (soft cap) will need to be collected during the ICO, while the 22,500 ETH (hard cap) provides the opportunity for faster project development and exit to the planned markets. The ICO is preceded by the Proof of Care process where all CookUp sympathizers can participate without knowing about the crypto world and the blockchain, and without investing, sharing a project information on social networks can make a bonus of up to 400,000 CHEF Tokens, the equivalent of one hundred thousand kuna. All you need to do is register on cookup.io and share the project on social networks.
– The plan is that CookUp applications during the ICO will collect the funds needed for the development of the project, and according to the business plan and the Go to Market strategy, it will slowly come to life globally and contribute to the creation of new jobs, healthy eating habits and help in the fight against hunger in the world, concluded Ivusic .