Croatian tourism has the potential to achieve even greater results and I believe we will be year-round successful. The most important moment is the change in attitudes and consumption habits of our visitors, who, besides the sea and the sun, enjoy gastronomic, health, nautical, wellness and cycling tourism.
"Our goal is everybody to be satisfied – tourists, investors and local residents," says Gari Capelli, Croatia's Minister of Tourism who, in an interview for D & C, talks about the Ministry and the government's ambitious plans to make tourism one of the developmental branches that are the driving force behind many other economic segments.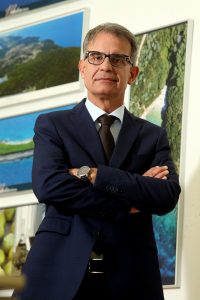 Are you satisfied with the tourist season so far?
We are extremely pleased with the fact that, in the first few months of this tourist year, we have recorded a double-digit rise in guest arrivals, and that we have surpassed the world and European average. We especially welcome the fact that such growth is achieved in the off-season, which is one of our main goals. The reasons for such good results lie, first and foremost, in the quality of our offer, which now includes much more than the traditional "sun and sea" offer. There has been a shift in the attitude and spending of our visitors, and this reversal has been achieved primarily because of the stronger development of selective forms of tourism such as gastronomic, health, nautical, wellness, cycling tourism and many others, which positively contribute to accommodation occupation figures throughout the tourist year, in the pre- and post-season. This tourist year has been bolstered thanks to new, high-quality investments, excellent marketing positioning in emitting markets, and an increasing number and frequency of flights, as well as owing to extension of the flight season. I believe that we are at the threshold of yet another record-breaking, historic tourist year that will make Croatia even better positioned on the map of the world's tourist destinations.
How much does Croatia have to invest annually to make its offer even more competitive? Who are the key investors in tourism and how does the state support them?
Croatia is already an extremely interesting to investors, but we are working every day to create an even better image and attract more investors. According to the prestigious financial daily, the Financial Times, which ranked Croatia among the top ten countries in the world with the best investment potential in tourism, Croatia is recognized worldwide as a very attractive destination for filmmaking tourism and as one of the countries with the greatest advances made in improving tourism infrastructure, accommodation, tourism development initiatives and hotel investment and investments in hotels and the cruising segment of nautical tourism. The great interest shown by investors in tourism is validated by positive trends in the value of the investments made in recent years. This year, we have almost 1 billion euro worth of investments in the pipeline, up 40 percent relative to 2016.
In order to boost this amount even more, my team, in the ministry, and I will continue to talk with potential investors and help them to tackle the challenges they may face while making it easier for them to enter the Croatian market. I recently had a chance to meet with the representatives of the Four Seasons hotel group. I attended the signing of a contract between the investor and the Marriot hotel chain in Split, and during the summer, I will meet with the representatives of Corinthie. The arrival of the world-famous hotel brands in Croatia will also stimulate domestic companies to invest in quality.
You said you wanted to see young and creative people involved in tourism promotion. What are your expectations from such staffing changes?
Over 150,000 people work in Croatian tourism today, and the needs are growing day-on-day. The key to the success of our tourism lies precisely in each of these people, and in the future generations of young people; in their creativity, innovation and flexibility. We have to provide them with resources and opportunities for growth and development. My wish is to encourage young people in tourism to innovate and nurture creativity from the very beginning of their education. In the Ministry of Tourism, we are continuously working on the popularization of tourism and hospitality occupations, and we are implementing a programme for secondary vocational schools with the aim of promoting, strengthening competences and raising the quality of human resources. In the last eight years, we have allocated almost HRK 3.2 million for tourism projects and vocational schools initiatives.
We are also actively working on the promotion of education through the establishment of a better quality, work-based learning system and by connecting with potential employers, professional associations, institutions and other partners. This summer, we have also started implemented the main stage of establishing competence centers in tourism and hospitality. This is a new and modern approach to education whereby, through the formation of competence centres across Croatia, we are putting emphasis on improving students' entrepreneurship and innovation skills and on promotion activities in the tourism and catering sector.
How popular is Croatia as a chosen destination of top, elite tourists?
I would say that Croatia is more recognizable as a country of diverse tourism, meaning that we have several places that offer luxury tourist content and accommodation. By the same token, we are also adapting our offer to the habits, needs and desires of all our visitors, in line with their financial capacities. All our tourist destinations have one unique feature, and that is that Croatian tourism is not focusing on volume but quality. In this sense, we are making progress every year. For instance, high-end hotel capacities are constantly increasing, and the Robinson Crusoe-style tourism is also being developed, which attracts those tourists who want adventure and accommodation in authentic huts, lodges, tents and the like.
What are you going to do to compel foreign investors to restore neglected hotels they acquired?
The majority of the neglected hotels are in very attractive locations and we are working towards their valorization and revitalization because they are of great importance to our country. A small part of these hotels, as well as the old army barracks, have new owners who are working at a certain pace on restoring and making these facilities functional. We, in the Ministry of Tourism, are providing all the support and assistance they need. The whole point is to preserve and increase the value of their assets by defining a new purpose and putting them in the function of economic and general social development, first locally, then wider, as soon as possible. I believe that, with the successful collaboration between the public and private sector, we will find the best solutions for the quality, efficient realization of the planned investments.
How are you coping with the lack of workforce this year, and which kind of policy in this segment would provide the permanent solution to this problem?
Just like other countries in the region, Croatia too faces the lack of workforce in tourism and hospitality industry in summer months. The problem of labour shortages is not only related to tourism but is a global problem common both the public and private sector. This year, according to certain estimates about Croatian tourism, there is a need for additional 10,000 to 15,000 workers. Apart from activating local population to work in tourism, through re-qualification and better connectivity with potential employers through our, now traditional, Tourism and Catering Day, organized by the Ministry of Tourism with partners throughout Croatia, this year, the Government of the Republic of Croatia has activated quotas for engagement of foreign workers.
The interest and needs are very high, so with the forecasted 4.660, the number of foreign tourism workers, as stipulated in the agreement we signed with Bosnia and Herzegovina and Ukraine, will be increased to 8,660. It is in the best interest of both the Ministry of Tourism as well as the Government of the Republic of Croatia to provide enough workforce in high season, but it is even more important to have this throughout the year. I would also like to highlight the tax relief for all business owners who provide their seasonal workers with accommodation and a warm meal as the most significant measure devised by the Government of Croatia early this year. This measure will save 300 million kuna in the tourism sector.
During your work on Mali Lošinj, you have turned this archipelago into a year-round destination and its tourist board became an associate member of the World Tourism Organization (UNWTO) and a full member of the UNWTO Knowledge Network. Can these successes be transposed at a national level?
I would really love to see for the sustainable, year-around tourism to be truly implemented in all tourist destinations, with a strong emphasis on continental tourism which has an exceptional potential. We have to think about the future today, and that was our guiding thought on Mali Lošinj too.
In a desire to attract as many visitors as possible and position the island as a year-round tourist location, the main guiding principle was to achieve a synergy between the locals and the visitors, i.e. to make sure that the domestic population does not suffer because of tourism. Taking into account over 130 destination and overall quality management indicators, our aim was to satisfy the guests and the popuolation of the Lošinj archipelago and to uphold the quality of the service and infrastructure at this destination. The crucial thing was continuously cooperating with the population of Lošinj who contribute with their work, responsibility and creativity to the higher quality of service, education and the shared vision of the archipelago. Ultimately, every destination needs to determine what kind of tourism it wants to develop, and we, in the Ministry, will support their quality development and work to create the most competitive conditions for tourism business.
What economic measures do you intend to apply to further stimulate the development of tourism?
Tourism has the potential to stimulate the overall economic system of any country, and it has often been the overwhelming advantage of other countries, particularly in the time of economic crisis. Tourism has major importance for the Croatian economy, and is perhaps even more important for the entire Europe and the European Union as it employs 24 million EU residents and takes up 10 percent of the GDP. Nevertheless, I think that tourism does not occupy an adequate position in the institutions of the European Union and is one of the few branches which has no financial framework to stimulate its further development through financial support, or to encourage or start a debate about employment, youth and the ever-present workforce problem. Therefore, with the support of the Government of the Republic of Croatia, we have launched an initiative for the establishment of a unique European Tourism Fund and the Working Group, so that tourism and Europe, as the strongest tourist region in the world, will get their deserved place and representation. This initiative has a great importance to Croatia as one of the leading tourist destinations in Europe, and its implementation will create numerous financial and development opportunities for the Croatian tourist system. The European Parliament gave its strong support by providing recommendations to the European Commission, and calling for the establishment of a financial support line for tourism. The fact that thirteen EU Member States have been involved in bilateral meetings; Italy, Portugal, Spain, Cyprus, Romania, Slovakia, Lithuania, Latvia, Malta, Poland, Greece, Bulgaria and Slovenia as well as the World Tourism Organization, was also welcomed. In Croatia, our government has recognized tourism as one of its main economic drivers, and this is why we intend to build the highest quality, competitive tourist system in the upcoming period.
9.Tourism is associated with a number of other economic branches such as agriculture and transport. To what extent has Croatia managed to achieve this synergy? Did the "Let's Buy Croatian" campaign yield desired results?
As a tourism minister and a person who has been living and breathing tourism for nearly forty years, I have been very aware of the importance of Croatian products for Croatian tourism. Horizontal tourism networking with wood processing, construction, agriculture, food, service and many other industries incorporates the top domestic products into tourism, thus offering tourists an indigenous and unique experience of our country. Today, we already have a number of hotels in Croatia, where as much as 90 percent of the products they use come from domestic production and family farms. Both our Ministry and the Croatian Chamber of Economy, which implementes the "Let's Buy Croatian" campaign, have a commong goal to make this number even greater and ultimately, for Croatian products to prevail in interior and exterior decoration of tourist facilities and food preparation.
Over 640 hotels in Croatia have continued demand and service needs throughout the year, and we want to connect partners interested in cooperation, and provide them with nearly 18 million opportunities, which is how many visitors we have in Croatia annually, to present Croatian products to people from around the world who have been staying in our country. I think that great advances have been made in this respect, which is validated in the latest research which shows that gastronomy has become one of the most important motivational factors for visiting Croatia, as well as the fact that many Croatian restaurants are included in the globally renowned gourmet guides.