A recently signed bilateral Strategic Partnership Agreement for the years 2018-2021 confirms the strong ties between France and Croatia. Naturally, France supports Croatia's efforts in the process of joining the Schengen area, the EMU and the OECD.
 In 2016, for the first time in the history of France, two diplomats – Corinne Meunier and Philippe Meunier, the French ambassadors to Croatia – were sent to one country. We spoke with H.E. Ms Meunier about the French-Croatian relations, and how they were bolstered by this new experience.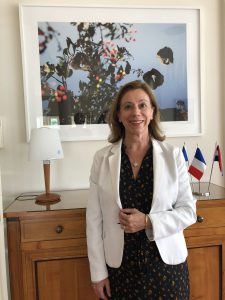 How would you the first two years of this experiment?
This innovative move is considered to be a success by the French Ministry for Europe and Foreign Affairs. Since gender equality is one of the priorities of the French diplomacy, this demonstrates that we practice what we preach. Furthermore, it is a way to modernize the image and the functioning of diplomacy. Our team in Croatia has been fantastic in devising with us this new way of working together.
We do appreciate the great openness of the Croatian authorities at all levels, in Zagreb and throughout the country. Nothing could have been achieved without their support from the very beginning. We are most grateful to Madam President Kolinda Grabar-Kitarović to have agreed to accepting our credentials together.
France provided special support to Croatia during the accession to the European Union. To what degree is Croatia, as the youngest EU member, integrated into Europe today in political, economic and cultural terms as a result of this support?
Indeed, and thank you for reminding me of that, France has played an important role in supporting your EU membership, notably in the aftermath of the first European-Balkan Summit in Zagreb, in 2000, under the French Presidency over the EU. Since then, we have cooperated with Croatia in many fields. The preparation of the Croatian Presidency over the EU, which takes place in 2020, creates new opportunities for further cooperation, keeping in mind the European-Balkan Summit promoted by Prime Minister Andrej Plenković.
What actually constitutes Europe which Croatia joined five years ago? In which way is Europe changing and what role does France play in these changes?
The EU is facing existential challenges such like migration, a changing security environment, competitiveness and innovation, digital revolution, climate change and so on. European cooperation is the only appropriate answer to these challenges.
Since his election, President Macron has worked towards building a common vision on the steps we should make in order to move forward. He has underlined the need to have a sovereign, united, and democratic Europe. This message is heard, especially here in Croatia. For instance, in terms of democracy, France has proposed the idea of citizens' consultations in every Member State in order to give the platform to our citizens and to bring the European structures closer to their concerns. In this regard, our Minister for European Affairs, Nathalie Loiseau was very pleased to participate, alongside the State Secretary Andreja Metelko-Zgombić, in the first citizens' dialogue in Europe which took place at the University of Zagreb, on April 6th.
Since the accession to the European Union, the governments of Croatia and France have stepped up the dialogue on important European and international issues. What are the topics of today's bilateral meetings of two countries and joint action?
In April this year, we signed a new bilateral Strategic Partnership Agreement for the years 2018-2021, with three priorities: enhancing our European partnership, particularly in view of the next Croatian and French EU presidencies, in 2020 and in 202 respectively, strengthening our mutual trade, and fostering human and cultural exchanges, with a view of enhancing our common belonging to the Mediterranean rim.
Through this tool we plan to foster exchanges of expertise in the fields such as tourism, which is common to both our economies, implementation of the European Structural Funds or academic particularly between the University of Split and Aix-Marseille. This Agreement also provides for a dialogue and support for Croatia's efforts in the process of joining the Schengen area, the EMU and the OECD.
How would you evaluate the bilateral cooperation between the two countries? What are you focusing on today with the view of establishing an even deeper co-operation between the two countries?
Our cooperation is very active, diverse and it takes place at many different levels. Let me give you a few examples to illustrate this diversity. We have regular contacts at ministerial level, recently with the visit of the Science and Education Minister, Professor Blaženka Divjak on the occasion of the ministerial conference of the European Higher Education Area, in Paris, May 23th, the visit of the State Secretary for Sports, Janica Kostelić, in Paris, May 31st, or the visit of the French Minister for European Affairs, Nathalie Loiseau to Zagreb, on April 5th and 6th.
We organized the visit of two large delegations of French officials from our National Institute for Advanced Studies in Security and Justice and our National School of Administration to Zagreb, in May and June. There were also roundtable discussions with the representatives from Croatian Government and from Sabor.
Every time they get together our two countries work on concrete issues to promote the European Union and its values in order to meet citizens' expectations. In this light, we are also working with our Croatian partners on supporting local governance on Mediterranean issues, and supporting civil society stakeholders. Particular attention is also given to supporting Rijeka, as the 2020 European Capital of Culture.
Not long ago a new terminal at Zagreb International Airport was opened, a project implemented by a consortium of companies led by Aéroports de Paris and Bouygues. How long did it take French companies to discover Croatia and how many of them are present in Croatia today?
This discovery, as you say, is well on track. The growth of the bilateral trade since Croatia's accession to the EU in 2013 is impressive: +22% in 2017, reaching almost 1 billion euro. Our bilateral trade (in goods and services, including tourism) is well balanced, and, as such, valuable for both our two countries.
There are 60 subsidiaries of French companies, employing nearly 6,500 employees all around the country, including Slavonia. We are working hard at different relevant levels to develop these economic links with the help of the very dynamic Franco-Croatian Chamber of Commerce and Industry. 554,000 French tourists visited Croatia in 2017.
Could you tell us about the French presence in Croatia in the field of culture, language and history? What did you find out about the connection between France and Croatia on your many travels across the country?
In terms of culture and history, I can testify to a genuine closeness between our two countries, with strong shared values – namely, being proud of our rich cultural heritage, having beautiful and varied landscapes, pleasant way of life, nice gastronomy… We build on this concrete closeness through new connections between our civil societies which can sometimes to change perceptions. We work with the French Institute in Zagreb, the Alliance Française network (Dubrovnik, Osijek, Rijeka, Split, Zagreb) and our numerous different partners. We are particularly trying to change the perception on the French language, which is also a global communicated language, as well as a business language.
Allow me to also mention the French School of Zagreb (EFZ) which constitutes a EuroCampus with the German school. The two schools welcome pupils from Croatia and the world. It is a unique experience for children to learn languages and to get involved with other cultures. It is a European symbol in Zagreb, at the core of the European Union.