Croatian National Bank (HNB) Governor Boris Vujčić said on Monday after meeting with European Commission Vice President Valdis Dombrovskis that a test production of euro coins with Croatian national motifs should begin by the end of this year, with possibly about two million coins being minted.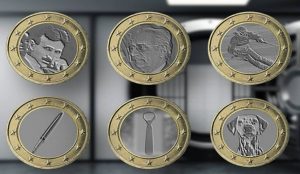 After the meeting with Dombrovskis and his delegation, Vujčić said that they had discussed the process of Croatia's preparations to enter the euro area, what has been done so far and the need to meet the Maastricht criteria as well ad technical preparations to start minting euro coins with Croatian national motifs.  Vujčić recalled that a Memorandum of Understanding was signed on Friday enabling HNB to start preparations to mint euro coins and that a public call for the design of the coins would be finalised this month. Preparations are also underway for the changeover from kuna coins and notes to the euro currency, "which will be a significant logistic operation" for HNB, said Vujčić, adding that it will be necessary to change over 1.1 billion kuna coins.
He added that the drafting of a bill on the euro is well underway and that it should be enacted at the start of next year. He announced that prices will be expressed in both kuna and euro values for a defined period, starting as soon as Croatia gets the green light for introducing the euro as the official currency.
Vujčić underscored the great understanding and support from Dombrovskis and the Commission as well as the euro group and European Central Bank. "We are convinced that during this preparatory period we will continue to cooperate in the same manner," concluded Vujčić.