Until recently, the president of the Management Board of Saponia from Osijek was appointed to the Management Board of Zvijezde for a term of four years.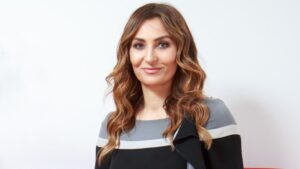 Dajana Mrčela has long-term experience as a member and then president of the Management Board of member companies of the Mepas Group. She spent most of her career in Saponia, a leading Croatian chemical company, where she joined the Management Board in 2006 from the position of Marketing, Sales and Export Director, and for the next five years was the most responsible person for marketing and export in the company. The spectrum of her responsibilities in Saponia Management was expanded in 2011 and, in addition to the previous areas, until 2019 she also managed sales, procurement, logistics and research and development of Saponia from that position in the Management. At the same time, from 2014 she assumed the same responsibilities in the Management of Kandit from Osijek and held them until she left Mepas Group.
She became the President of the Management Board of Saponia Osijek in 2019, and during her tenure the company achieved some of the historical results – the highest profit, the best EBITDA, the lowest indebtedness, the highest market value of the share, etc. At the same time, she laid the strategic foundations of Saponia's sustainable business, formed a sustainability team with with a focus on climate neutrality and initiates a project to increase energy renovation and energy efficiency of the company.
Dajana Mrčela graduated from the Faculty of Economics in Osijek, where she received her doctorate in 2018. She is the president of the Association of Companies of the Croatian Manufacturing Industry and Activities in Technology (UPiDUT), a member of the Board of Directors of UN Global Compact Croatia and the Board of Directors of HGK. Two years ago, she received the award for business woman of the year from the MBA Croatia association.