The current economic growth is good, but our ambitions are greater than that. It is important that we continue to create a positive entrepreneurial environment in Croatia if we want to develop even faster and create new quality jobs.
 "We cannot be dissatisfied with economic growth, but our ambitions must be greater than that if we want to create quality jobs," said Darko Horvat, Minister of Economy.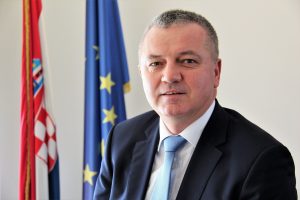 "Despite all the challenges we have had to deal with, Croatia will end this year with economic growth of around 3 per cent. We can be very pleased with this, given the fact that public and private sector wages have increased this year and tax and administrative burdens have decreased, while the trend of reducing public debt with consolidated public finances has continued," the Minister of Economy adds.
Mr Horvat points out that 2019 was distinctive given several other good indicators. First of all, the highest real GDP growth rate since 2007, which stood at 3.9 per cent in the first quarter,  which is no longer based solely on personal consumption, since both private and public investments and exports have started to make a big contribution. Also, the number of employees in July reached one million and 578 thousand, which is also the highest number of employees since Croatia declared independence. "It just goes to show that the direction we have set is good and that in the year ahead, we must go even faster," the minister concludes.
How would you rate 1 Croatia's resilience to challenges coming from the global and European levels?
It is important that we continue to create a positive entrepreneurial environment in Croatia, because the foundation we have laid this year is of top quality and quite stimulating. This has also been confirmed by some of the relevant world rankings, such as the global competitiveness scale or the Doing business List, on which we have made significant strides. This is important feedback that shows that the trends are good, and this fact is increasingly recognized by foreign investors too. That is why we now have to present Croatia as a desirable investment destination even more, in order to attract greater investments in our territory, which, in turn, will create new jobs.
Of course, in doing so, we must be aware of the global economic downturn resulting from tense international trade relations, the demand for new sustainable business models and the increasing technological change. Of course, this can be felt in Europe, especially in the countries in our surroundings some of which, like Germany and Italy, are our most important external trade partners. Under these circumstances, it is clear that Croatia cannot remain completely immune, which is why it is important for us to continue to implement responsible fiscal policy, but also to open up new investment prospects through various measures so that the potential consequences of such developments could be minimized.
Which economic segments receive most foreign investments and are you happy with the current situation?
Investments have been steadily increasing in Croatia, which is the result of the improvements in the legislative framework that facilitate investments, but also the proactive approach we have taken towards foreign investors. Namely, in the past two and a half years, more investments have been made under the Investment Promotion Act than in the previous five. Almost half of the investments are related to manufacturing activities, which makes me especially happy, followed by investments in tourism and IT. It is important to understand here that attracting new foreign investments has become a kind of international market game, which is becoming increasingly competitive.
Croatia has to play such a game in an even more offensive manner, in order to attract other investments in our country, such as the one that will be realized in Jakovlje by the Austrian company FACC. Namely, while facing competition from several countries, this company has chosen Croatia as the place where it will have built an aircraft parts factory by the end of 2021, worth about 30 million euro. There are many more such positive examples lately that we have to use in international circles as a bait to attract new investments.
We are primarily focusing on private investments, namely those that relate to the implementation of innovations and new technologies and oriented towards R&D, thus creating better quality and more competitive jobs. This relates to the manufacturing and processing sector, with wood and metal processing industries in Croatia being quite developed. It is especially important for us to monitor and encourage the further development of the ICT sector, which employs more and more young professionals in Croatia who are in strong demand in the market.
The time when every kind of investment in Croatia was welcomed is no longer. Now, the most important ones are those that create higher added value, create new jobs and are export-oriented. I know I have mentioned this several times already, but I believe that Croatia is ready to accept a new major investment in the automotive industry, and we have already fulfilled many prerequisites for that –  from infrastructure to various incentives and subsidies.
What is the government doing to attract some of these industries to Croatia, such as the automotive industry you mentioned? This was also a topic of discussion after the German Minister Peter Altmaier's visit.
Through the "Infrastructure Development in Entrepreneurial Zones" competition, the Ministry of Economy, Entrepreneurship and Crafts has secured HRK 270 million, which is currently being invested in the infrastructure in 46 entrepreneurial zones across the country. When we added to this the financial support from local and regional self-governments, we reach a figure of almost HRK 500 million, which is aimed at creating the prerequisites for attracting the kind of investments we are talking about.
Furthermore, other competitions that were launched or are about to be launched are focusing on this type of investments. For example, the call for the tender for the allocation of grants for innovation in S3 areas, which closed in mid-November, totalled HRK 634 million.
When we add to this HRK 770 million from the 'IRI 2' competition, which is aimed at boosting the development of new products and services through R&D activities, and another HRK 100 million through the 'Integrator' competition, we are talking about a total amount of HRK 1.5 billion, available to entrepreneurs. Also, by following the market trends and listening intently to the needs of the entrepreneurs themselves, for the third time during this Government's mandate we are putting together amendments to the Law on Investment Promotion, which will enable grants for those investments that may not create new jobs, but raise company's technological level.
Speaking of cost competitiveness compared to other countries, Croatia is not an expensive investment destination. Of course, we are not the cheapest, and neither do we want to be. We have top-notch people, excellent business and transport infrastructure, and according to Eurostat, the average cost of investing in Croatia is about 30 per cent lower than the EU average. These are all advantages that position Croatia as a Western European country with reasonable prices, which is actually what foreign investors say about us.
How much space and what kind of state's support domestic entrepreneurs have in Croatia?
We do not want to differentiate between foreign and domestic investors, but we rather want to offer a competitive investment framework that will encourage both to make new investments here, in Croatia.
I would like to remind you that the Law on Investment Promotion stipulates numerous incentives, with one of the most attractive being the tax exemption for up to 10 years. We also offer up to EUR 18,000 for new jobs, up to EUR 1 million in grants for investment in high-tech equipment, as well as numerous other measures. Therefore, an investor who invests a minimum of  EUR 50,000 or  EUR 150,000, depending on size and sector, can qualify for these incentives. Additionally, we stimulate investments in R&D through the Law on State Aid for research and development projects.
Project financing sources have never been more accessible and affordable. Under very favourable conditions, today's entrepreneurs have various financial arrangements at their disposal, ranging from commercial banks, through HBOR credit lines, to loans and incentives from HAMAG-BICRO. They all offer entrepreneurs the opportunity to take a new leap or launch an investment cycle on very competitive terms, like in the surrounding countries.
I have already underlined several times that those entrepreneurs who have made big investments towards digitization or innovation are the biggest winners this year. This is what we, the Government, have also addressed. So, on 1st July, we introduced mandatory e-invoices in public procurement processes, and next year, we e-invoices will be mandatory in the business segment too. Also, this month we launched a new digital business start-up service in Croatia called START, thanks to which you can launch a business just by filling out one digital form, in one place in one go, in just a few days. We will continue to develop this system to become a recognizable digital box for every entrepreneur doing business in Croatia in the future.
     5. You recently said that, in the next EU Financial Perspective (2021-2027), Croatia will focus on stimulating and investing in innovative technologies. What are the Croatian comparative advantages in this area?
 Creating an innovation ecosystem, modelled after European countries, remains one of the main prerequisites for focusing on innovation, new technologies and increasing the withdrawal of grants from the EU funds. For this reason, over the past year, we have been working  a lot on  establishing and positioning the National Innovation Council, as a central meeting point for the state, academia and the real entrepreneurial sector. This triple helix formula has already resulted in several concrete things, the most important of which is the fact the entrepreneurs make up 70 per cent of the membership, and that they lead the way. It is up to us to listen to them, create a framework and find funding sources for their projects, of which over 300 have been submitted through Thematic Innovation Councils. Thanks to the Smart Specialization Strategy, Croatia has defined five thematic areas to stimulate, namely health and quality of life, energy and sustainable environment, safety, food and biochemistry, and transport and mobility.
It is important to underline again that Croatia will preside over the Council of the European Union in the first half of 2020, followed by Germany for the rest of the year. I would just like to mention that we have recently raised our bilateral relations with Germany to a very advantageous level. This is where I see the great opportunity for Croatia to set the future priorities of Europe together with Germany, not only for the next year but for the entire financial period until 2027, since this financial period will have to be defined during the presidency of our two countries.
 6. How prepared is the Croatian education system to respond to the needs imposed by the new demands of economic development?
You mentioned my recent meeting with my German colleague Peter Altmaier in Zagreb a little while ago. We took his words as a very clear and important message. Specifically, this year alone, Germany has produced around 60 new curricula, thus, in education, creating the prospect of forming new quality workforce that will be able to follow new trends and handle with them successfully.
The Ministry of Economy, Entrepreneurship and Crafts is doing its utmost in its field, and through the Unique Education Model, we are creating and promoting new staff through the secondary vocational education system. This year alone, we doubled the annual scholarship amount from HRK 9,000 to HRK 18,000 for this segment, while giving entrepreneurs the opportunity to cover the cost of apprenticeships, mentoring and procurement of machines that will help students learn on the job. The goal of such a practice is for young people to become ready to cope with the competitive job market after graduating.
In any case, I think that Croatia no longer has the right to experiment and waste time, but to coopt and implement proven and successful models that have been used in countries close to us, such as Austria and Germany, for years.
The past is a great burden for us
The economic legacy from the Republic of Croatia's past is a great burden not only for me as the Minister of Economy, but also for the Minister of Finance, as well as some other ministries and the state budget.
I often underline that there Croatia has been going through a certain type of crisis for a long time, that is the crisis of quality management. Simply, some industries or business models we have carried over from the former state have not been able to fully transform into something that is contemporary, profitable and marketable.
We need a major turnaround in this segment because we cannot give state funds, in the form of guarantees or some kind of credit arrangements, without a clear vision of how that money will be multiplied and somehow end up in the state budget again, and for that vision to be ultimately realized. We simply have no right to repeat the "sins" from the past which are left to this government to handle.