The European Commission on Monday proposed introducing new coronavirus hot spots to be known as "dark red" regions where the virus is circulating at a very high level as well as strongly discouraging non-essential travel.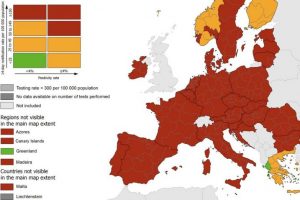 Depending on the rate of infection, the current epidemiological map identifies red, orange and green zones and those areas without data are marked grey. Now, the commission is proposing to introduce a new category of "dark red" zones according to which the 14-day cumulative COVID-19 case notification rating is more than 500 per 100,000 population.
"The common map and a common approach to proportionate, non-discriminatory restrictions must still guide our efforts. What we need now in view of the new variants is even more coordination and a joint European effort to discourage non-essential travel. Border closures will not help, common measures will," Commissioner for Justice, Didier Reynders, said.
According to current epidemiological measures, the entire European Union is marked as red. Anyone travelling from dark red areas will be required to undergo a COVID test prior to arrival and to undergo quarantine after arriving.
The commission recommends that member states conduct more testing including travel from areas now marked orange, red and grey. People returning to their member state of residence should be allowed to take a test after arrival instead.
The EC recommends additional measures for people travelling from third countries to the EU, while non-essential travel from third countries had previously been banned.
Anyone who needs to travel will be required to conduct a PCR test no earlier than 72 hours prior to travelling.