For us, Croatia is a country of friendship. Hence, through our projects, we want to contribute to our good bilateral relations, improve lives of our beneficiaries, and bring smile to their faces.
TIKA's office opened on 1st March, 2016 and since then, has been operating under the Turkish Embassy in Zagreb. During the past two years, TIKA's activities have helped Turkey and Croatia to rediscover a deep common heritage says Haşim Koç, Coordinator at the Turkish Cooperation and Coordination Agency (TIKA) .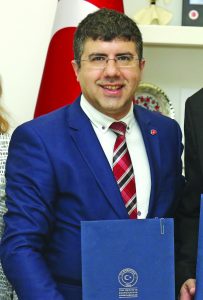 What are your priorities for 2018 and how do you go about making decisions on which activities and people to help?
During the two years since our inception, we have always tried to set up a profound basis for the collaboration with our Croatian project partners, which are usually public institutions or NGOs. In all of our joint projects implemented with our partners, we are trying to pinpoint the real needs of the people and society in Croatia, and therefore, we are trying to find out from our Croatian partners as much as possible about these needs and necessities. After they inform us of the project topic, we visit the project location and get acquainted with the conditions there. In Croatia, we want to contribute to the good bilateral relations between two countries. Our contribution will be made through the project-based cooperation in several sectors. This year, our priority sector will be education, just like in the last two years. However, this year, we will specifically focus on the segments of education relating to special needs. In all the projects that we are implementing, we want to touch the lives of our project beneficiaries, who will have a better life as the result of our projects.
What are TIKA's long-term goals in Croatia in the segments of academic mobility, cultural cooperation and technology transfer?
Turkey and Croatia have a deep common heritage which has been somehow forgotten during the 20th century due to many different factors. In the long run, we want these two nations to remember this deep common heritage and grow closer in an harmonius way with the cultural affinity that the Croatian and Turkish people already have. In order to reach these goals, the academia, cultural actors and scientific-technological producers need to establish a long-term, sustainable cooperations as an inevitable deed. Thus, TIKA also aims to establish academic cooperation, launch cultural programmes between equivalent institutions and expedite the scientific collaboration between the Turkish and Croatian scientists.
What is your focus in terms of the development component of TIKA's activities in Croatia?
In these last two years, education has been our primary focus. We implemented various projects in order to facilitate a better education for the children in Croatia because we know that many problems in the world will be solved if children are given a better education. In the education segment, we also want to put more emphasis on the field of educating children with special needs because of the vulnerability of these groups. We already had a meeting with the Ministry of Science and Education and we are continuing with our efforts to find which ecucational framework and facilities for these vulnerable groups we could enhance.
How did the opening of TIKA's office contribute to the greater visibility of the Agency's work?
TIKA's concern for Croatia has started after the Gunja disaster which took place in May 2014. Following the implementation of a restoration project and an agricultural development programme, consisting of two projects, 50 families in Gunja were given greenhouses, and other 50 families were given with two breeding Simmental cows each. After the implementation of these projects, we noticed a mutual interest developing, hence TIKA decided to open its office in Croatia, a third EU country after Hungary and Romania. I was appointed to work at the Zagreb office. In the last two years, TIKA's office in Zagreb has been trying to reach every corner of the country and identify collaboration policies and technical development assistance strategy in Croatia. I think that, with the projects we implemented so far, TIKA has reached an interesting visibility in Croatia. The sectoral and regional distribution of our projects is large and therefore, geographically and thematically, through our projects we have reached and touched people from different cities and different segments.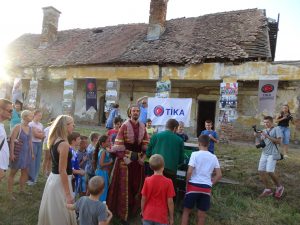 TIKA is involved in numerous humanitarian projects. Can you single out the most significant?
We have been involved in many projects implemented in Croatia. It is not easy to differentiate one from other, but if you are asking me to single our my favourites, I would say donating a technological device SUVAG Polyclinic which was one of the most significant projects due to the fact that the donated hi-tech eye tracking device, that tracks pupil's movements, is the only such device in the entire region that is used for rehabilitation, and this is not my claim, but the claim made by SUVAG's director. Also, I think that our contribution to the nurseries in Vrbovec, Rijeka, and Sisak are very important because kids in those pre-school education institutions now have much better educational opportunities. Last but not least, I would also like to mention our project with the Association of the Blind Persons in Zagreb. The Association has already started implementing the project called Soaps with Dots where they produce hand-made liquid soaps. Thanks to this project, one visually impared person has already found employment. After we conducted an analysis of that project, together with our project partners, we decided to increase the production capacity under this project and provided support in acquiring new equipment for production of liquid soap. As a result, 12 people, in both production and marketing department, will be employed under the framework of this project. We are happy that we were able to contribute to such a lovely project.
At the celebration of the 25th anniversary of the establishment of diplomatic relations between the Republic of Croatia and the Republic of Turkey last year, the Cultural-Information Centre of the Croatian-Turkish Friendship Association was officially opened with the help of TIKA and the City of Zagreb. Why is this Centre important?
Turkey is one of the first countries which recognized Croatian independence in 1992. Since then, the relations between Turkey and Croatia have evolved from good to best. For us, Croatia is not any country, but a friendly country, a country of friendship. And this friendship between Croatia and Turkey has always been vibrant also thanks to the activities of the Croatian-Turkish Friendship Association. The Association's main role, in the recent history, was very important, and therefore we would like to thank our Croatian friends who kept the relationship between two countries going via their activities under the framework of Friendship Association. Despite the cultural affinities that the Croatian and Turkish people have, unfortunately both societies don't know much about each other. The Cultural-Information Center could brigde this gap through organizing important events and activitie. To be honest, it was really a planned "coincidence" that the opening ceremony fell on the 25th anniversary of the establishment of the diplomatic relationship between two countries. In this way, TIKA wanted to share its excitement for being in Croatia and thank all the former and current members of the Croatian-Turkish Friendship Association for their efforts in building bridges between Turkey and Croatia.