When creating the project and building the consortium, we always look for the benefits for partners and broader society.
For Diplomacy&Commerce magazine M.Sc.Uroš Salobir, Director of the Strategic Innovation Department at ELES, Chair of the Research, Development, and Innovation Committee for the European Network of Transmission System Operators for Electricity ENTSO-E, vice-chairman of the EGVIAfor2zero association, vice-chairman for the Slovenian Committee of Electric Power Engineers CIGRE-CIRED and the Co-Chair of the Joint Task Force »Digitalizing the Energy System – Eu Action plan« between ENTSO-E and EU DSO Entity says that the best answer to all the global and current challenges of electricity risks is cooperation. But not just collaboration among stakeholders in the energy sector but also partnerships with stakeholders from other sectors on the path of intense electrification. We must collaborate to find the optimal solutions for a successful green transition. This collaboration can result in innovative solutions.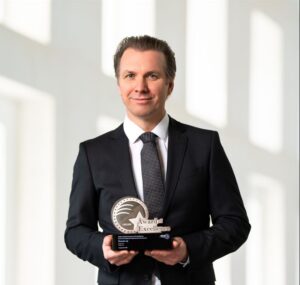 Photo: Miran Juršič
1. Where does your enthusiasm for innovation come from? How long have you been Chair of the Research, Development, and Innovation Committee ENTSOE, and how much does the new function mean to you?
I never thought that I would end up working in the sphere of research and innovation. After working at ELES for more than 20 years in the operations and asset management division, our CEO, Aleksander Mervar, convinced me
to go into research and development. I admit that I underestimated this area at the time. I still don't know how our CEO recognized my potential…,which I see today as the best I have given and received from ELES. I sincerely doubt I could have worked better in any other environment. I have been involved in the ENTSO-E work for years now. Before, I was a member of different working groups, but in the last few years, I was more and more involved in the work of the Research, Development, and Innovation Committee. Four years ago, the committee members entrusted
me with the role of the committee's vice-chair, and at the end of June, I was appointed Chair of the RDIC. Of course, I was truly honored by this appointment, as this is a sign of recognition of the past good work. But, on the other hand, such a function also represents a great responsibility because we are now at a time when operators of transmission systems are making great efforts to transform the European power system into an integrated system that will be able to bring more and more green energy to businesses and households and, finally, contribute towards meeting our de-fossilization goals.
2.How do you build such successful consortium groups that you achieve the best-rated European international projects with them?
ELES had lengthy preparation for all these projects. We crossed the boundaries of the known and took responsibility at a crucial time. For example, FutureFlow was a research project with four system operators and partners such as SAP. All these players believed in ELES' project idea, entrusted us with its management, and we completed the project excellently… In the NEDO project, on the one hand, we started building successful cooperation with the Japanese partners, who were unknown to us at that time. On the other hand, we involved many stakeholders from Slovenia, and the project ran in several locations throughout the country. Therefore, it was justifiably called a national project, which made it unique in Europe. We have contributed much to the broader society with these projects and received even more in return. And, no less important, these achievements opened many opportunities for us.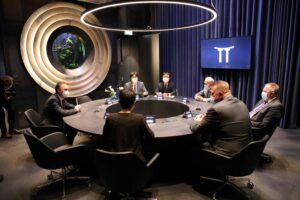 3. You are successfully breaking the stereotype that 100% stateowned companies cannot be innovative breakthroughs. Do you often receive feedback that you are at the top of those illustrious professionals who succeed in this?
Every company that wants to succeed in the long run has to be innovative. And state-owned companies aren't an exception. But, of course, as always, some companies are more progressive than others. After successfully finishing a few high-profile international projects, decision-makers and other important Slovenian and European stakeholders see ELES in innovation and new technologies differently than in the past. And we are proud of this.
4. As director of the Strategic Innovation Department at ELES and co-chair of the joint »ENTSO-E / EU DSO Entity« Task Force on Digitalization, which is only part of what you are in charge of, you deal with the issue of GreenSwitch. Explain to our consumers why GreenSwitch is essential for ELES and all citizens of Slovenia.
Distributed renewable sources, increased peak consumption by electric vehicles, and heating have recently become challenging due to the rise in power flows on the distribution and transmission grid. Operators are, therefore, now facing higher investment needs. With partners from Austria, Croatia, and Slovenia, we have balanced the opportunities and risks associated with a modern cross-border approach to grid development and decided that, due to extraordinary challenges, limited resources, high compatibility, and interconnections, we could be more efficient by solving the problems together in international cross-border collaboration. We proved this already by successfully finishing the state of-the-art smart grid SINCRO.GRID project. In short, large-scale deployment of renewable generation will depend on efficient deployment of grid capacities. This is where the team of ELES tries to be the best.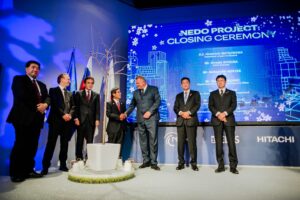 5.Representatives of the GreenSwitch project consortium and the European Executive Agency for Climate, Infrastructure, and the Environment solemnly marked the signing of the grant agreement under the Connecting Europe Facility program in the presence of the European Commission's officials. What does the program include, and what is the value of the project?
Well, it all started in 2021 when a group of companies from Austria (Kärnten Netz), Croatia (HEP-ODS, HOPS), and Slovenia (Elektro Celje, Elektro Gorenjska, Elektro Ljubljana, ELES) began preparing a project that will enable a faster green transition of the energy sector, better integration of renewable energy sources and more efficient use of the existing energy infrastructure. As a result, on November 19, 2021, the project was listed on the 5th PCI list in the field of smart grids. The project was, therefore, eligible to apply for funds through the EU funding instrument Connecting Europe Facility, and the consortium prepared the proposal. In the evaluation process, the European Commission assessed that GreenSwitch would significantly contribute to solving the challenges associated with the green transition and granted the consortium 50% co-funding of the investment worth 146.2 million euros. With the project, we will increase the transmission grid's controllability, expand the existing network's hosting and cross border capacity, and improve the utilization of existing MV/LV transformers. Successful implementation of the project will also enable up to 10 % lower peak demand using flexibility sources and up to 6 GWh heat production per year from 11 power transformers. And in Slovenia, we will also prepare the grid connection for heavy-duty and fast charging stations at two locations.
6. Digitization, i.e., the introduction of already established technology, project SINCRO. GRID, into the Slovenian and Croatian power system in an innovative way – compensation devices. , battery energy storage and a system for determining working limits is an important project you are dealing with. What does it precisely foresee, and how is the digitization of the system carried out?
The SINCRO.GRID project was innovative as it was the first European project that introduced digitalization in energy infrastructure and, therefore, was the first smart grid infrastructure project. Project partners innovatively integrated already-established technologies – compensation devices, battery energy storage systems, and the dynamic line rating system – into the Slovenian and Croatian electricity network. Another important novelty was setting up the ELES–HOPS Virtual Cross-border Control Centre (VCBCC) for coordinated and controlled centralized representation of RES production and system variables of Slovenian and Croatian HV and MV networks to allow power system optimization in the whole control area. The VCBCC consists of numerous IT and TC solutions that enable data acquisition from RES, improving energy network observability and more accurate estimation/forecasting of renewable energy sources production. Additionally, advanced solutions were implemented at the control centers. These include an IT platform for the integration of prosumers in ancillary services, a communication platform for operational data  exchange between transmission and distribution system operators, an upgrade of the metering system to support modern data exchange based on the latest standards and a developed algorithm for the solar  production forecasting tool and modernization of the ICT infrastructure. Installation of these devices and implementation of the Virtual cross-border control center (VCBCC) achieved the goal of voltage profile  control and the possibility of voltage regulation in the  electricity systems of both Slovenia and Croatia. Furthermore, this innovation by ELES and HOPS also  introduced an entirely new form of joint voltage regulation of both transmission systems. As a result, these compensation devices have improved network stability during emergencies. Moreover, their operation's effects have already positively impacted the transmission systems of neighboring countries.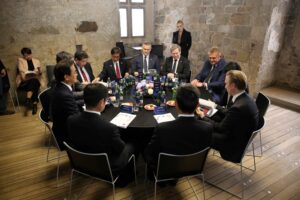 7. ELES invests a lot of attention in the integration of energy systems. One of those is "The Pentlja". What can you tell us about it, and what are the benefits for the industry you are involved in and the end users?
With the increase of e-mobility, the transport and power systems are increasingly intertwined. It is becoming clear that a sustainable transition to mass e-mobility will only be achieved if we ensure that e-vehicles are powered by energy from renewable sources to the greatest extent possible. Therefore, when,  where, and how e-vehicles will be  charged is essential. Although, according to the analysis of experts, private smart charging stations will quantitatively provide 80 percent of all charging, we will need a strong network of fast charging stations that will enable drivers in transit and drivers of cargo and public transport to charge the vehicle in the shortest possible time to continue their journey. The "Pentlja" offers a long-term  solution for providing a reliable, fast charging service to all e-vehicles. The coordinated operation of this power-transport system, which ELES sees as a closely interconnected unity, will be a demanding and responsible process. The "Pentlja" envisages optimally located fast charging parks. When choosing a suitable location, in addition to proximity to traffic routes and high-voltage transmission lines, other criteria must also be taken into account – from average annual daily traffic, multi-year traffic flows, traffic growth forecasts, spatial and environmental restrictions, and last but not least, proximity to planned parks of renewable energy sources. However, there are few such locations in Slovenia where highways and high-voltage energy grids come together, so by the legislation, they are defined as geographically limited public goods. A few such sites will be directly on the highway, but most will be near highway exits. The "Pentlja" aims to enable reliable, secure, and low-cost charging service by optimally using the existing power infrastructure and preventing solar power production curtailment.
8. You stress that digitalization of the Energy Action Plan should be used to boost the breakthrough innovation that will help us solve the most pressing challenges of decarbonization before 2030 and that it is vital to choose the subjects of digitalization based on concepts such as E8. What is the aim of this concept?
Our E8 concept aims to ensure that e-vehicles are charged with energy from renewable energy sources. Today, we are used to the prices of petroleum being the same within a day and for extended periods. Nobody questions whether refueling is more economical in the morning, afternoon, evening, or night. This is not and will not be the case with electricity. The best charging price will be when there is a lot of energy from renewable sources. That's why we have to make sure that we make the best use of the sun's potential for charging e-vehicles during abundant sunshine, i.e., between 9 a.m.  and 4 p.m. Therefore, even though most users are concerned about how they will charge at home, the biggest challenge is establishing a network of smart charging stations in parking lots in front of work or public parking lots where employees park during working hours. As you mentioned in your question, digitalization is the key. Charging stations must be able to communicate with the aggregators and follow  the current price and the solar daily cycle. Anyone who will have the opportunity to connect their car at work to such a smart charging station will have the chance to charge much cheaper since they will be able to take advantage of the abundance of renewable energy.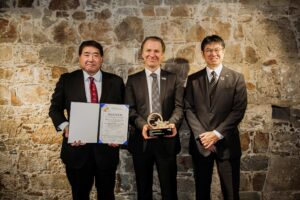 Mr. Masanori Kobayashi (NEDO), Director General, Smart Community and Energy Systems Department, M.Sc. Uroš Salobir, Director of the Strategic Innovation Department ELES,  Mr. Yuichi Yagawa, Hitachi Vice President of Social Infrastructure Information Systems
9. You cooperate a lot with your Croatian colleagues. In which areas is the most interest in cooperation, and what are the biggest challenges today when discussing strategic innovations?
ELES needs to be actively involved in international cooperation. The Slovenian transmission power network is relatively small and closely connected to the transmission power networks of neighboring countries. The areas of collaboration and strategic innovations span between Renewable energy integration, Resilience to better cope with weather events, electrification of transport, and defossilisation of heating. International cooperation brings many advantages – it helps strengthen the transfer of knowledge and experience, optimizes investments,… and I could go on and on. Of course, on the other hand, such cooperation also requires a particular dedication to governance, project management, risktaking, and flexibility.
10. How would you evaluate the position of the Slovenian energy system concerning the environment, and what are the biggest challenges (lack of energy sources, dependence on energy sources, prices/inflation, war…)? Where is there room for improvement, and how do you see the area of innovation within ELES, given the speed of technology development, in the years ahead? What novelties can we expect?
Directions and trends in Europe are clear – abandoning fossil energy sources and replacing them with renewable energy sources (RES), less reliable and flexible than traditional thermal power plants or large hydropower plants since their production depends on the amount of sun or wind. However, for the transition to a low-carbon electric power industry, it will not be enough to produce most electricity from RES; it will also be necessary to ensure that the sources of flexibility, with which system operators ensure the elimination of second by second, hourly, monthly, or seasonal deficits of renewable electricity, are from low-carbon sources. All the changes mentioned above strongly impact the operation of transmission and distribution power network system operators. Due to the record increase in applications for the connection of new renewable sources, electric vehicles, and modern heating devices to the power grid, as well as the responsibility for the reliable operation of the power system, in the coming years, we must find new ways to accelerate electrification, while at the same time maintaining a sustainable level of power grid operation costs. At the same time, Slovenia must ensure access to RES from other countries in the region. Many estimations point to the fact that the grid in 2050 should be double the size of today's grid. The key challenge here is the complexity of efficient deployment of grid capacity with lengthy procedures for successful new corridor projects. Here, we enter the question of who should be the civil guardian of the power system development in the highly renewable energy system. Is it the grid operators that should fight for civil initiatives fighting against the construction of critically important infrastructure, or is it a new social group that should appear and fight for the intrinsic right of the civilization to decarbonize the power, heating, and transportation system? I firmly believe that utilities and system operators will not have sufficient power to achieve such important targets without the changes within society.