EU leaders reached a landmark €1.82 trillion budget and COVID-19 recovery package early Tuesday morning.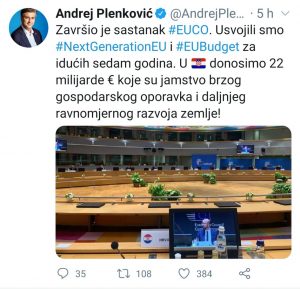 "The meeting has ended #EUCO. We have adopted #NextGenerationEU and #EUBudget for the next seven years. We are bringing Croatia 22 billion euro as a guarantee of a quick economic recovery and further balanced development of the country," Plenkovic tweeted.
"Our wish is for Croatia to have access to €20 billion over the next seven years for economic recovery, regional development, agriculture, job preservation, digitalisation and modernisation," Plenkovic said on Sunday.
The EU summit lasted nearly five days. It resumed at 9.30 p.m. on Monday and lasted through the night until 5.30 a.m. on Tuesday.
On the table were a €1.074tn Multiannual Financial Framework and a €750bn recovery plan consisting of €390 billion in grants and €360 billion in loans.