The Opatija Declaration on guidelines for the development of EU maritime policy – environment protection, digitisation, human resources, security and competitiveness – was adopted at an informal meeting of the Union's transport ministers in Opatija.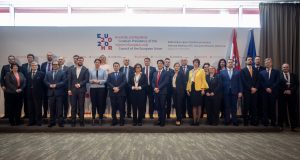 Croatian Minister of the Sea and Transport Oleg Butković described that the declaration as a step toward achieving a maritime green evolution, adding that the declaration is based on five key points, environmental protection, digitisation, human resources, security and competitiveness.
"These key chapters reflect the current situation when it comes to the challenges of maritime and inland navigation both within the European Union and globally," said Minister Butković.
He added that after the meeting, all the conclusions will be put to the Council of Ministers that will be held during Croatia's presidency of the European Union in June.
Butković explained that today's meeting was an opportunity to discuss topics such as achieving ambitious goals in environment protection, maintaining the competitiveness of Europe's seafaring in the context of the Green Deal aimed at reducing greenhouse gas emissions by 2030, and investments in green technology and environment protection.
European Commissioner for Transport Adina Valean assessed the meeting in Opatija as very successful adding that the unanimous adoption of the declaration is a positive sign that puts the maritime sector into the green agenda which will become compulsory once regulations on alternative fuels are adopted.
Butković informed that the ministers also discussed the COVID-19 epidemic which has spread throughout Europe and Croatia's neighbouring countries.
"In that regard we are definitely available and in the next few days, in cooperation with the European Commission, we will convene the Council of Ministers, probably via a video conference, in an effort to integrate everyone, hear every country to see what the situation is and to find a common platform so that on the one hand we ensure undisturbed transport and the flow of goods while respecting every member state and all the measures that each country has implemented on its territory," Butković said.
The ministers in Opatija agreed that "the current situation has a significant impact on whole sector and industry."
"The Ministers concluded that it is necessary to stand in solidarity with the affected member states and work together in order to find the best solution," according to a press release issued by the Croatian presidency.
The informal meeting of EU transport ministers was held within a two-day maritime conference that the ministry organised as part of Croatia's presidency of the Council of the EU.
The conference was attended by representatives of European associations of shippers, mediators in employing seafarers, shipyards and other stakeholders from the global maritime industry, international maritime organisations, the European Maritime Safety Agency and others.