Thanks to measures implemented by the Ministry, 20,000 young families will have their home by the end of next year. This is only one of the results of the reforms in the construction and spatial planning segment which ensure renovation of hospitals, schools and houses, more efficient issuing of building permits and promoting investments in tourism.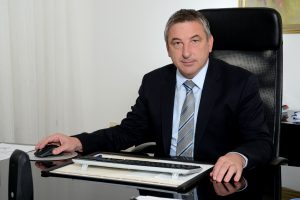 "Helping young people to solve their housing problem, enabling many households, hospitals, schools, kindergartens and other public buildings to participate in energy regeneration with the help of the EU funds and introducing systemic changes in the construction sector – these are the primary goals of our ministry," says Predrag Štromar, Deputy Prime Minister and Minister of Construction and Spatial Planning.
The Croatian Parliament passed the Law on Construction and Spatial Planning half a year ago, creating a more efficient, faster and less expensive licensing system for the benefit of citizens and investors. "The measure is being implemented, but we are continuing with the further development of the digital system, and with alleviating red tape and fees," Minister Štromar says.
Two new laws have been presented before the ministry, namely the amendment to the Law on the Chamber of Architects and the Chambers of Civil Engineers and the amendment to the Law on Spatial Planning and Construction.
"With these new changes to the law, we are continuing to bring order into the system and to relieve businesses of para-fiscal levies which relate to construction engineers and construction managers. Namely, we are going to revoke their obligation to be a member of the chamber and the resulting cash fee. This allows for voluntary membership and, of course, them continuing to perform their business activities under the same professional principles," the Minister says and adds: "In making changes to this law, we have taken into account all aspects of the change we are making, from safety to tradition. I will mention that Croatia has as many as 300 regulated professions and the European Union averages 200. Therefore, if we want to be a competitive country, we need to implement reforms, and these changes to the law are part of the Government's reform plan adopted last year."
Responding to discussions about this law, Minister Štromar says: "We often hear everyone saying that they want us to be a competitive country, that we want reforms, but as soon as we touch upon a certain segments there is a lot of o resistance and thousands of reasons why it would be impossible to implement reforms in this segment. Everybody wants reforms but not in their backyard. I say that we can do better and more competitively, that we have to carry out reforms and leave a trace in the shape of results. This is just the beginning of a more competitive society. "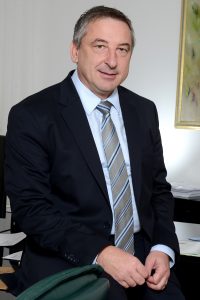 How much will the amendments to the Law on Construction and the Law on Spatial Planning expedite the issuance of building permits and make them more affordable? Are all the relevant institutions and the people working for them willing to digitize this process?
The laws were passed in the Croatian Parliament in April, creating a more efficient, faster and less expensive licensing system for the benefit of citizens and developers. We were able to reduce the number of licensing processes, reduce costs and shorten the deadlines for comments from public services. The process is now more transparent – there will be no more going from counter to counter and using stamps.
There are three key changes here: reducing the number of licensing processes, reducing licensing fees, and limiting the timeframe for comments from public services.
The great news is that the project designer now assumes all the obligations of the developer when obtaining a permit. Electronic signature ensures access to all processes and monitoring of the case in real-time. So far, for one property alone, you had to print out and bring with yourself 10 sets of papers weighing 5 kilogrammes each. Now, all you need is one paper to be issued with a permit.
The law is being implemented, but we are continuing with the further development of the digital system, and with alleviating red tape and fees. We will achieve this through the further development of the spatial planning information system, where the goal is to gather all spatial plans and all interventions in space in one place. The system also includes the development of e-Inspection, e-Archive (which will store all permits) and e-Plans (containing all the plans).
The project for the further development of the digital system will be co-financed by the EU funds with a total of HRK 111 million, while the total value of the project is HRK 131 million. This is truly a project that creates added value for the users as it modernizes services for citizens and the business community in the way they should look in the 21st-century countries.
Besides, by digitizing the process, the subjectivity of individual officers is reduced. So it's also a more efficient system.
What is the future of construction in Croatia? Do you expect an upswing or challenges due to a lack of manpower?
The construction sector is growing, the number of building permits issued is increasing, but so is the need for manpower. It has become evident in recent months that developers have growing intentions especially concerning projects relating to roads, railways, pipelines, bridges, dams, sports grounds and similar civil engineering structures, which is also largely linked to progress in the use of available EU funds.
I would also like to mention energy renovation projects we are carrying out, which certainly contribute to the stabilization of the construction sector.
Energy renovation is complementary to our goal of creating and ensuring an increasingly better living standard for all citizens, resulting in warm and safe homes, more comfortable classrooms, teacher rooms and ambulances. It is also important that energy savings are generated through energy renovation, which implies that more money is left in the household budget, and that head of counties, municipal heads and mayors are left with more resources that they can use to develop education and raise utility standards.
HRK 5 billion worth of projects in the construction sector relate to energy renovation. These are secure projects and more importantly, have a secure payment. This opens up the possibility for employers to increase the wages of their workers, which is a prerequisite for them staying in Croatia. On the other hand, it is up to the state to alleviate businesses by abolishing fees and additional tax burdens, and that's something I will always advocate.
Currently, close to 1,300 hospitals, schools, kindergartens and apartment buildings are being renovated in Croatia, comprising 16,000 households and facilities for 70,000 students and children. The average energy savings that buildings achieve is over 60%.
All of these are measurable results, but also an incentive to move forward. The Ministry of Construction will soon launch new calls for energy renovation of public and multi-residential buildings. I am sure that we will again have a good response from the users and that we will meet our goal, which is to continue with energy renovation projects in the coming years, which will certainly contribute to the stabilization of the construction sector and, consequently, to the increase of salaries for construction workers.
How much has been done in this sector to adapt education to the needs of the labour market?
The education reform in Croatia involves all schools as of this year, after 20 years of only talking about it. Education Minister Blaženka Divjak has done a great job, for which Croatia has received praise from the European Commission. The most important goal is for students to learn how to solve problems and gain functional knowledge. That is why new curricula were adopted in January, as a replacement to the previous ones that had been taught for 25 years. Teachers had to be educated how to facilitate this new approach to learning, no longer based on the need for students to learn a great deal of information, but to learn how to apply practical and acquired knowledge. This kind of education has been implemented for a year now in all schools, and 74 experimental schools have already implemented this new work mode in the last school year.
HRK 400 million has also been provided for the establishment of regional centres of competence in vocational education, to align the education system with the needs of the labour market.
Education reform is a long-distance race, but we are already seeing its results and progress.
What are the challenges facing Croatia in developing tourism capacities?
One in five kunas in Croatia is earned directly from tourism. Tourists, among other things, come to us because of the beautiful surroundings that we have inherited from our ancestors. To preserve these surroundings for future generations, we must preserve, plan and manage them in the long term, which, in addition to people, is the most valuable thing we have.
Some places on the coast are losing the battle with unplanned apartmanization, and by turning every square metre of a property into an apartment that brings profit in the short term, but could eventually result in losing our guests, space, future, and subsequently, the population itself.
Good spatial planning is the basis for optimal construction, and it is up to us, as regulators and local government units, as constitutionally responsible for spatial planning in our area, to find a sustainable measure. I am a big proponent of investments and my and the Ministry's doors are open to everyone willing to invest in Croatia, create jobs, improve our offer and ultimately make money in Croatia. I do not believe that a serious investor would go against the rules. What bothers them here is the tardiness of bureaucracy and the frequent change of rules. We are also working on this in our ministry through the digitization of licensing, deregulation of occupations and the abolition of crazy procedures. The other thing that bothers investors is the infrastructure that doesn't keep up with the accelerated development that is happening to us spontaneously.
On the other hand, we still have untapped tourism potential in the continental parts.
And because of all this, I am confident that our tourism can be further developed, through long-term planning, and expansion of the offer to hitherto untapped potentials. Cooperation is the most important thing here; both interdepartmental and cooperation with representatives of local self-government units.
I would also like to mention growing real estate prices. We conducted a study with the Institute of Economics that showed that real estate prices have been growing in areas with the growing number of tourist overnight stays. We have tackled this problem with measures aimed at helping young people buying homes, namely stimulating housing construction and subsidizing home loans. This year, we have a record number of home loan subsidy applications, and banks also offer the lowest interest rates to date.
Thanks to our measures, 20,000 young families will have their own home by the end of next year.