Croatia and Montenegro share the same strategic foreign political goals. Both are NATO members, and Montenegro wants to become a part of EU as soon as possible, in which it had and has full support from Croatia. For the remaining, still not completely closed topics, the key is to find common solutions in the spirit of good neighbourly relations and based on international law.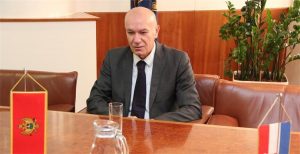 Bilateral relations between Croatia and Montenegro represent an example of good neighbourly cooperation in the region, stated Boro Vučinić, Montenegro's Ambassador to Croatia. Aside from bilateral, we have to underline that there are also numerous initiatives in this region through multilateral cooperation, which are designed to contribute to stability and improvement of cooperation in various areas in South Eastern Europe, our interlocutor states.
First of all, there are the important initiatives that contribute to stability and develop the process of cooperation, especially in political and security, economic and other areas. Within these multilateral agreements, we have to especially point out the importance of perspective regional initiative within the Adriatic Trilateral that was established in Split last year, regarding the cooperation of three countries with exit to the Adriatic Sea – Croatia, Albania and Montenegro, stated Mr Vučinić. The agreed cooperation framework is sublimated in several items and it refers to the matters of better joint use of common sea resources, as well as to the matter of transportation, as well as joint concern regarding its protection, better economic connection, matters of safety, considering the fact that all three countries are in the system of collective safety, and they want to have a joint Euro-Atlantic perspective through membership in NATO and EU, Montenegrin Ambassador to Croatia states.
To what extent are they determined by the past, and to what extent by European and NATO agenda?
I am conducting my diplomatic mission in the Republic of Croatia with full awareness of all the events that took place in our mutual relations in not so distant past on ex-Yu territory. This obligates me to pay additional attention to improvement of our relations in all fields, where we can develop successful cooperation.
As neighbouring countries in this part of SE Europe, Croatia and Montenegro share the same strategic foreign political goals. Both are NATO members, and Montenegro wants to become a part of EU as soon as possible, in which it had and has full support from Croatia. We are thankful to Croatia for this, starting from our joint participation in peace missions and last year's accession of Montenegro to the Alliance, but also for the specific support on its European path.
By becoming a NATO member, Montenegro geopolitically relocated itself from the zone of traditionally unstable Western Balkans, and it has entered a sphere of safe Euro-Atlantic field of influence.
Nevertheless, when we talk about the South East of Europe, strengthening of regional cooperation and good neighbourly relations remain a key priority for Montenegro's foreign policy in the upcoming period as well. Montenegro will continue to promote a dialogue and understanding in the Western Balkans, as the only way to preserve peace and security as a key condition for long-term stability and progress of the region.
How do you observe the Prevlaka issue in Montenegro's process of Euro-integrations in light of the policy of resolved open issues and borders?
For the remaining, still not completely closed topics, the key is to find common solutions in the spirit of good neighbourly relations and based on international law. Therefore, in a political sense, Prevlaka is not an open issue for Montenegro and it does not burden our relations with the Republic of Croatia. A temporary protocol was carried out in practice without any major problems until now, and in the meantime a bilateral communication was established with Croatian partners with the goal to find a mutually acceptable arrangement. For Montenegro, it would be most desirable to resolve this matter bilaterally before we join the EU. Still, there is no time limit for finding a solution to the problem, and if it is not possible to reach a solution in a foreseeable future any other way, we agreed to submit the matter to international arbitration, which again represents a civilized manner of resolving different views of a border issue.
In your opinion, how will the outcome of elections in Montenegro affect the country's European future and relations in the region?
Results of the recently conducted elections where the newly elected Montenegrin President Milo Đukanović won, and the local elections that were held after that in half of Montenegrin municipalities, including the capital of Podgorica, where pro-European policy posted a strong victory, confirmed an even stronger commitment of the citizens for Montenegro to continue on Euro-Atlantic and European paths.
The elections also showed a strong commitment to further affirmation of good neighbourly relations and regional cooperation, to which Montenegro, as a multi-ethnic society with a preserved internal harmony, made a recognizable contribution in the past.
In your opinion, what are the key areas where cooperation between two countries should be deepened in the upcoming period?
Aside from the need for improvement of almost all forms of economic cooperation of which I will say more later on, I think it is relevant to point to numerous and very complex, respect-worthy, cultural ties between our nations, where there are also mutual reasons for improvement of these ties.
Tradition of relations between two nations is very long, so it is not a coincidence that Mažuranić was inspired by Montenegro's fight for freedom, and we may say that one of the most famous personalities from Montenegrin history, the great poet and ruler Petar II Petrović Njegoš, gave the greatest contribution to historic ties between Croatia and Montenegro. Njegoš maintained close ties to well-known Croatian scribes: Petar Preradović and Fridrih Orešković, and he showed special respect for the work of Josip Ban Jelačić, to whom he wholeheartedly offered help in the realization of Jelačić's ideas. The great Croatian poet Vladimir Nazor also dedicated a poem to Njegoš. Winner of the Njegoš Award was also the great Miroslav Krleža, and artwork of the famous Croatian sculptor Ivan Meštrović stands at the holiest place of Montenegrins, Lovćen, which symbolizes Montenegrin freedom and independence. Valtazar Bogišić is building the foundation for Montenegrin legal state, and Vlaho Bukovac depicts the Montenegro of a period. Through centuries, artists from Croatia, especially Dalmatia, left a strong mark in the rich cultural heritage of Boka Kotorska and Montenegro.
More recently, in almost all areas of artistic expression, there are many artists who equally contributed to development of our cultures, from the Oscar award winner Dušan Vukotić, Veljko Bulajić, to artists Vasko Lipovac, Stevan Luketić and Dimitrije Popović, to today's younger generations that continue to serve to honour the two cultures with their work and provide a significant contribution to our overall relations.
Croatian community in Montenegro, where most of its members are living in Boka, represents one of the state-building entities, which wholeheartedly supported the renovation of Montenegrin independence at the 2006 referendum. Today, their representatives have an active role in Montenegro's political life and in the decision-making process for all important state decisions, and they have their place in the Montenegrin Parliament and the Government. On the other hand, representatives of Montenegrin minority community, most of whom are living in Zagreb, but also in other parts of Croatia, express their satisfaction with their position in the Croatian society, to which they remain loyal members. These are, also, important matters on which we will work with great dedication in the future, I am sure of that.
When it comes to economic cooperation, there is room for improvement and progress. How high were the investments of two countries and the level of trade exchange? What sectors are most interesting for investments?
We have to point out that Croatia represented a traditionally relevant foreign trade partner to Montenegro, and its share in total exchange in the past 7-8 years fluctuated from 4 to 9%. Only in the past five years, commodities exchange with Croatia amounted to almost EUR 200 million, and in the last year this amount dropped significantly, especially when it comes to Montenegro's export, primarily of aluminium, which dropped by ten times, so the achieved deficit now amounts to over EUR 100 million.
As part of efforts to strengthen economic cooperation, our priority is to pay attention to large infrastructural projects such as the Adriatic-Ionian Highway and the Adriatic-Ionian gas pipeline.
The Adriatic-Ionian Highway construction project is of great relevance for both countries, and Montenegro is very interested in this. Building around one hundred kilometres of this road through Montenegro, between Albanian and Croatian border, would not only significantly facilitate traffic connectivity of the region and contribute to its economic development, but the existing A1 highway through Croatia would get a new, significantly more profitable dimension, and with it Montenegro would be better connected with Western Europe. Montenegro supports every form of cooperation that contributes to optimization of operations and better traffic connectivity of our countries with developed European environment. In the context of economic relations, another project may be regarded as strategically important – the TAP IAP gas pipeline, and both countries strongly support the construction of this structure.
Do you see Montenegro and Croatia as competitors when it comes to attracting tourists or is there room for joint appearance on third markets?
Even fifteen years ago there was an assessment made by the World Travel and Tourism Council (WTTC) that Croatia and Montenegro would be at the very top of countries by predicted growth volume in the tourism sector by 2017, ranking Montenegro first with a predicted growth of over 10%, and Croatia fourth with expected annual growth rate around 8%. Today, we can be excited together that this tourist prediction became a reality. About ten years ago, tourist sector's share in Montenegro's GDP amounted to little over 10%, and this year we can expect this to be a two-digit number, after the expected successful summer season.
I would like to add that when it comes to great potential for cooperation that exists in tourism, potential areas of joint action are also greater cooperation of national and local tourist organizations, regional association and placement of a joint tourist product, as well as the initiative for joint appearance on third markets of Asia and America, and especially the joint valuation of tourist destination in the Kotor-Dubrovnik border area.
Therefore, Montenegro and Croatia need not be rivals, but partners who can appear on global tourist market with their coordinated offer through the already initiated process of cooperation in the tourist sector. With this, these profitable industries can achieve greater benefits. 
In the upcoming period, we need to significantly improve the level of tourist exchange between Croatia and Montenegro, to which reintroduction of airline between Zagreb and Podgorica would contribute significantly, as well as better use of the common resource, the Adriatic Sea, for setting up a ship line. All this would be not only in the spirit of our good bilateral relations, but also against the background of the mentioned established Adriatic trilateral cooperation.